Debate over image of Bhagat Singh used in Delhi and Punjab govt ads
Chaman Lal, honorary adviser to the Bhagat Singh Archives, says the painting has little physical resemblance to the fredom fighter, former minister M.S. Gill demurs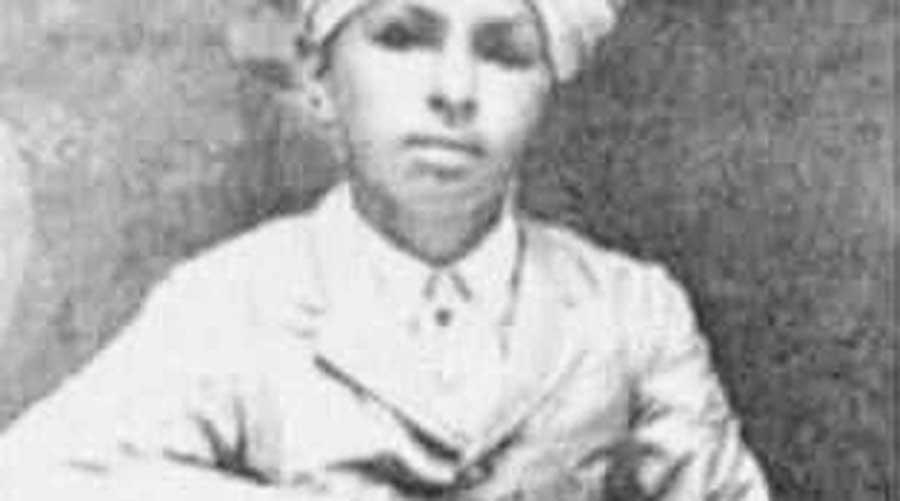 The four known photographs of Bhagat Singh.
Pictures courtesy: Chaman Lal
---
New Delhi
|
Published 29.09.21, 01:30 AM
|
---
Archivist Chaman Lal, honorary adviser to the Bhagat Singh Archives and Resource Centre here, has rued the use of an "unreal painting" of the freedom fighter to mark his 114th birth anniversary on Tuesday.
However, former Union minister and chief election commissioner M.S. Gill insisted that the use of the turbaned image was ideal to celebrate Singh's legacy as the more recognised photo of the freedom fighter wearing a hat was merely a disguise to evade arrest.
There are four known photographs of Singh, who was born in West Punjab's Banga village in 1907 — him as an 11-year-old, as a 17-year-old in a turban at Lahore's National College, in custody at Lahore railway police station in 1927 where he is seen with his hair tied in a bun, and in trimmed hair and wearing a hat. The last picture had been clicked at the studio of photographer Sham Lal in 1929 before Singh hurled a bomb at the Central Legislative Assembly. However, the Punjab and Delhi state governments have in advertisements commemorating Singh's birth anniversary used a painting of him wearing a yellow turban. Lal said the painting had little physical resemblance to Singh. Several other versions, including one in which Singh brandishes a revolver, are widely used.
"Till the 70s, the photo with the hat was the most popular. With the rise of identity politics in the 70s, the yellow turbaned image was popularised as an assertion of his Jat Sikh identity —something which Bhagat Singh himself never stressed on," Lal said.
"In fact, being from a Congress family, he and his kin wore white turbans and khadi clothes, which was the trademark of those in the national movement at the time. I don't know why the Congress betrays its own legacy with its leaders now wearing the yellow turban in his memory," the archivist added.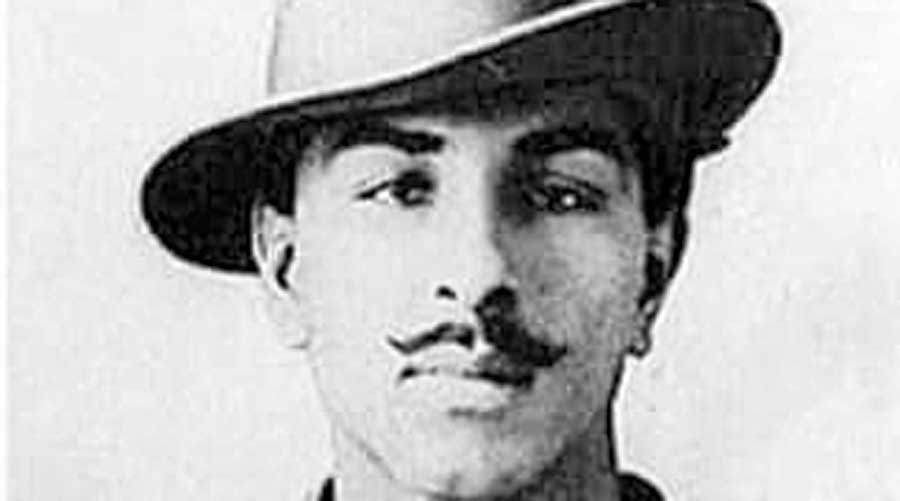 The Bhagat Singh Archives and Resource Centre, which functions under the Delhi government, circulated a booklet among officials on Monday with three of the original photos. However, both the Punjab and the Delhi governments brought out ads on Tuesday with the portrait of Singh in a yellow turban.
Assembly elections are due in Punjab next year and Delhi's ruling Aam Aadmi Party has been promoting the yellow turban worn in the style of the painting with its MP Bhagwant Mann always sporting it in Parliament. The AAP is a key player in Punjab, ruled by the Congress.
London-based Punjabi author Amarjit Chandan, also a scholar on Bhagat Singh iconography, said Congress chief minister Giani Zail Singh had unveiled a statue of the freedom fighter wearing the hat in Khatkar Kalan — Singh's ancestral village — in 1973. A bronze turbaned statue now stands at the spot, a change Chandan attributed to Gill who was principal secretary to Akali chief minister Parkash Singh Badal from 1978 to 80.
Gill said he had no recollection of the 1973 statue or replacing it. He objected to Youth Congress banners on Tuesday with the hat photo. "Bhagat Singh is a hat that fits all heads, from the Far Left to the Far Right. His ties to the Arya Samaj and work as a revolutionary are claimed by the Right wing, his Marxist writings by the Left, and his Sikh family heritage by the Sikh parties. An RSS man or a Khalistani may simply ignore Bhagat Singh's Why I am an Atheist (written in Lahore Central Jail before his execution in 1931)," Chandan said.
He added: "The turban controversy is absurd. All males in the Punjab — Muslims, Hindus and Sikhs — wore turbans before Partition."
Gill, who later became a Congress MP, was instrumental in establishing a museum in Khatkar Kalan in 1981 and acquiring archival material on the freedom fighter for the Punjab government as an IAS officer.
He said he installed the first turbaned bronze statue of Singh at Ludhiana's Bhandari Bridge in 1979.
"All hell broke loose in Punjab after the statue was unveiled. The Arya Samaj-controlled press started screaming, 'how can a bloody IAS officer play politics?' Of course, I was playing politics…. 'Ab Bhagat Singh ko pagdi baandh diya, jisko dum hai utaar ke dekho (I have draped Bhagat Singh in a turban, let anyone who dares remove it),' is what I said," Gill said.
He added: "Arya Samajis projected him as a hat-wearing Bollywood-ish gunda. He was from a Jat Sikh Sandhu family that wore turbans. He is seen in photos with long hair and a turban. The hat was a disguise. Netaji (Subhas Chandra) Bose escaped to Kabul in the guise of a Pathan. Is he honoured as a Pathan?"
Gill was also instrumental in canvassing support and ensuring the installation of Singh's statue in Parliament in 2008.
"It was mostly Sikhs who were sent to the Cellular Jail and mostly Sikhs who were hanged for the freedom struggle. I asked (then Lok Sabha Speaker) Somnath Chatterjee, how is it that no Sikh has a statue here?"
The freedom fighter's family complained that the turbaned statue, created by master sculptor Ram V. Sutar, at Parliament resembled a middle-aged man whereas Singh was hanged when he was just 23.
Lal pointed out that contemporary images of other Punjabi freedom fighters Udham Singh and Kartar Singh Sarabha also don't often resemble them as they are shown with beards. However, their photographs show them clean-shaven.
Singh's nephew and academic Jagmohan Singh chairs the Shaheed Bhagat Singh Centenary Foundation in Khatkar Kalan which recently installed statues of Bhagat Singh, Shivaram Rajguru and Sukhdev Thapar, who were executed for killing police officer John Saunders in 1928.
"These statues celebrate the centenary year of the Naujawan Bharat Sabha, which was Bhagat Singh's youth movement during which time he wore a turban. Those using either the hat image or the turbaned one must explain why they do so. Bhagat Singh was clear that his movement was to rise above divisions of caste and religion and bring about equality in society," Jagmohan Singh said.