Das & Co. gain Rs 5000cr in pacts
Big-ticket MoUs, industry-friendly policies at Mumbai roadshow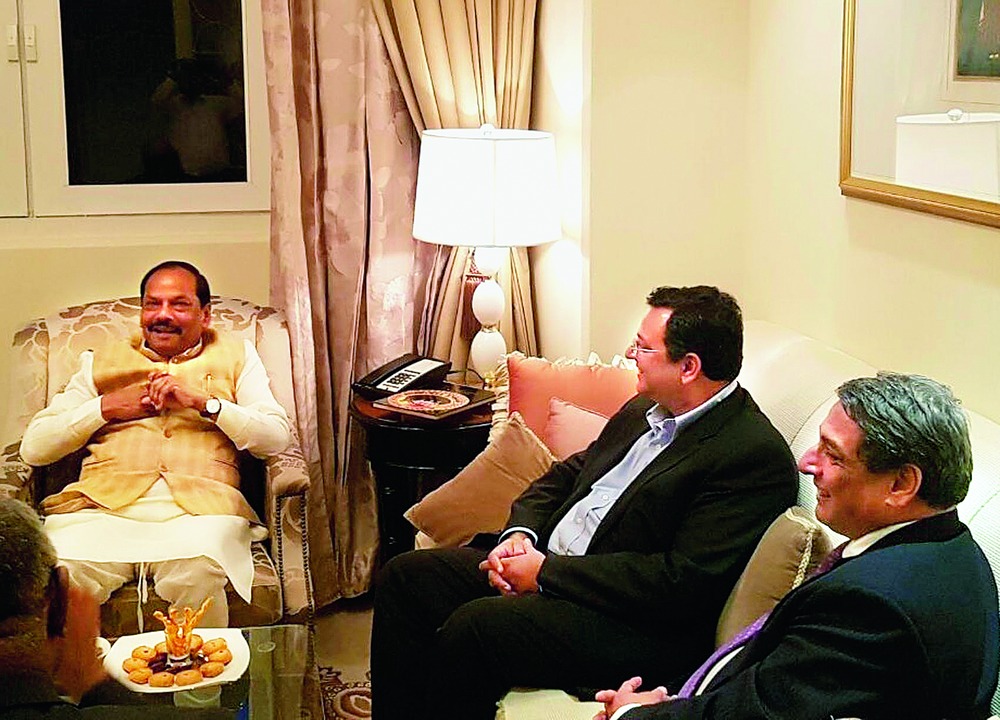 ---
Mumbai
|
Published 21.09.16, 12:00 AM
|
---
Mumbai, Sept. 20: Jharkhand signed 10 MoUs today at a roadshow in India's commercial capital in diverse sectors, including health, IT and ITeS, apparel and textiles and skill development, the Rs 5,000-crore of promised investments having the potential to generate 20,000 jobs in the next three years.
The state also launched policies for six sectors - IT and ITeS; electronic system design and manufacturing; start-ups; business process outsourcing and management; textile, apparel and footwear; and automobile and auto components - to attract investments.
Winding up the India leg of Momentum Jharkhand, a campaign to showcase the state's business potential, ahead of an ambitious Global Investors' Summit early next year, chief minister Raghubar Das made these announcements at a large gathering of industry captains that included Tata Steel MD T.V. Narendran, JSW Steel joint MD & group CFO Seshagiri Rao, Tech Mahindra director Ulhas Yargop, and Orient Craft chairman Sudhir Dhingra.
Hard-selling Jharkhand, Das said it had 40 per cent of the country's mineral wealth and under his 20-month rule, had created a business-enabling model comprising single-window clearance, time-bound grievance handling, online applications and more, which had put it in third place among all Indian states in terms of ease of doing business.
"Our government's focus sectors are energy, healthcare, skill and education, textiles, tourism, IT and ITeS, agri-based and food processing," Das said.
During his tenure so far, Jharkhand attracted investments of over Rs 23,000 crore of the proposed investment of Rs 65,000 crore, the chief minister said. He added the focus was not just money but jobs.
Among MoUs signed today were with apparel firm Orient Craft that will set up two clothes manufacturing parks of 28 acres and 113 acres near Ranchi. It is expected that both will attract investments of over Rs 1,500 crore and generate half a million jobs to fulfil Das's goal of making Jharkhand a garment manufacturing hub.
MNR Educational Trust, which runs medical colleges, has proposed to complete a medical educational campus in Ranchi. The 80-acre, Rs 350-crore campus is likely to have a medical college and hospital, a dental college and hospital, an Ayurvedic college and hospital and an institution for para-medical courses in the next five years.
Jharkhand also won the interest of Desun Hospital & Heart Institute. According to Sunil Kumar Barnwal, industries mines and geology secretary, Desun will set up a 500-bed hospital in Ranchi that would cater to cardiology, cardiac surgery, gastroenteroloy, gynaecology and paediatrics. A nursing school will also be built inside the complex.
Tech Mahindra, in a strategic MoU, has offered to conduct skill development programmes and collaborate with universities and higher technical educational institutions to promote technology.
Vakrangee Ltd also signed an MoU to set up 1,600 Vakrangee Kendras, end-to-end banking services in rural Jharkhand, in the next five years with an investment of over Rs 300 crore.
Barnwal said the policies were a mix of fiscal and other incentives. IT and IteS sectors will operate in three shifts. The textile sector offers VAT subsidy for 100 per cent for seven years, followed by 40 per cent in the next three years.
Industry captains seemed happy. JSW Steel's Rao said connectivity, ease of doing business and safety of investment were crucial factors. "We are happy Jharkhand is actively looking at all," said the top executive whose firm is proposing steel and power plants in the state.