Dalit father stands proud behind slain son
Police officer kills Dalit and threatens father to 'name any Muslim' for a Rs 10 lakh reward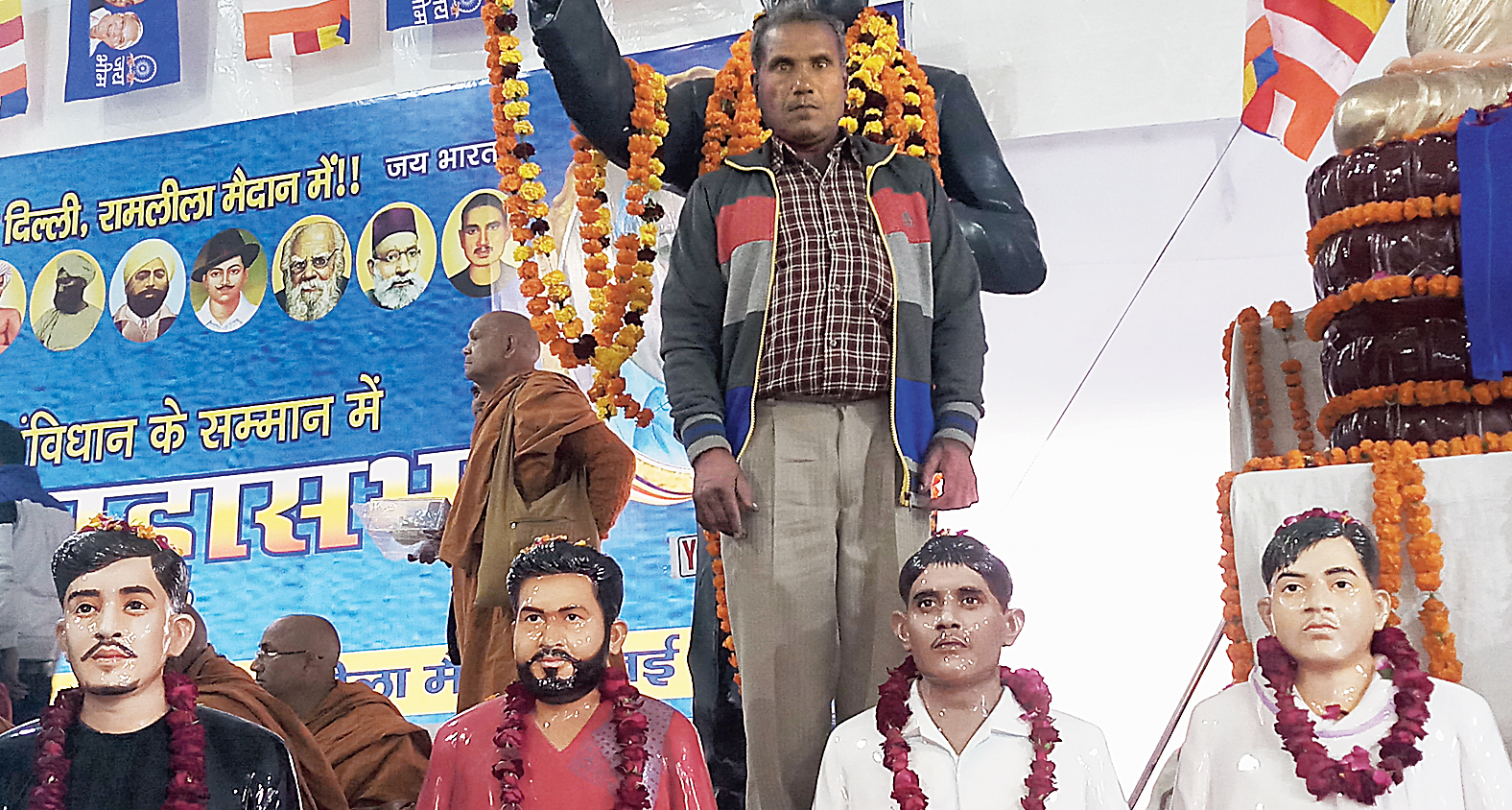 ---
New Delhi
|
Published 13.01.19, 09:42 PM
|
---
A police officer, Suresh Kumar alleges, shot his son and offered him Rs 10 lakh to "name any Muslim" as the killer of the young Dalit.
Ashok Kumar, a young day labourer left incapable of hard work by what he says was a police bullet, does not expect any compensation from a BJP government.
Stories of injustice and hardship abounded on Sunday at the Ramlila Maidan here, where the families of the 13 Dalits killed during a nationwide protest on April 2, and the 2,000 who were injured, were honoured at a Bahujan Samman Mahasabha.
Ten Dalits died in police firing during the strike, held against the Supreme Court's changes to the Scheduled Castes and Scheduled Tribes (Prevention of Atrocities) Act, and one child died after falling into a burning motorcycle. Two others were killed, allegedly by higher-caste mobs — one of them in follow-up violence two days later.
Sculptures of the 13 "martyr Bhim soldiers" have been put up at the event, organised by the Ghaziabad-based Satya Shodhak Sangh, a breakaway faction of the Bhim Army. Now placed before larger figures of Babasaheb Ambedkar, the Buddha and Emperor Ashoka, the busts will later be taken to the victims' native places.
Their families and the injured were felicitated with copies of the Constitution. The strike led to the passage of a law to restore the original act.
Suresh, 60, a day labourer from Gadla village in Muzaffarnagar, Uttar Pradesh, described how his 22-year-old son Amresh was killed during the strike.
"He was a daily wage labourer too and had gone to find work in town. He was unsuccessful, and went to Muzaffarnagar railway station where several of our (Jatav caste) boys were protesting," Suresh said.
"Our boys told me he was shot in the chest by an officer. The protesters put him on a pushcart and wheeled him towards the government hospital. He died on the way."
Suresh, who has a daughter and two other sons who too work as day labourers, said he had not received compensation. He, however, felt encouraged to see his son's sculpture among the 13.
He claimed the inspector accused of killing his son picked him up a few days later and took him to New Mandi police station at the district headquarters. "He asked me to name any Muslim as a suspect in my son's murder, and said I would get Rs 10 lakh as compensation. I refused. He said that if I wanted peace, I had to name someone. I said, 'I know you killed my son'," Suresh said.
"He called me (an expletive followed by a caste slur) and threatened to beat me up. I warned him that I would complain. Later, the police arrested a Dalit boy named Ram Sharan for the violence in which Amresh died."
He added: "I cannot afford to fight for justice for my son. None of our neighbours helped us, and the Jat landlords of our village keep asking my sons what use it is to us (Jatavs) to go and protest."
Anup Kumar, 22, and Ashok, 27, day labourers from Kaithal in Haryana, suffered bullet injuries.
Anup, who's doing his BA via correspondence, faced caste slurs and segregated dining in school. Ashok says he is forced to bring his own cup to teashops in his village. Neither has ever filed a case under the Atrocities Act.
"I went to the protest so that my children would have this right (under the act). It was a large demonstration. The police opened fire. I was hit," Ashok said.
Anup says he was shot at by goons. The bullets fractured Anup's thigh and Ashok's hipbone. Neither has received compensation. No political party apart from the Bahujan Samaj Party has called on them.
"Neither of us can do hard labour any more. My spine hurts and I can't bend my left knee completely. Doctors at PGI Rohtak say I need another surgery," Anup said.
"Our families paid for our treatment and we are dependent on them. The Jats injured during their 2016 quota agitation received compensation. Aren't we citizens too?"
Both the young men as well as Suresh say their lives have been ruined and that they expect no relief unless the BJP is voted out of power in their states.
Shiksha Pariya's son Gopi, an activist of the BSP and later the Bhim Army, was shot dead in Shobhapur, Meerut, on April 4. His name was on a list of alleged arsonists circulated on WhatsApp and aired on a Hindi channel.
Shiksha's husband Tarachand Pariya, BSP leader and poet, and son Prashant are in jail, awaiting trial in connection with the December murder of Ashish Gujjar, one of those accused of shooting Gopi.
"I feel no fear. Everyone loved Gopi, who was always there to help others. My husband and Prashant are innocent. They would feel proud seeing Gopi's sculpture," she said.
Her nephew Ajay, 14, a Class X student, said: "I couldn't attend school regularly last year as the police often stop me for questioning on the way. My board exams start next month. I hope I can take the exam, but I might lose a year if I'm stopped by the police or goons."