Big loss to world of commerce and industry: PM Modi
Cyrus Mistry: Former Tata Sons chairman killed in car crash
Scion of SP group was travelling in a Mercedes SUV with three close friends when it slammed into a divider on Charkoti bridge at 3.15pm , around 120km from Mumbai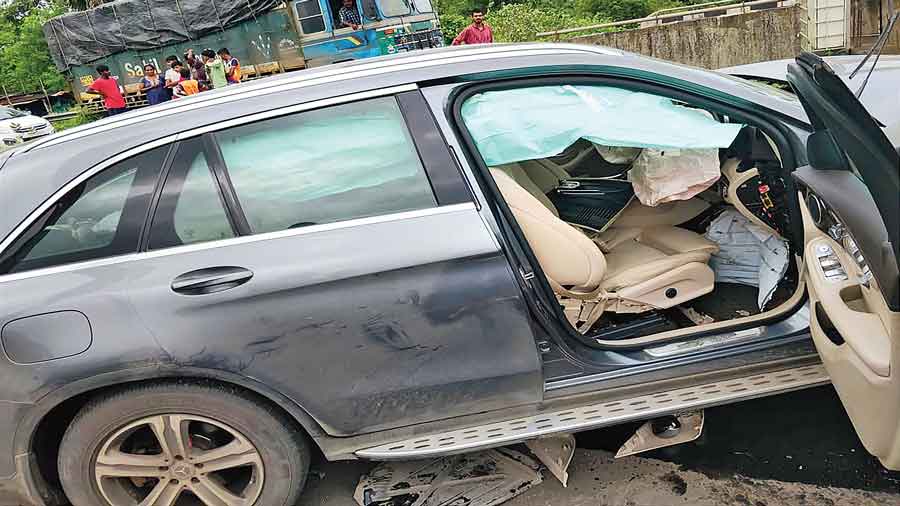 Wreckage of the Mercedes SUV in which Cyrus Mistry was travelling when it met with the accident near Palghar on Sunday.
PTI
---
Mumbai
|
Published 05.09.22, 03:04 AM
|
---
Cyrus Mistry, who was removed as chairman of Tata Sons after an acrimonious battle with predecessor Ratan Tata in 2016, died in a car accident near Mumbai on Sunday. He was 54.
Mistry was travelling in a Mercedes SUV with three close friends when it slammed into a divider on Charkoti bridge at 3.15pm near Palghar, around 120km from Mumbai, in Maharashtra.
Cyrus, scion of the Shapoor Pallonji group, and Jahangir Dinshah Pandole died on the spot.
Darius Pandole, chief executive of JM Financial Private Equity, and his wife Anahita, a well-known doctor at Breach Candy Hospital, were badly injured and shifted to a super-speciality hospital at Vapi in Gujarat. Jahangir was Darius's brother.
The bodies of Cyrus and Jahangir were shifted to the Kasa Rural Hospital for post-mortem.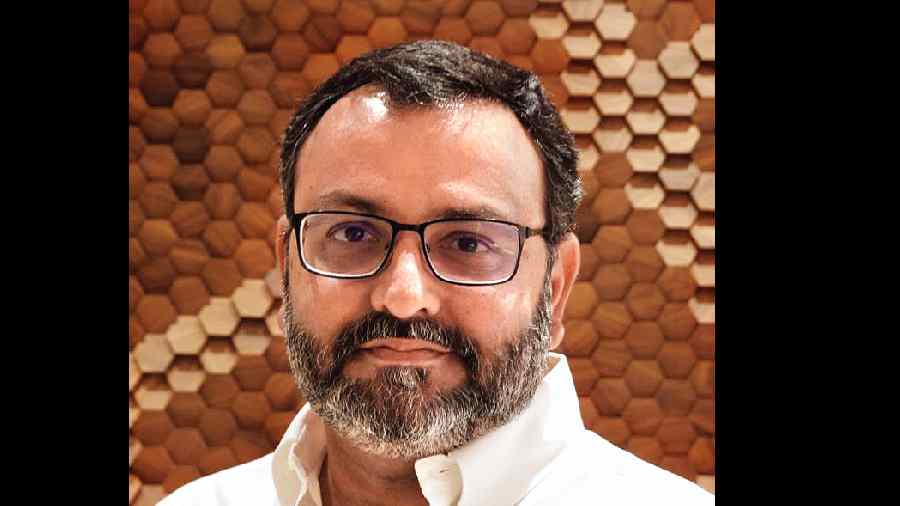 It was not immediately clear where Cyrus and his companions were coming from. Some reports said they were returning from Ahmedabad. Others said they had visited a fire temple in Udvada, Gujarat.
"The accident occurred on the bridge over the Surya river, killing Mistry and another person on the spot while two others have been shifted to Gujarat for further treatment," said Balasaheb Patil, Palghar district superintendent of police.
According to initial information, Anahita was at the wheel. The car was speeding and tried to overtake another vehicle from the wrong side, a police official told PTI.
"A woman was driving the car and tried to overtake another vehicle from the left side, but lost control and crashed into the road divider," PTI quoted an eyewitness as saying. Mistry and Jahangir were in the rear seats, the official said.
Cyrus was the younger son of Pallonji Mistry, founder of the SP Group who passed away in June at the age of 93.
Cyrus is survived by his wife Rohiqa Chagla, daughter of top lawyer Iqbal Chagla, and two young sons. Cyrus's sister Aloo is married to Noel Tata, the half-brother of Ratan Tata.
Cyrus had been picked as Ratan Tata's successor in 2012 after the patriarch decided to relinquish all executive responsibilities when he turned 75.
Four years later, relations between them soured over a number of corporate decisions and reforms that Cyrus had tried to introduce. This eventually led to Cyrus's ouster in October 2016.
Darius, who was in the vehicle, was an independent director of Tata Global Beverages and had backed Mistry during the corporate battle. Like many others who had supported Mistry, Darius was forced out of the Tata firm's board. The Mistry family still holds about 18.37 per cent of the equity in Tata Sons, the holding company of the $128-billion group.
After his exit from Tata Sons, Cyrus set up Mistry Ventures LLP. The company operates as a venture capital firm focused on providing seed and early stage and growth capital to start-ups across the globe.
Several politicians and industrialists tweeted their condolences after news of Mistry's passing was reported. Prime Minister Narendra Modi described Mistry's death as untimely and shocking.
"He was a promising business leader who believed in India's economic prowess. His passing away is a big loss to the world of commerce and industry," Modi said in a tweet.
Maharashtra deputy chief minister Devendra Fadnavis said he had asked the director-general of police to carry out a detailed investigation into the accident.
"He was among the brightest minds of the country who made a significant contribution to India's growth story," Congress leader Rahul Gandhi said.
Tata Sons chairman N. Chandrasekaran said: "I am deeply saddened by the sudden and untimely demise of Cyrus Mistry. He had a passion for life and it is really tragic that he passed away at such a young age."
Since his exit, Cyrus had been locked in a fierce battle with the Tata group, challenging his removal and the manner in which the Pallonji family's rights as a minority shareholder in Tata Sons had been trammelled.
In March 2021, the Supreme Court upheld Tata Sons' right to remove Cyrus and passed certain adverse remarks against him.
Cyrus pressed for a review of the order, which was turned down by a bench presided over by then Chief Justice of India N.V. Ramana in May this year.
The court, however, agreed to expunge certain remarks against Cyrus from last year's judgement although it took exception to a remark in his application that said "the judgment is worse than a press statement".
Cyrus had offered to sell his family's stake in Tata Sons but the Tatas rejected his massive valuation – apparently pegged at Rs 9.7 lakh crore – which included the value of Tata Sons' stakes in various listed and unlisted companies of the group.