Nisarga harder to predict than Amphan
Nisarga lifespan shorter, evolution quick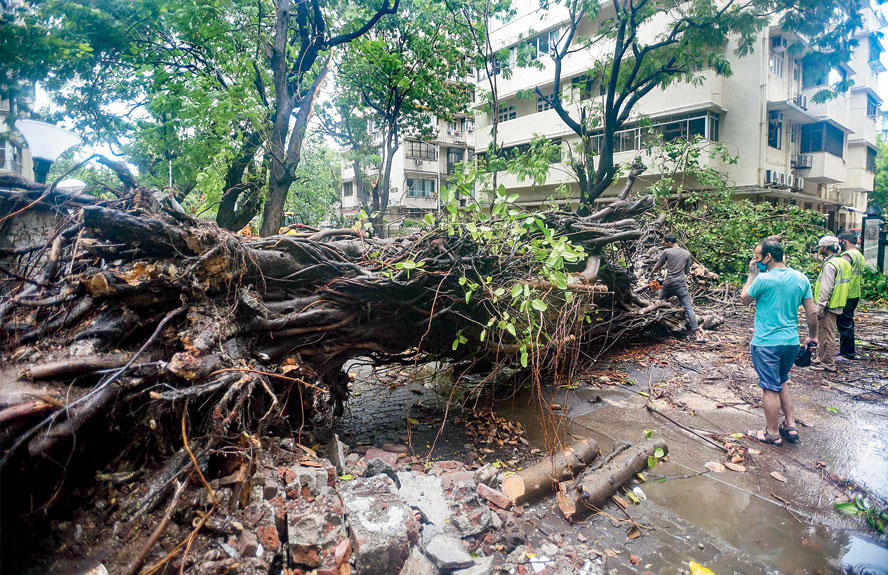 ---
---
The severe cyclonic storm named Nisarga that crossed the Maharashtra coast south of Mumbai on Wednesday afternoon had a shorter life span and a trajectory more difficult to predict than Amphan that ravaged Bengal last month, a senior weather scientist said.
Nisarga crossed the coast over Alibaug around 75km south of Mumbai between noon and 2.30pm with wind speeds up to 110kmph and weakened into a cyclonic storm, moving northeastward to hang over interior Maharashtra 90km east of Mumbai by 5.30pm with 60-70kmph winds.
In comparison, Cyclone Amphan's wind speeds during landfall ranged from 130kmph to 160kmph at different places in Bengal. The IMD predicted 1 to 2-metre tidal waves triggered by Nisarga along parts of the Maharashtra coast compared to Amphan's 3 to 4-metre waves in Bengal last month.
Until June 1, weather scientists did not have a clear forecast over where Nisarga would make landfall. The India Meteorological Department forecast had predicted a long stretch of the coast from Raigad in Maharashtra to Daman in Gujarat.
"Arabian Sea cyclones are usually harder to forecast than those in the Bay of Bengal," said Mrutyunjaya Mohapatra, the IMD director-general. "We don't have as much weather data and measurements from the Arabian Sea as we do on the Bay of Bengal side."
With less data, he said, the weather agency had to rely on remote measurements such as satellite-generated information about the state of the sea and atmosphere over the Arabian sea.
However, on May 31, when IMD forecasters observed a low pressure system over the Arabian Sea, they decided to issue a cyclone watch to Maharashtra, in effect taking a chance because they did not have high certainty that a cyclone would emerge.
"I think it's the first time in IMD history that we've issued a cyclone watch when it was still a low pressure system," Mohapatra said. A low pressure system evolves into a depression, a deep depression, then a cyclone. Earlier cyclone forecasts were issued when they were depressions or deep depressions.
He said Nisarga's quick evolution and short life span also made forecasting its trajectory harder than forecasts for Amphan.
Nisarga was a depression on June 1, a deep depression on June 2, and turned into a cyclone on June 2.
In contrast, Amphan was over the sea for over three days before landfall, the scientist said.