Amphan makes landfall
Nerves taut, cyclone unleashes wind speeds above 100kmph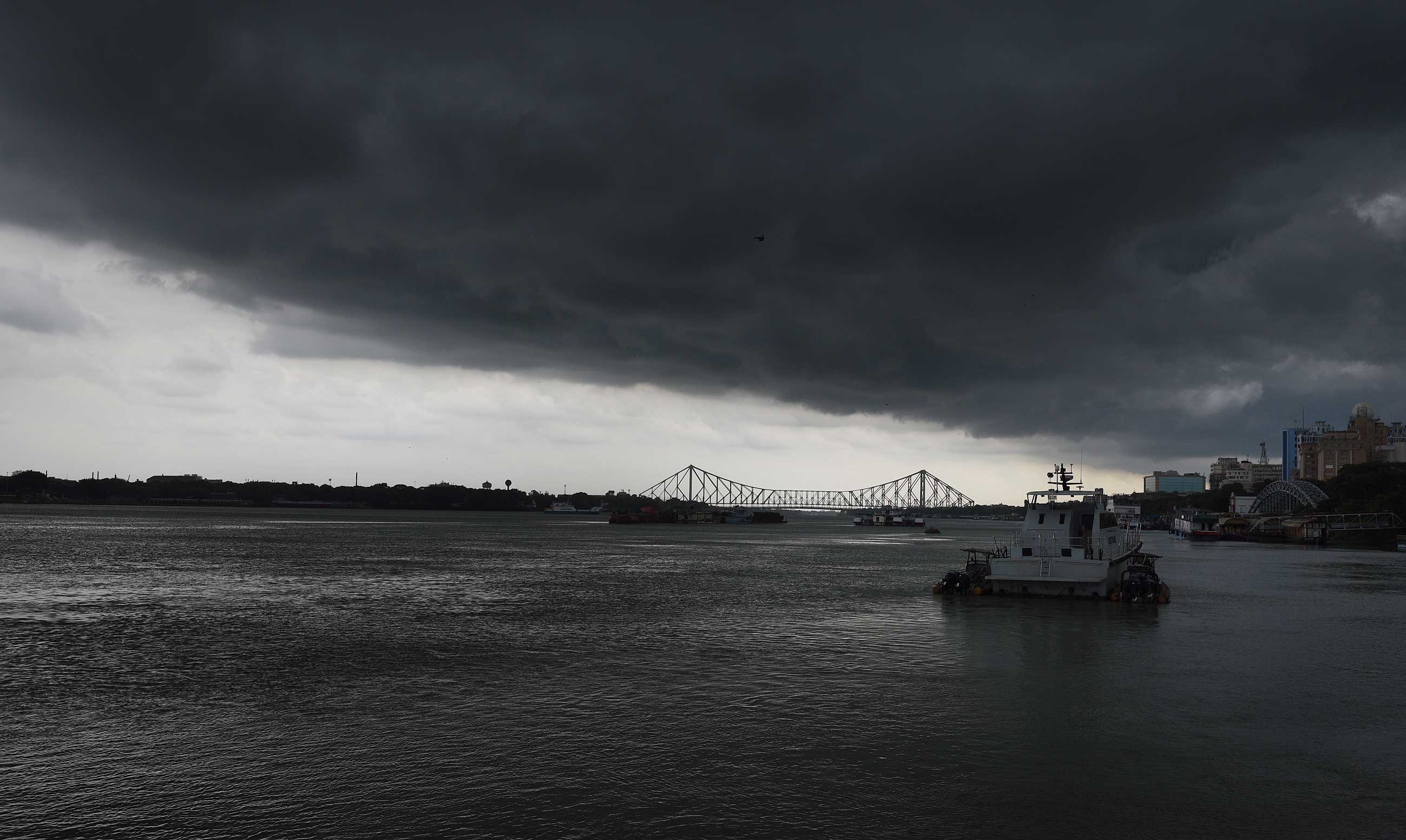 Dark clouds hover over the Hooghly river and the Howrah Bridge on Tuesday afternoon.
Picture by Pradip Sanyal
---
Calcutta
|
Published 19.05.20, 09:34 PM
|
---
Cyclone Amphan, one of the worst storms over the Bay of Bengal in years, started making landfall around 2.30pm on Wednesday, bringing with blinding rain and gusty winds.
'The landfall process began at 2:30 pm and will continue for about four hours. The forward sector of the wall cloud region is entering into land in West Bengal,' the Director of India Meteorological Department or IMD Bhubaneswar told news agency ANI.
'The forward sector of the wall cloud region is entering into land in West Bengal,' the Met said. The intensity of the cyclone near its centre was recorded at 160kmph-170 kmph, gusting to 190 kmph.
SUCS AMPHAN about 65 km east-southeast of Digha (West Bengal) at 1430 IST of 20th May. Landfall process commenced since 2:30 PM. It will continue for about 4 hours. The forward sector of the wall cloud region is entering into land in West Bengal. pic.twitter.com/Ma7gVEVMri

— India Met. Dept. (@Indiametdept) May 20, 2020
IMD director-general Mrutyunjay Mohapatra has said Amphan will reach near Calcutta by evening, adding that the entire cyclone will likely enter the land by 7pm.
Several districts in Gangetic West Bengal Heavy have been experiencing rain and gale winds since morning. The intensity of the downpour and wind increased gradually with every passing hour.
At 3.05pm, wind speed at Dum Dum airport was recorded at 76 km per hour, the Met said.
The system is likely to move north-north-eastwards after landfall and pass close to Calcutta in its eastern side causing extensive damage and flooding of low-lying areas of the city, the Met department warned.
From 'super cyclone' to 'extremely severe'
Amphan weakened from a super cyclone to an 'extremely severe cyclonic storm' on Tuesday, causing strong winds and heavy rain in parts of Odisha and Bengal as it advanced towards the Indian coast.
On Wednesday afternoon, the storm lay centered over northwest Bay of Bengal, just 95 km from West Bengal's Digha town before it started making landfall, reports PTI. The Met department, which issued an 'orange message' for West Bengal, warned of extensive damage in Kolkata, Hooghly, Howrah, South and North 24 Parganas and East Midnapore districts.
"Morar upor khaanrar gha," chief minister Mamata Banerjee said, describing the approaching storm with an adage that suggests "blows of the sword to a corpse".
About 4.5 lakh people evacuated from vulnerable areas in West Bengal and Odisha, NDRF chief S.N. Pradhan said.
Cargo and evacuation flight operations at Calcutta airport were suspended till 5am of Thursday
The railways has said that the AC Special Express train which left for New Delhi from Bhubaneswar would run on a diverted route skipping the Bhadrak-Kharagpr line.
Departures of special trains from New Delhi and Himachal Pradesh for Bengal had been cancelled. Strength
Amphan is the second strongest storm on the Bay of Bengal since the 1999 Odisha super cyclone, said Mrutyunjaya Mohapatra, a senior scientist and cyclone forecasting specialist at the IMD, New Delhi. Mohapatra has led the tracking efforts that began in the second week of May, focused on what was then a low-pressure zone near the South Andaman Sea.
At one point on Monday night, Amphan had become the only super cyclone after the Odisha one over 20 years ago.
"The 1999 super cyclone had generated sustained wind speeds of 260-280kmph. Amphan had winds blowing at 230-240kmph," Mohapatra said.
By Tuesday morning, Amphan had depleted from a super cyclone to an extremely severe cyclone.
The strength of storms is determined by wind speeds generated at their peak on the sea. Amphan had touched its peak wind speed on Monday night and the storm would lose some of the steam by the time it makes landfall.
Aila, a severe cyclonic storm that had ravaged the Sunderbans in 2009, had winds blowing at 110kmph during landfall.
Path
The system had been moving north-northwest at the beginning. But it did not travel in a straight path. Around Monday morning, it started to re-curve and travel in a north-northeast direction towards the Bengal and Bangladesh coasts.
A Met bulletin on Tuesday evening said Amphan was an "extremely heavy cyclonic storm over west-central Bay of Bengal about 360km from Paradip (Odisha) and 510km from Digha".
It is expected to continue its north-northeastward journey and hit land. After landfall, the storm will pass through Bangladesh as a weakened depression, said a Met official.
Landfall
"The storm is a huge system that will take close to five-six hours to make a complete landfall," said Mohapatra. The storm has a diameter of around 700km.
Even the depleted storm is expected to generate wind speeds of over 150kmph during landfall, with gusts clocking 185kmph, the Alipore Met office has said.
The core or the eye of a cyclonic storm is a relatively quiet zone, surrounded by the spiralling bands of winds.
As a storm passes, an area will experience the peripheral winds in the front. As the relatively calm core passes through land, there will be a brief lull. That will be followed by the passage of the rear winds, which are just as strong as the ones at the head of the spiral.
Calcutta connect
The storm mad landfall between Digha and Hatiya Island near the Sunderbans. Digha is 180km from Calcutta and the Indian Sunderbans around 110km. As forecast, the peripheral or outer spiralling winds of Amphan were being felt in the city since 2.30pm.