Cracker curfew before 8pm and after 10pm
Different window for Christmas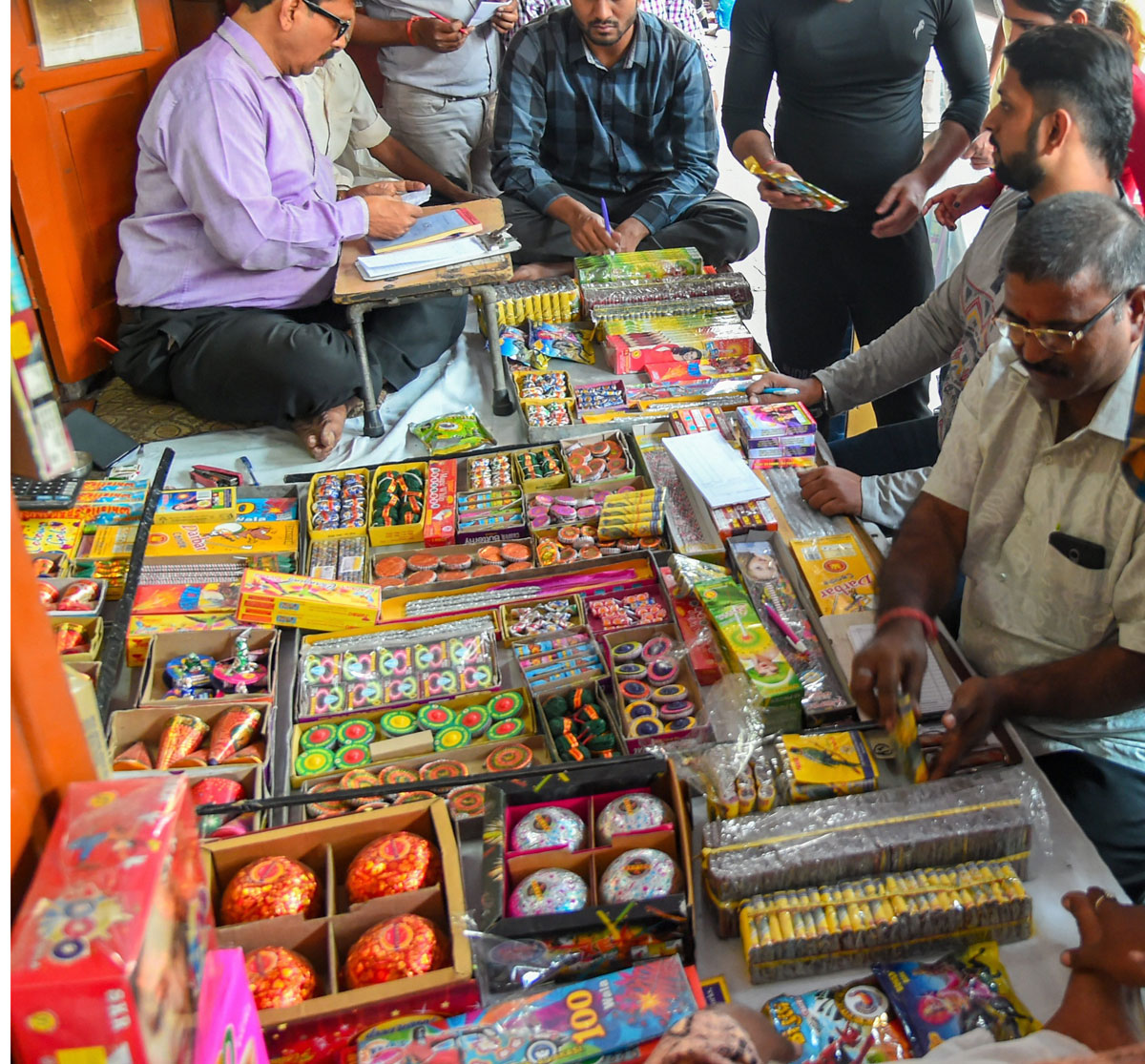 People purchase firecrackers in a market ahead of the festival of Diwali in New Delhi on Tuesday.
PTI
---
New Delhi
|
Published 23.10.18, 09:04 PM
|
---
The Supreme Court has ruled that firecrackers can be burst in the country for only two hours this Diwali, between 8pm and 10pm, and that in Delhi these must be restricted to "community" sites to be notified by the authorities within a week.

A bench of Justices A.K. Sikri and Ashok Bhushan also fixed the timings for bursting crackers on Christmas and New Year's Eve and said all other festivals, including Gurpurab, would follow the same time as Diwali. The time restriction applies across the country.
In Delhi and the National Capital Region, only crackers with "reduced emission" as specified by the Petroleum and Explosives Safety Organisation (PESO), a Government of India department, will be permitted. High-decibel crackers and those joined in a series popularly known as "ladees or loris" are also banned in the national capital, which has become one of the most polluted cities in the world.
The order came on a batch of PILs seeking a ban on the use of crackers during Diwali on the ground that it was one of the principal factors for the rising pollution.
Sale of crackers in the national capital shall only be through licensed offline traders and there should not be any sale of crackers through online trading companies such as Flipkart and Amazon, the court said.
Station house officers of the police stations concerned would be personally held liable for contempt if the orders are breached, said Justice Sikri, writing the judgment.
"On Diwali days or on any other festivals like Gurpurab etc., when such fireworks generally take place, it would strictly be from 8pm till 10pm only. On Christmas Eve and New Year's Eve, when such fireworks start around midnight, i.e. 12am, it would be from 11.55pm till 12.30am only.
"It is made clear that direction… pertaining to the duration within which fireworks can take place on all such occasions would be applicable throughout India," Justice Sikri said.
Laying down that crackers in Delhi can be burst only at notified community sites, the court said other states should also explore the feasibility of introducing this practice.
The bench noted that although Diwali crackers are not the only reason for worsening air quality, these definitely contribute to air pollution significantly.
The manufacturers had argued that bursting of crackers was an inherent right of citizens to practise/profess their religion guaranteed under Article 25 of the Constitution.
"We proceed on the assumption that burning of crackers during Diwali is a part of religious practice. The question is as to whether it should be allowed to be continued in the present form without any regulatory measures, as a part of religious practice, even if it is proving to be a serious health hazard," the court said.
"We feel that Article 25 is subject to Article 21 (personal life and liberty) and if a particular religious practice is threatening the health and lives of people, such practice is not entitled to protection under Article 25. In any case, balancing can be done here as well by allowing the practice subject to those conditions which ensure nil or negligible effect on health," it added.
The timings
Diwali: 8pm to 10pm
Gurpurab: 8pm to 10pm
Christmas Eve: 11.55pm to 12.30am
New Year's Eve: 11.55pm to 12.30am
Other festivals: 8pm to 10pm