Cow vigilantes attack men over oxen in Jammu
Activist say such attacks have been common in the region through the Covid outbreak and lockdowns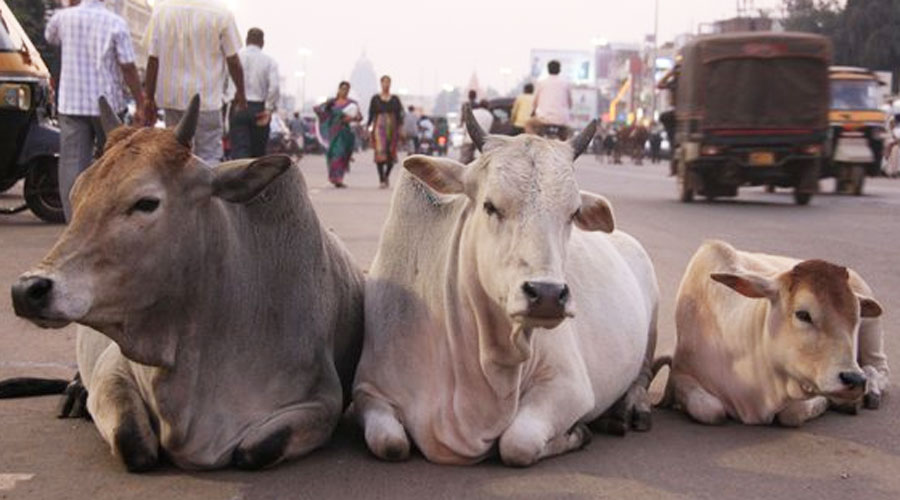 Representative image.
File picture
---
Srinagar
|
Published 09.05.21, 01:37 AM
|
---
Cow vigilantes grievously injured two men from the tribal Gujjar community in Jammu on Thursday night, with a tribal activist saying such attacks have been common in the region through the Covid outbreak and lockdowns.
Thursday's assault became widely known because the allegedly stick-and-knife-wielding attackers posted a video of the violence, prompting police to lodge a case and make a few arrests.
Mohammad Sidiq and Amir Hussain, who are cousins, were returning home after buying a pair of oxen when they were attacked in the Garkote area of Jammu. They have been admitted to hospital with multiple injuries to their heads and faces.
In the video, the fear-stricken youths are seen bleeding from the head, face, mouth and ear. One of the several stick-wielding men in the images, their faces not visible, is heard screaming to another to shoot a video.
The site seems to be a forest, and there appears to be a source of light somewhere close.
A police officer said a case had been registered invoking attempt-to-murder and other charges.
The Gujjars are the only community in Jammu and Kashmir that is entirely Muslim, unlike Gujjars in other states who are largely Hindus. They mostly rear sheep, goat and cattle.
Sidiq told The Telegraph from his Jammu hospital bed that he had 17 stitches on his head.
"One of my teeth broke. Hussain too has multiple injuries," he said.
"It was dark and I can't tell how many men attacked us. They probably had knives (and sticks). As soon as they attacked, we fell unconscious."
Sidiq said that when he regained consciousness, he found the police had arrived. Some of the attackers were still there.
"The police rescued us. We had lain there (a long time). It would have taken the police no less than an hour and a half to arrive. They (the police) shifted us to hospital," he said.
Sidiq said the cousins had bought the oxen from Keri village and were taking them back home to Gorda village for "our personal use".
"We don't have tractors; we use them (oxen) in our fields. We were fasting during the day (because of Ramazan). We broke the fast in Keri, because of which we were late," he said.
"They alleged that we were cattle traders and planned to sell the oxen in Srinagar. We pleaded innocent but they beat us with whatever they had in their hands. We fell unconscious."
The incident triggered outrage, with many asking the police to act.
"Attack, beat & shoot video. This is your Mardangi. Even in this crisis these Goons are attacking poor tribals in Jammu," tribal activist Guftar Chowdhary tweeted.
Chowdhary told this newspaper there had been no let-up in such attacks during the epidemic. "Every month or two, we see such cases," he said.
The activist said he had spoken to the police and learnt that five men had been arrested.