Covid: Oxygen runs out, 24 patients died in Karnataka
Health minister claimed that 3 of them lost their lives because of an interruption in the supply at district government hospital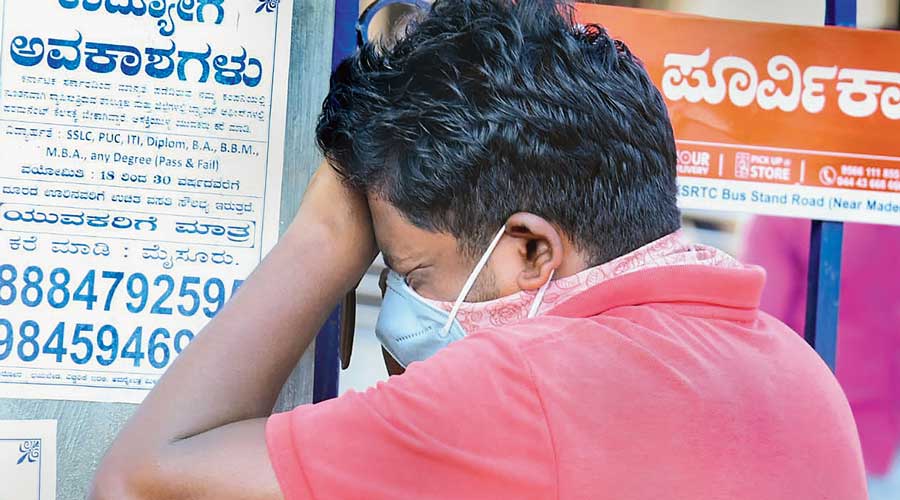 ---
Bangalore
|
Published 04.05.21, 02:54 AM
|
---
Twenty-four Covid patients died in Karnataka's Chamrajnagar district in 24 hours, with the Opposition alleging they succumbed to a lack of oxygen and crying "murder by the government".
Karnataka health minister K. Sudhakar acknowledged an oxygen shortage in the state but claimed that only 3 of the 24 patients had died because of an interruption in oxygen supply at the district government hospital.
Leader of the Opposition P.C. Siddaramaiah alleged that Chamrajnagar had been facing an oxygen shortage since Friday but the authorities had ignored the pleas of Congress leaders from the district.
While 23 patients died at the government hospital, one died at a private hospital in Chamrajnagar, about 175km from here, between Sunday 7am and Monday 7am, minister Sudhakar said.
"All the (23) patients (at the district hospital) had been in hospital for 14 to 18 days and were critical," he said.
He said the state government had ordered an inquiry headed by an IAS officer, Shivayogi Kalasad.
"Each life is precious and it's our duty to find out the reason (for the deaths) and ensure they are not repeated," the minister told reporters.
Asked about the Opposition's allegation, Sudhakar said: "I shall wait for the inquiry report, to be submitted in three days."
Sudhakar said that while the government hospital had a 6,000-litre oxygen storage plant whose stocks were expected to last a day and a half, private hospitals in Chamrajnagar mostly depended on oxygen cylinders ferried from Mysore, 60km away.
"All cylinders are refilled in Mysore since Chamrajnagar has no refilling centre," Sudhakar said, citing what he said was one of the reasons for the shortage.
Siddaramaiah sought the resignation of BJP chief minister B.S. Yediyurappa, Sudhakar and education minister Suresh Kumar, who is in charge of the district.
The Congress leader demanded a judicial inquiry into the deaths, asking whether a government probe headed by a bureaucrat could be expected to reveal the truth.
"Our former MP, R. Dhruvanarayana, and MLA Puttaranga Shetty tried to reach Suresh Kumar even on Sunday (over the oxygen shortage) but he was not available," Siddaramaiah said.
He urged the government to pay Rs 25 lakh to the next of kin of each of the dead as compensation, and punish all those responsible.