A survey across Delhi has found 23 per cent of the sampled population infected by the new coronavirus, implying uncounted infections in the national capital alone had far exceeded by late-June India's current total count that crossed 1.15 million on Tuesday.
The survey findings, released by the Union health ministry on Tuesday and if applied to an estimated Delhi population of 20 million, would mean over 4.5 million people across the city have already been infected and recovered without anyone's knowledge.
This estimated infection exposure level is 35-fold higher than Delhi's current lab-confirmed count of around 125,000 and points to continued transmission of the virus amid gigantic testing gaps that likely missed even patients with symptoms, health researchers said.
The health ministry said nearly six months into the epidemic, only 23 per cent of the people in Delhi are exposed to the infection despite several high-density pockets in the capital.
"This can be attributed to the proactive steps by the government to prevent the spread of the infection," the ministry said, citing examples of interventions such as the lockdown, containment and surveillance, contact tracing, and citizens' compliance with precautionary measures.
Health officials said the finding that 77 per cent of the population is still vulnerable to the infection makes it imperative to continue containment and precautionary measures such as use of face masks, hand hygiene, physical distancing and avoidance of crowded places with rigour.
The survey conducted from June 27 to July 5 looked for antibodies against SARS-CoV-2, the virus that causes the coronavirus disease, in blood sera samples. Health officials and researchers cautioned that it is still unclear how long such antibodies last and whether they are protective against future infections.
The antibodies measured are generated roughly two weeks after exposure to the virus. "So the exposure levels we're seeing is what they were in the Delhi population in June," said Sujeet Singh, director of the National Centre for Disease Control.
But medical experts say the survey points to a large number of undetected cases.
"A 23 per cent prevalence is a huge number — nothing to pat our own backs on how well the government has responded," a senior public health researcher in a government department told The Telegraph.
"This means a huge number of cases went undetected either because they were asymptomatic or because they were missed under the testing strategies over the past two or three months," the researcher said, requesting not to be named.
The Indian Council of Medical Research expanded testing for the coronavirus disease to all patients with influenza-like illness symptoms anywhere in India only on June 23, although multiple public health experts had been advocating this since early April.
The Delhi survey findings point to a fast spread of infection and the possibility that many patients with symptoms were not tested for Covid-19, said Shahid Jameel, a senior virologist and head of the Wellcome Trust DBT India Alliance, an India-UK research partnership.
No one knows what proportion of people infected with the new coronavirus remain asymptomatic throughout the course of their infections and thus have no reason to seek any medical consultation.
Global studies suggest that around 80 per cent of Covid-19 patients are asymptomatic or have only mild symptoms that do not require hospital care.
"If only 20 per cent of the estimated uncounted cases of 4.5 million were symptomatic, there would be over 900,000 cases with symptoms," Jameel said. "Delhi has so far done only 830,000 tests and found around 125,000 positive. The testing strategy has definitely missed symptomatic patients."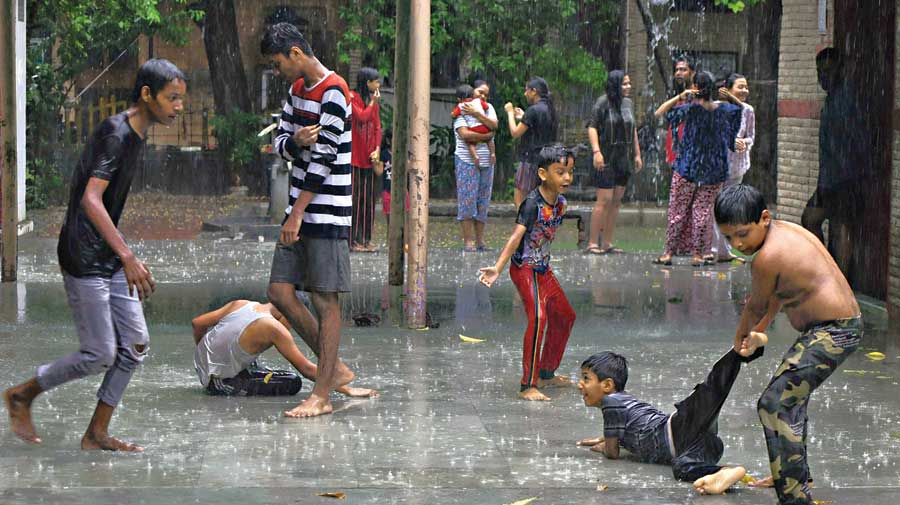 Children play in front of a temple during heavy rain in Noida on Tuesday. Prem Singh
Senior health officials said India's testing strategy has evolved according to need and capacity.
"We started with only one lab — we now have over 1,000," said Vinod Paul, a senior paediatrician and member of Niti Aayog, the Centre's apex think tank, who is advising the government's Covid-19 response.
Rajesh Bhushan, a secretary-level officer on special duty in the health ministry, said Delhi's number of tests had increased from 9,500 per day in early June to over 25,000 per day in early July.
"Delhi's positivity rate has fallen from around 37 per cent in early June to 9 per cent in early July," Bhushan said.
The positivity rate — the number of people found positive divided by the number tested — should be ideally 5 per cent or lower.
The ICMR had in May conducted a similar antibody survey across around 70 cities and towns whose detailed results are yet to be released.
The ICMR had last month said the survey, which would give a picture of infection levels in late April, had suggested that 0.73 per cent of the sampled population had been exposed to the coronavirus.