Covid: fresh boost to vaccine hope
US biotechnology company Moderna claims over 94% effectiveness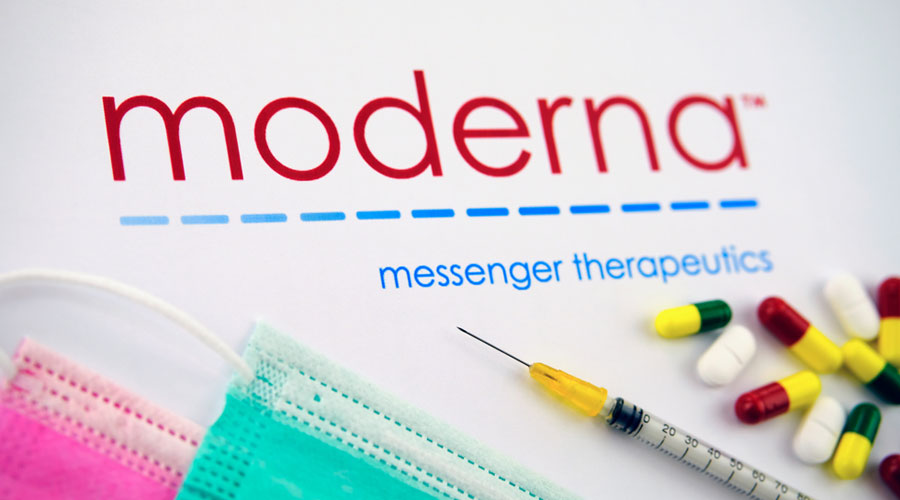 The company said it intended to submit "in the coming weeks" an application for emergency use authorisation to the US Food and Drug Administration.
Shutterstock
---
New Delhi
|
Published 17.11.20, 04:34 AM
|
---
A US biotechnology company announced on Monday that its candidate vaccine against Covid-19 was over 94 per cent effective against the infection, becoming the third company in a week to report efficacy levels exceeding expectations.
Moderna Therapeutics said its first interim analysis of 95 Covid-19 patients among 30,000 participants in its clinical trial had observed 90 cases among volunteers who had received a placebo and 5 among the candidate vaccine recipients, or a vaccine efficacy of 94.5 per cent.
Of the 95 Covid-19 cases, 11 were severe cases, all in the placebo group and none among the candidate vaccine recipients. 
The trial's data safety monitoring board, which analysed the results, did not find any significant safety concerns, the company said.
"This analysis has given us the first clinical validation that our vaccine can prevent Covid-19 disease, including severe disease," Stephane Bancel, chief executive officer of Moderna, said in a statement.
The company said it intended to submit "in the coming weeks" an application for emergency use authorisation to the US Food and Drug Administration.
Moderna also plans to submit applications for authorisations to global regulatory agencies.
This is the third announcement of an efficacy level of 90 per cent or higher since November 9, when Pfizer-BioNTech announced over 90 per cent efficacy with their candidate vaccine.
On November 11, Russia's Gamaleya Institute announced a 92 per cent efficacy with its candidate vaccine.
The higher than 90 per cent efficacy in three candidates has surprised scientists because regulatory authorities had set clinical trial efficacy thresholds of 50 per cent. However, researchers have underlined that these are early and interim results, which could change over the coming months as more data from trials come in.
Moderna said it expected to have 20 million doses ready to ship within the US by the end of 2020 and remained on track to manufacture 500 million to one billion doses during 2021.
Media reports in the US have cited Moderna as saying it would price the vaccine at $32 to $37 a dose, which could mean the two-dose vaccine would cost $64 to $74 per recipient.
Medical experts in India have said the high-efficacy results are encouraging but cautioned that it is unclear whether, and how much of, the Moderna or Pfizer-BioNTech candidates would be available for use in India.
Russia has offered India 100 million doses of its candidate vaccine but clinical trials to assess the efficacy of the Russian candidate in India are yet to be conducted.
Health minister Harsh Vardhan had said last month that India hoped to immunise 250 million people with a Covid-19 vaccine by July 2021. The health ministry has asked the states to draw up lists of high-priority groups, such as healthcare workers, to receive the earliest doses.
But members of an expert panel tracking Covid-19 vaccines have asserted that until India knows which vaccine will be available for a domestic roll-out, such numbers are "tentative" and only part of multiple scenarios discussed for advanced planning.
An analysis by health researchers at the Duke University Health Innovation Centre, released earlier this month, had cautioned that advance orders for Covid-19 vaccines from high-income countries could leave hundreds of millions of people in the developing countries without vaccines in the early years of the roll-outs.
But scientists say the high efficacy observed with three different candidates appears to validate a core vaccine design strategy adopted also by other candidate vaccines, including efforts in India.
What the three sets of results suggest collectively is that "the spike protein antibodies protect people", Gagandeep Kang, a senior microbiologist and vaccine science expert at the Christian Medical College, Vellore, told The Telegraph.
A Pune-based company, Gennova Biopharmaceuticals, has developed an m-RNA-based candidate vaccine against Covid-19, similar to the Moderna and Pfizer-BioNTech candidates, and is awaiting approvals from central government panels to initiate human trials.