Trend anticipated, but scientists caution against laxity
Covid: First signs of immunity without vaccine
Scientists caution against laxity as anticipated trend emerges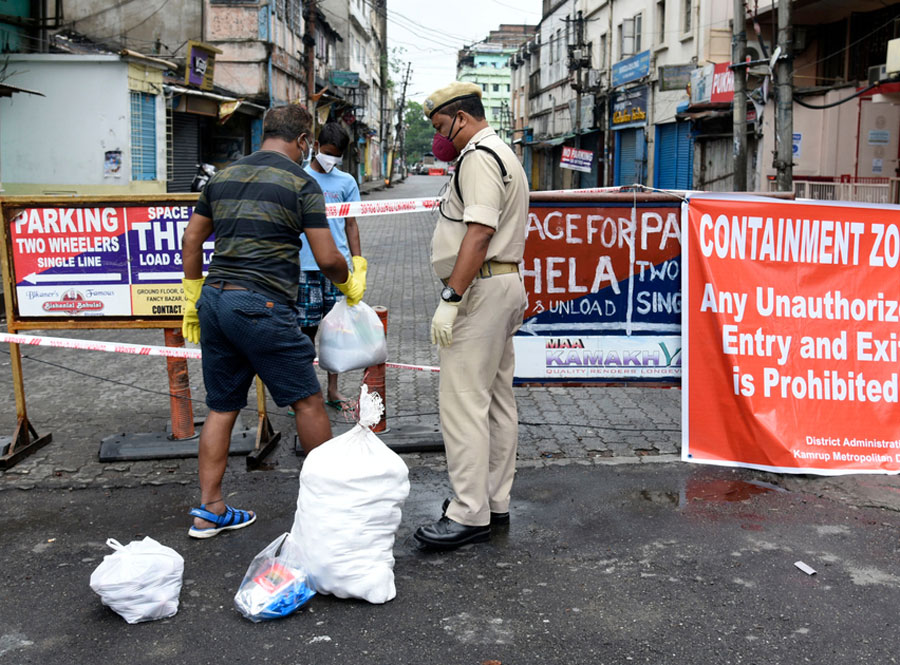 ---
---
Medical researchers have documented for the first time in India fewer new cases of the coronavirus disease in urban areas with large proportions of previously infected people, a sign of emerging population-level protection without a vaccine.
The researchers have cautioned that their findings report an epidemiological phenomenon anticipated to occur but hitherto unrecorded with Covid-19, and should not lead to any laxity in precautions such as masks, physical distancing and avoiding crowds.
Their study in Pune comparing new cases against seroprevalence — the proportion of people with antibodies against SARS-CoV-2, the virus that causes Covid-19 — has found areas with the highest prevalence showing the fewest cases and areas with the least prevalence showing the highest cases.
An area called Lohiyanagar-Kasewadi, for instance, with a seroprevalence level of 66 per cent reported only five cases per 1,000 people during a 45-day period after the prevalence survey. In contrast, an area called Kasba Peth-Somwar Peth with 35 per cent seroprevalence reported 20 cases per 1,000 people.
"Other cities with similar large epidemics and different seroprevalence levels are likely to show similar patterns," said Aurnab Ghose, associate professor of biology at the Indian Institute of Science Education and Research, Pune, a study team member.
The study, posted on a preprint server but not peer-reviewed yet, has also found neutralising antibodies targeting SARS-CoV-2 in 85 per cent of the people with antibodies to the virus, an indication of at least temporary protection from the virus.
Health researchers have predicted for months that when a sufficiently large proportion of people get protected either through natural infections or through vaccines, the epidemic will slow down because each protected person serves as a barrier to further spread of the virus.
Some experts have speculated that the overall decline of India's epidemic since mid-September could be a sign of community-level protection emerging in some states — such as Maharashtra — resulting from large proportions of already infected people.
"This is a well-executed study, but the correlation between antibody prevalence and new cases is as expected," said T. Jacob John, an infectious disease specialist. who was formerly at the Christian Medical College, Vellore. "The real question is how long the protection will last."
US researchers had earlier this month reported detecting "immune memory" in over 90 per cent of a sample of infected people for five months or longer, indicating "durable immunity" against Covid-19 in most individuals.
Ghose and his colleagues hope to conduct follow-up studies on the duration of immunity.
"We see a very good protective response in 85 per cent of people across all age groups — even older people show this response, which is very good," said L.S. Shashidhara, professor of biology at Ashoka University in Sonipat (Haryana) and a team member. "But our findings also raise questions — how long will the immunity last, and why do 15 per cent of people don't show the protective neutralising antibodies? These are the questions we need to probe."
The duration of the protection has implications for vaccines — when they become available. Members of the Centre's expert panel on Covid-19 vaccines had told The Telegraph last month that antibody profiles of people could be used to determine who needed or did not need vaccines. People who already display a strong protective immune response need not be prioritised for vaccines, one official said.
Ghose said he hoped the Pune study would serve as a template for cities and states across India and for other countries with large and diverse epidemics. "Such studies provide insights into both population-level protection and individual protection," he said.
The Union health ministry on Thursday recorded around 45,000 new cases after a steady fall since mid-September, when the daily new cases had climbed to over 90,000. Around 443,000 patients are under medical supervision and 131,578 have died.
The new cases from high seroprevalence areas are in line with expectations that even after a sufficiently large proportion of the population is infected and the epidemic slows or stops, a steady trickle of new cases will continue to emerge.