No evidence of link to surge as yet
Covid-19: Double mutation variant fuels fears
Health experts say whether it has played a role in the surge or not, it is critical to control the human factors driving the growth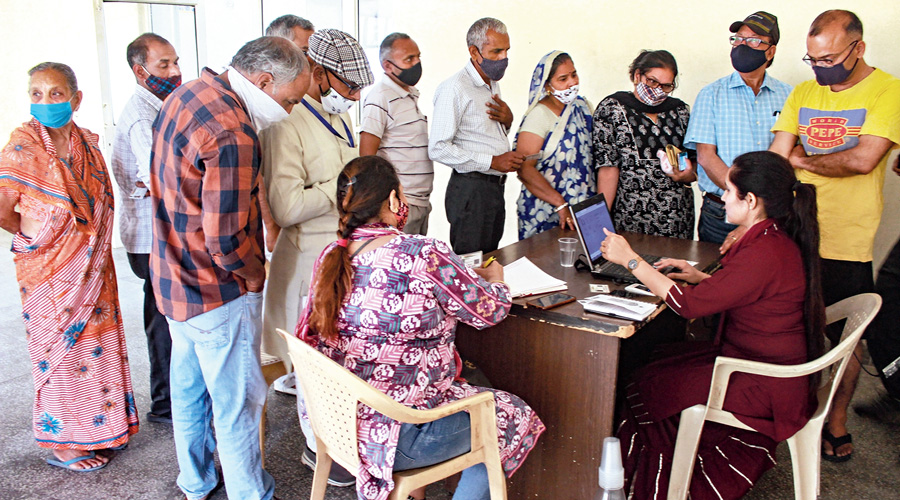 Senior citizens wait for their turn to receive their first dose of Covid-19 vaccine in Gurgaon on Tuesday.
PTI photo
---
New Delhi
|
Published 17.03.21, 02:14 AM
|
---
Government researchers have found a coronavirus variant with two worrisome mutations in samples from Maharashtra and started epidemiological detective fieldwork to determine whether it has played any role in the Covid-19 resurgence there or in other states.
A 10-lab research consortium has alerted the Union health ministry that a variant with the mutations designated E484Q and L452R makes up about 20 per cent of over 200 coronavirus genomes sequenced from some of Maharashtra's hardest-hit districts.
E484Q is what scientists call an escape mutation that allows the virus to evade some human immune responses. L452R has been shown by researchers at the University of California, San Francisco, to increase infectivity of the virus.
Senior scientists with the consortium have asserted that there is no evidence yet to attribute the surge in Maharashtra to the variant but the double mutation among the sequences has amplified suspicions that a more infectious variant capable of evading immune responses might be at play.
Epidemiologists at the National Centre for Disease Control (NCDC) — the nodal centre for the Indian SARS-Cov-2 Genomics Consortium — and scientists in partner labs are looking for connections, if any, between the double mutation and infection patterns in Maharashtra or other states.
"We're searching for answers," a consortium scientist told The Telegraph. "Are fractions of cases with the double mutation increasing over time? Is the double mutation appearing in clusters of cases? Is it associated with rapid infection spread? Is it causing reinfections in previously infected people?"
Health authorities have so far attributed Maharashtra's more than four-fold increase in average daily new cases over the past month — 3,051 on February 15 to 15,051 on March 15 — to laxity in wearing masks and avoiding crowds and poor efforts to test and isolate cases and quarantine contacts.
Maharashtra's second wave alongside rising counts in Gujarat, Haryana, Madhya Pradesh and Punjab have more than doubled India's daily new cases from around 11,200 in mid-February to over 23,000 on Tuesday, raising fears of a second nationwide wave.
Health experts say whether variants have played a role in the surge or not, it is critical to control the human factors driving the growth. "The solutions remain the same — wearing masks, avoiding crowds, aggressive testing, contact tracing and other containment measures," one state adviser said.
The L452 mutation has been implicated in multiple outbreaks in California where, the consortium's scientists said, its frequency among sequenced genomes had increased from 0 per cent in September 2020 to over 50 per cent in January 2021.
"I think the signals from California and the surge in Maharashtra are enough indications to consider the variant with the double mutation as a likely variant of concern that must be investigated deeper," said a senior scientist.
The NCDC which maintains a nationwide disease surveillance network and the National Centre for Cell Science, Pune, procured samples collected in districts from Maharashtra over the past two months and sequenced the genomes, collaborating with researchers at the CSIR Institute for Genomics and Integrative Biology, New Delhi.
Senior epidemiologists have suggested that there is an urgent need to determine who is getting infected in the worst-affected districts. One option would be to simultaneously perform a blood test looking for antibodies while taking throat swabs to diagnose the infection, an epidemiologist said.
"In a large sample, if we find infections without antibodies, we'll know the virus is spreading only among susceptible people. But if we find the virus in some people with antibodies, we'll know people previously infected are turning up positive," the expert said. "We need such studies immediately."
While E484Q had turned up in 11 countries and L452R had been detected in 20 countries by mid-February, scientists say this is likely the first time the two have been documented as a double mutation in a variant.
The Centre had in December — amid signals of potentially troubling variants emerging in the UK and South Africa — announced that the consortium would sequence coronavirus genomes from 5 per cent of positive samples across the country.
The consortium has bolstered sequencing efforts. The NCDC and nine partner labs have collectively sequenced over 7,000 genomes since mid-January, nearly as many as different scientific groups across the country had sequenced from April to December.
All viruses, including SARS-CoV-2 that causes Covid-19, acquire genetic mutations over time, most of them random changes that do not benefit the virus in any way. Some mutations, however, might make the virus more infectious or evade immune responses. Over the past six months, variants of concern — either more infectious or capable of evading antibodies — have emerged in the UK, South Africa and Brazil, among other countries.
"Even if the E484Q-L452R double mutation variant turns out to be a variant of concern, the numbers for now suggest that 80 per cent sequences sampled are other variants — and public health response doesn't change in any way," said the director of one of the consortium's labs in southern India.
A public health expert said the current surge can't be just "wished away" as large numbers of people are infected.
"Rigorous testing, isolation of cases, house-to-house surveillance, and quarantine on contacts can curb the spread," the expert said. "But it could take three to six weeks, but much will depend on how efficiently these things are done."