Trend reflects early detection, better understanding
Covid: Dip in patients who need critical care
Only 2.32 per cent of the Covid-19 patients on oxygen support, 1.61 per cent were in intensive care, and 0.28 per cent on ventilator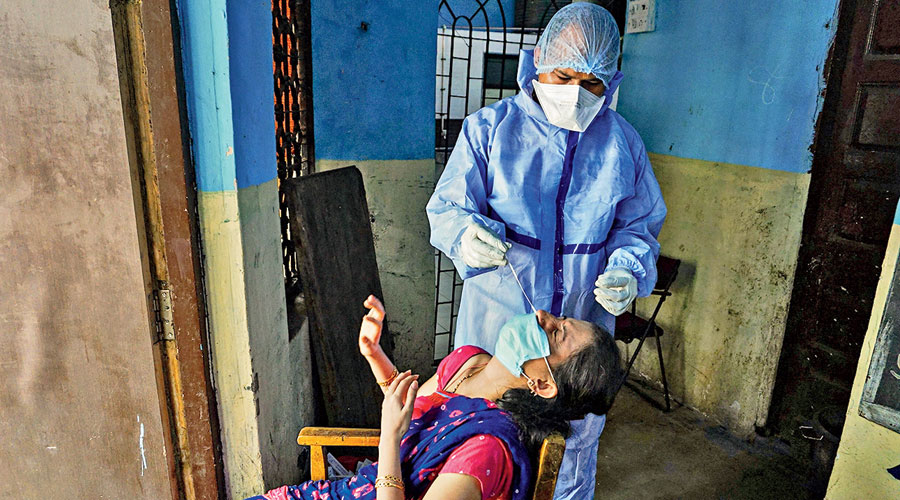 ---
---
India on Friday recorded 55,078 new coronavirus infections, a fresh highest-ever single-day increase, but the proportions of its patients who require oxygen, intensive care or ventilator support have fallen over the past two months.
Union health minister Harsh Vardhan, chairing a Group of Ministers' meeting on Friday, said only 2.32 per cent of the Covid-19 patients were on oxygen support, 1.61 per cent were in intensive care, and 0.28 per cent were on ventilator.
Each of the three numbers marks a fall since mid-May. The health ministry had on May 17 said that 2.7 per cent of the patients were on oxygen support, 3.1 per cent were in ICUs and 0.45 per cent were on ventilator.
The decrease in the proportions of severely ill Covid-19 patients coincides with a fall in the case fatality rate (CFR) in recent weeks, experts and doctors said.
The CFR — the proportion of deaths among lab-confirmed cases — dropped from 3.3 per cent on June 18 to 2.72 per cent on July 10, and to 2.21 per cent on July 30.
"The CFR is progressively reducing and currently stands at 2.18 per cent, among the lowest in the world," Vardhan told the GoM.
Doctors and public health experts said the lower proportions of patients with severe disease might reflect early and improved clinical management. They said the trend was expected, with the patients being diagnosed early enough and the doctors having gained experience in managing the disease.
"The major factors seem to be early detection and treatment along with better understanding of the pathophysiology," said Shikha Panwar, a critical-care medicine specialist at the Sarvodaya Hospital in Faridabad (Haryana) who has treated over 60 Covid-19 patients since April.
Doctors are using a range of therapy options – oxygen, steroids and the anti-virals remdesivir and favipiravir, approved for restricted use on Covid-19 patients.
"We are also using convalescents' plasma as soon as we detect deterioration in a case," Panwar said.
An improved monitoring of patients under home isolation with no symptoms or only mild symptoms, and quick transfer of others to dedicated Covid-19 hospitals, may have contributed to the fall in the proportions of severe cases.
"A lot of people who needed oxygen are probably getting it early and therefore not worsening," said Oomen John, a public health specialist at The George Institute for Global Health, New Delhi.
"Mild cases are monitored at home and doctors are better able to prevent the cascade of complications through early interventions."
India's total number of lab-confirmed cases rose on Friday to 1,638,870, of whom 545,318 patients are under medical supervision, 1,057,805 have recovered and 35,747 have died.
The health ministry's latest figures suggest that among the 545,318 patients under medical supervision, 1,527 are on ventilator, 8,780 are in ICU, and 12,651 are on oxygen support.
Some critical-care specialists cautioned that it was too early to predict whether these trends would hold.
"Case burdens are shifting from the large cities to the smaller towns and rural areas, such as sites in Bihar," said Raj Mani, a critical-care specialist supervising Covid-19 care at a private hospital in Ghaziabad.