'Why didn't Modi respond to Manmohan?'
Covid: Congress slams Centre's 'vile, sadak chhaap' reply
Manmohan Singh had in a letter to Narendra Modi on Sunday suggested strategies to scale up the vaccination campaign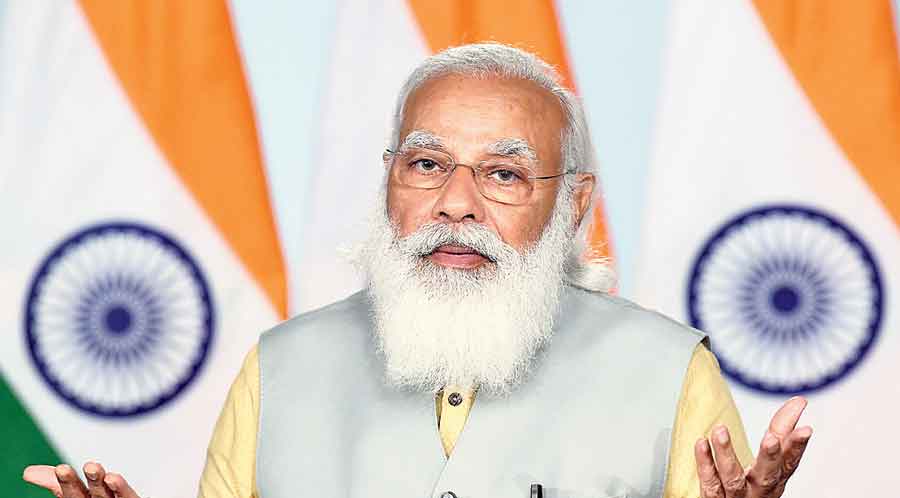 ---
---
The Congress on Monday criticised Prime Minister Narendra Modi's failure to respond to predecessor Manmohan Singh's letter himself and dismissed health minister Harsh Vardhan's reply as "vile and pedestrian".
Singh had in a letter to Modi on Sunday suggested strategies to scale up the Covid-19 vaccination campaign. Vardhan's reply on Monday avoided any discussion of the proposals' merits while accusing Congress leaders of promoting vaccine hesitancy by "spreading falsehoods" and suggesting Singh's party follow his advice first.
Congress leaders said the government should have flagged the flaws and shortcomings in Singh's letter, if any, instead of resorting to scorn and partisan accusations.
They viewed Modi's move to have a junior engage with his predecessor as an affront in itself.
Singh, who tested Covid-positive and was admitted to hospital on Monday, had avoided political rhetoric in his letter.
Soon after the former Prime Minister was admitted to AIIMS, Rahul Gandhi tweeted: "Dear Dr Manmohan Singh Ji, wishing you a speedy recovery. India needs your guidance and advice in this difficult time."
Dear Dr. Manmohan Singh Ji,

Wishing you a speedy recovery.
India needs your guidance and advice in this difficult time.

— Rahul Gandhi (@RahulGandhi) April 19, 2021
While social media erupted over what many users saw as an ungracious reply by Vardhan, the news of Singh's illness later in the day put the government in an embarrassing position.
Congress spokesperson Supriya Shrinate said: "Who is the health minister to write to former Prime Minister Manmohan Singh? Why did Modi not respond to the constructive suggestions given by Manmohan Singh, a leader respected the world over?
"A health minister who has put out 40 tweets on political rallies in the last few days has failed in his job. It is shocking he stooped so low as to indulge in a political slanging match instead of dealing with substantive issues despite being a medical professional himself.
"This letter written by the health minister is a new low in Indian politics, (adopting a) low-level language and accusatory tone instead of responding to constructive suggestions."
Maharashtra minister Ashok Chavan, who addressed the media along with Shrinate, said: "The government's pedestrian reply is shocking. People are distressed and they are not interested in leaders' statements. They want oxygen, medical help, vaccines."
Chavan added: "Manmohan Singh has enormous administrative experience. He wrote in the spirit of cooperation and gave valuable suggestions. There was no need for hollow rhetoric by the health minister. This is the time to provide succour to the people together.
"Modi should have engaged with the former Prime Minister. But the failed health minister offered a sadak-chhap (pedestrian) answer. The country would have benefited had the constructive suggestions been taken seriously."
Shrinate said: "Harsh Vardhanji claimed that permission (to bring in and use) other vaccines available in foreign countries had been given before Singh's letter. When Rahul Gandhi first demanded it, cabinet ministers blasted him, accusing him of lobbying for foreign firms.
"He (Vardhan) blamed the Congress for spreading misinformation. Valid concerns about a vaccine that had not completed trials are not misinformation."
Shrinate asked the minister: "What was your vaccine plan? You put all your eggs in one basket.... Did you know about vaccine hesitancy in advance? You are only trying to mask your own incompetence and failures by blaming the Congress."
She added: "Testing is not being done in many states, including Uttar Pradesh and Madhya Pradesh. People are not getting oxygen, remdesivir — and BJP leaders are in possession of medicine worth crores of rupees. People have to wait for cremation for 15-16 hours and the Prime Minister and home minister are campaigning in Bengal."
Chavan regretted that Union ministers had attacked the Maharashtra government when it complained that its vaccine stocks would last only three days.
"The need of the hour is cooperation. Shouldn't a vaccine shortage be brought to the Centre's notice? The Prime Minister announced a 'tika utsav' (vaccine festival) without ensuring an adequate supply of vaccines. In Maharashtra, 35 out of 127 vaccination centres are closed for want of stocks," Chavan said.
"There is an issue of remdesivir shortage. When the Mumbai police call a distributor accused of hoarding and black marketing, former (BJP) chief minister Devendra Fadnavis goes to the police station to mount pressure. Are they supporting black marketeering?"