Covid: BJP questions Nitish Kumar's decision to implement night curfew till May 15
The Bihar chief minister had said that his government will take into account all the suggestions while deciding about the measures to tackle the raging pandemic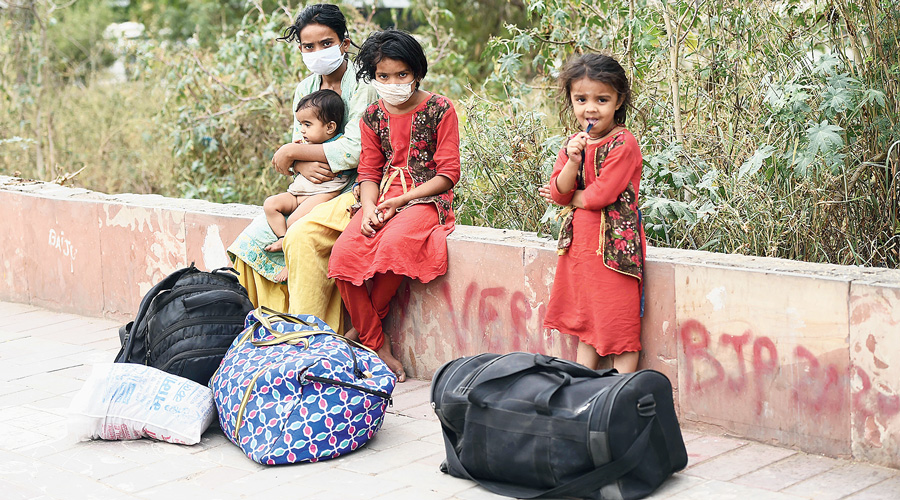 ---
|
Patna
|
Published 21.04.21, 01:19 AM
---
The BJP has questioned the decision of Bihar chief minister Nitish Kumar to implement a night curfew from 9pm to 5am in the state till May 15 wondering how such a measure could help halt the raging pandemic.
"How will the night curfew contain the pandemic?" asked state BJP chief Sanjay Jaiswal on social media, expressing concerns about the "half-hearted" measure announced by Nitish on Sunday.
"The Bihar government has taken several essential decisions. I am no expert but these are very good decisions. However, I am unable to understand how the night curfew will stop the spread of coronavirus," Jaiswal further said.
Advising that the infection chain could be broken only with a weekend lockdown from Friday evening to Monday morning, Jaiswal argued that it will keep the people confined to their homes and control the spread of Covid-19 to some extent.
"The situation in Bihar will become akin to Maharashtra and Chhattisgarh if strict curfew is not imposed," Jaiswal asserted.
The Bihar BJP chief had given these suggestions at the all-party meeting on Covid-19 chaired by governor Phagu Chauhan on the request of Nitish following a suggestion by Prime Minister Narendra Modi.
Nitish had said that his government will take into account all the suggestions while deciding about the measures to tackle Covid-19.
However, not taking into account the suggestions of Jaiswal, who is a qualified medical practitioner and is also on the board of directors of the All India Institute of Medical Sciences (AIIMS), Patna, was seen as a snub to ally BJP by Janata Dal United (JDU) leader Nitish.
It was said to be the main reason behind Jaiswal criticising the night curfew in public domain.
There have been no reactions from the JDU on his criticism so far.
The JDU and the BJP are partners in the NDA government in the state, but have been at loggerheads over issues ranging from ministerial berths to allocation of departments and nomination of MLCs, among other things.
The JDU had held the BJP responsible for propping up Chirag Paswan and his Lok Janshakti Party (LJP) against it to cut votes in the Assembly polls held last year.
The JDU had asserted that this was the reason behind it's debacle in the elections — in which it was relegated to the third position with 43 seats — while the Rashtriya Janata Dal and the BJP won 75 and 74 seats respectively.
However, the JDU tally is now 45 after the two MLAs of the LJP and the Bahujan Samaj Party of Mayawati merged with it.