Initial response positive, results from larger pools awaited
Covid-19: British and Chinese vaccine trials yield positive results
Phase III of the clinical ventures will need a greater diversity of volunteers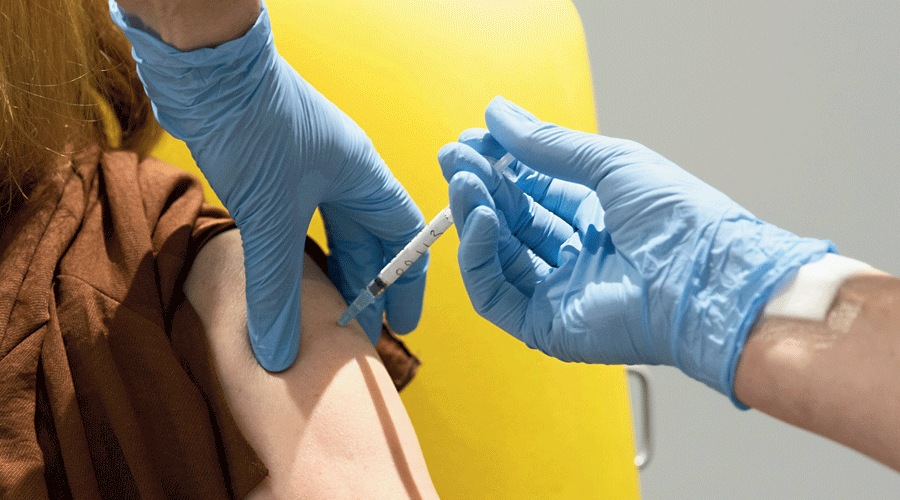 ---
---
British and Chinese researchers on Monday published the results of clinical trials of their two candidate vaccines against Covid-19, which show them as safe and able to induce promising immune responses that justify the larger Phase III trials already under way.
Both groups, however, cautioned that while the immune responses were encouraging, more research was needed to determine whether their candidates — based on similar viral platforms — would protect people from SARS-CoV-2, the microbe that causes Covid-19.
The UK trial on 1,077 healthy adult volunteers found that the candidate vaccine was safe, caused few side-effects (treatable with paracetamol) and induced a strong "antibody" and "T-cell" response till Day 56 of the trial, the researchers said.
Their candidate provoked a T-cell immune response to find and attack cells infected with the virus within 14 days of the vaccination, and an antibody response to find and attack the virus that might be circulating in the blood or lymphatic system within 28 days of the vaccination.
"The immune system has two ways of finding and attacking pathogens (microbes) — antibodies and T-cell responses," said Andrew Pollard, Oxford University professor and lead author of the trial study.
"This vaccine is intended to induce both" he said in a media release.
The Chinese trial suggested the candidate vaccine caused only mild side-effects and that a single-dose immunisation was able to induce significant antibody and T-cell responses within 28 days in most of the recipients, the Chinese researchers said.
Wei Chen from the Beijing Institute of Biotechnology and his colleagues said they had planned an international, multicentre, double-blind, controlled Phase III trial to further evaluate the efficacy of their candidate vaccine.
Both research groups published their findings in a medical journal, The Lancet, on Monday.
"These trial results are hugely anticipated," said Naor Bar-Zeev, an assistant professor at the Johns Hopkins Bloomberg School of Public Health who was not involved in either trial.
"The results augur well for Phase III trials where these vaccines will be tested on much larger populations to assess their efficacy and safety."
Both group of researchers used an adenovirus to deliver the candidate Covid-19 vaccine.
"Overall, both candidates are promising. The outcomes of their Phase III trials will be watched with great eagerness," said Shahid Jameel, senior virologist and head of the Wellcome Trust-DBT India Alliance, a UK-India government partnership.
He, however, stressed that the Phase III trials would need a greater diversity of volunteers. The Oxford trial had around 91 per cent white volunteers while the Chinese trial was conducted primarily in Wuhan.
Jameel said it was significant that both vaccines had produced antibodies after a single shot — in 96 per cent of the volunteers in the UK trial and 85 per cent of those in the Chinese trial — and both had generated T-cell immune responses. However, he said, immune memory responses would be crucial to developing an effective vaccine with a long-lasting protective effect.
A World Health Organisation document outlining the global efforts to develop Covid-19 vaccines, updated on July 15, had said that 23 candidate vaccines had entered human trials and 140 others were undergoing laboratory and animal studies.
Vaccine researchers believe that multiple-design strategies are important because vaccine development is a risky enterprise. For instance, they say, it's still unclear whether the different pre-existing immunity levels to the carrier adenovirus in different populations might impact the vaccine responses.
The adenovirus carries SARS-CoV-2 components into the bodies of those vaccinated, which try to develop immune responses to both. Since the two viruses work in tandem in the vaccine, a recipient who already enjoys considerable immunity to the adenovirus may not exhibit a strong immunological response to the novel coronavirus.
In the Chinese trial, 52 per cent of the volunteers had high pre-existing immunity to the adenovirus.
Such pre-existing immunity may vary across the world. Some studies indicate that it could be 80 per cent in India, 67 per cent in Thailand, 60 per cent in South Africa and less than 30 per cent in the US.
"We might expect the candidate vaccine to have a superior immunogenicity in a population with lower pre-existing immunity, but an inferior immunogenicity in people with a higher pre-existing immunity than observed in the Phase II trial," the Chinese researchers have said.