Covid-19: Call to go easy on booster shot drive
Experts estimate that over 90 per cent of people in India have had natural Covid-19 infections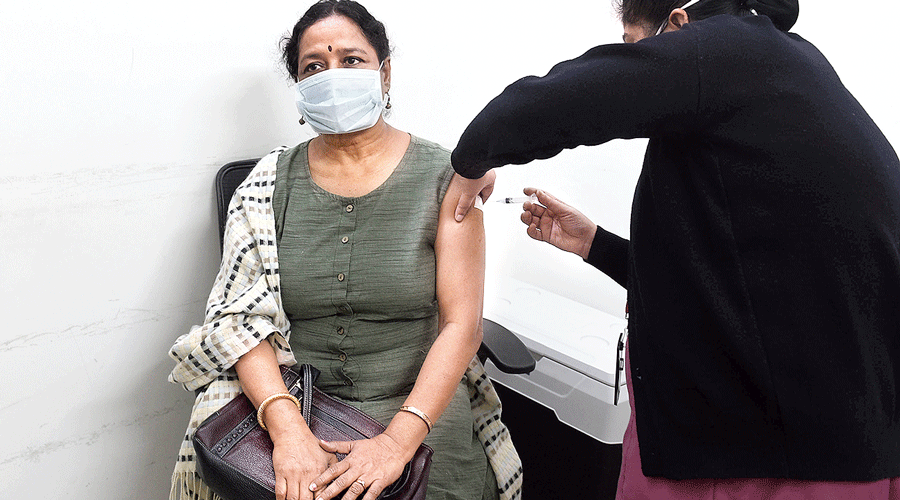 The Union health ministry had on December 23 asked all the states to help build community awareness to increase the uptake of boosters.
File Photo
---
New Delhi
|
Published 17.01.23, 03:32 AM
|
---
Two public health associations have called on the Union health ministry to restrain its efforts to expand coverage of the Covid-19 vaccine booster doses, given that a very high proportion of India's population has already been exposed to natural infections.
The Indian Public Health Association (IPHA) and the Indian Association of Preventive and Social Medicine (IAPSM) have iterated in a joint statement concerns among experts that the efficacy of boosters in providing additional protection has not been demonstrated in India.
"Vaccinations following natural infections may have the potential for some harm, however rare. It would be prudent to err on the side of safety and not insist on vaccination for those who have acquired immunity following natural infection," the IPHA and IAPSM have said.
Health experts had said the benefits of Covid-19 vaccines outweighed the potential risks of adverse effects, although some had underlined that the efficacy of boosters in India had yet to be clearly demonstrated. Experts estimate that over 90 per cent of people in India have had natural Covid-19 infections.
The Centre's Covid-19 vaccination dashboard on Monday indicated that cumulatively only about 224 million people —or 26 per cent of those eligible — had turned up for boosters.
The Union health ministry had on December 23 asked all the states to help build community awareness to increase the uptake of boosters. Data until mid-December had indicated that 80 per cent of people aged between 18 and 60 years and 60 per cent of those above 60 years had not taken boosters.
The IPHA and IAPSM have said that unnecessary and irrational use of vaccination against Covid-19 will divert resources and attention from pressing public health tasks, such as strengthening the country's public health facilities to manage not just the current but other future epidemics.
The public health associations, echoing views shared by infectious disease specialists, have also said that any future Covid-19 wave in India with significant public health impacts may happen "only in the event of major mutations in the virus" that overwhelm naturally acquired immunity.
IPHA and IAPSM members include faculty from academic institutions such as the All India Institute of Medical Sciences, New Delhi, Maulana Azad Medical College, New Delhi and the Postgraduate Institute of Medical Education and Research, Chandigarh.   
The IPHA-IAPSM statement comes amid booster hesitancy among eligible people. An online survey across the country has found 50 per cent of the respondents "hesitant" or ineligible to take Covid-19 vaccine boosters.
About 40 per cent of the 15,958 respondents to the survey said they had taken two vaccine doses but would not take a booster in any form, and 9 per cent had not even taken two doses. Two per cent said they were undecided about the booster.
"Feedback in community discussions indicate that key reasons why people are reluctant to take the boosters are the belief that Covid-19 won't come back in a severe form and concerns about potential adverse effects from the vaccines," Local Circles, the online social media platform that conducted the survey on the boosters, said in a media release on Monday.