Coronavirus updates: Doubling rate of Covid-19 cases comes down further
India cases climb to 17,656, death toll now 559; no relaxation in Karnataka, parts of UP and Punjab; Telangana extends lockdown till May 7; Goa starts easing lockdown norms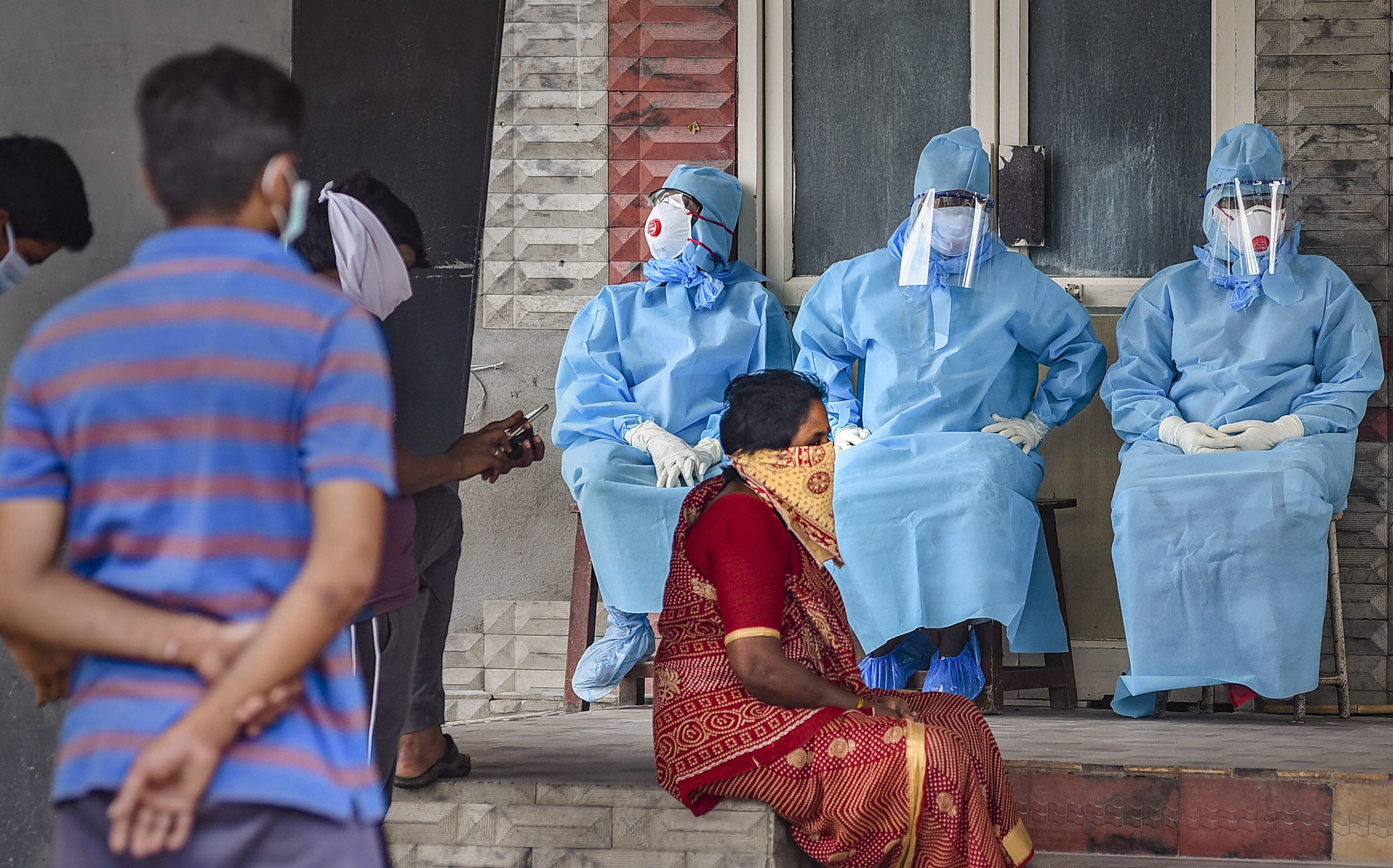 Workers wearing protective suits sit outside an isolation ward at Government General Hospital during the nationwide lockdown, imposed in wake of the coronavirus pandemic, in Vijayawada, Monday, April 20, 2020.
PTI
---
New Delhi
|
Published 20.04.20, 05:01 AM
|
---
The Union Health Ministry said on Monday the rate at which the number of coronavirus cases in the country was becoming double in the last one week has improved to 7.5 days, as against 3.4 days before the nationwide lockdown was imposed.
As per data on April 19, 18 states and UTs have shown an improvement than the national average doubling rate, Ministry of Health and Family Affairs Joint Secretary Lav Agarwal said at a briefing.
He said that the states and UTs where the doubling time is less than 20 days are Delhi where it is doubling in 8.5 days, Karnataka in 9.2 days, Telangana 9.4 days, Andhra Pradesh 10.6 days, Jammu and Kashmir 11.5 days, Punjab 13.1 days, Chattisgarh 13.3 days, Tamil Nadu 14 days and Bihar 16.4 days.
Places where the doubling time is between 20 days to 30 days include Andaman and Nicobar Island where it was 20.1 days. In Haryana, the cases are doubling in 21 days, in Himachal Pradesh 24.5 days, Chandigarh 25.4 days, Assam 25.8 days, Uttarakhand 26.6 days and Ladakh 26.6 days.
States having doubling time more than 30 days are Odisha and Kerala which reported dubling time as 39.8 days and 72.2 days respectively, Agarwal said.
He also said that a total of 1,553 cases and 36 deaths have been reported in the last 24 hours taking the total number of cases in the country to 17,265 and death toll to 543 so far.
Also 2,546 people have been cured and overall around 14.75 per cent people have recovered, he stated.
Apart from Mahe in Puducherry and Kodagu in Karnataka, Pauri Garhwal district from Uttarakhand too have not reported any fresh case of coronavirus infection during last 28 days, he said.
There are 59 districts in 23 states and UTs where no case has been reported in the last 14 days, he said.
Agarwal also said that in some good news, all the patients in Goa have been discharged. No further active cases have been reported in the state yet, he said.
He also expressed concern over the news of some journalists in Mumbai testing positive for the virus and said that when they attend their call of duty, they should take the required precautions.
'Follow the norms of social distancing and wear face masks,' Agarwal said.
A representative from the Ministry of Agriculture said that the FCI has moved double the average quantity of food grains during the lockdown period and that face masks and hand sanitizers have been brought under Essential Commodities Act.
She also said that NGOs have been permitted to buy food grains directly from FCI for relief operations.
'Sown area of summer crops has registered 36 per cent increase over last year; farming has been exempted from lockdown but social distancing has to be maintained,' the Agriculture Ministry official said.
She also said that the government has hiked MNREGA wages in the wake of the pandemic and the the average increase is Rs 20.
India cases climb to 17,656 , death toll now 559
In its most recent update, the union health ministry placed the total number of cases at 17656 and the death toll at 559. The ministry said that 2842 people have so far recovered from the infection. Covid-19 lockdown to continue in Karnataka till May 3; no relaxations
Joining the list of states like Punjab and Telangana which have ruled out easing of Covid-19 lockdown curbs, the Karnataka cabinet on Monday decided to continue the measures currently in force till May 3 without any relaxation in the state considering the present situation.
The cabinet also decided to promulgate an ordinance giving it special powers, including for providing protection to front line health workers and making non-cooperation with government a punishable offence, to fight against coronavirus.
'Today cabinet has decided it (the norms) will be extended up to May 3... there will be no relaxation and the situation that exists as of today will continue,' Law and Parliamentary Affairs Minister J C Madhuswamy said.
However, leaving a window open, the Cabinet authorised Chief Minister B S Yediyurappa and the COVID-19 Task Force to meet in three or four days to review and take further decision about any relaxation, he told reporters here.
Pending the cabinet decision, Chief Secretary T M Vijay Bhaskar had on Sunday issued fresh orders directing continuation of the stringent lockdown measures issued by the Ministry of Home Affairs till the midnight of April 21.
53 mediapersons test coronavirus positive in Mumbai

At least 53 mediapersons from Mumbai have tested positive for coronavirus, a city civic official said on Monday.
During a special camp organised at the Azad Maidan here on April 16 and 17 for Covid-19 testing of scribes, the Brihanmumbai Municipal Corporation (BMC) collected swab samples of 171 mediapersons, including electronic and print media journalists, photographers and cameramen.
'Out of the 171 mediapersons, 53 tested positive for coronavirus,' BMC spokesperson Vijay Khabale said, adding that most of those who tested positive are asymptomatic at present.
All the mediapersons found infected with coronavirus will be kept in isolation and a process was underway to find out suitable places to the purpose, he said.
Efforts were also on to trace their high and low risk contacts.
Till Sunday, Mumbai recorded 2,724 coronavirus cases and 132 deaths due to the disease.
Kerala govt denies diluting lockdown restrictions

The Kerala government on Monday said there was some 'misunderstanding', due to which the Centre had objected to dilution of the lockdown protocol after the state had allowed opening of restaurants and MSME industries in municipal areas among others.
The Union home ministry has taken strong objection to Kerala government's decision to allow opening of restaurants, bus travel in cities and opening of MSME industries in municipal areas, saying it amounts to dilution of its lockdown guidelines.
In a letter to the Kerala government, the home ministry said the state government on April 17 has circulated revised guidelines for lockdown measures, allowing opening of activities, which are prohibited in the Centre's consolidated revised guidelines issued on April 15.
State tourism minister Kadakampally Surendran denied there was dilution of the lockdown guidelines.
'We have given relaxations in accordance with the Centre's guidelines. I think there is some misunderstanding based on which the Centre has sought an explanation. Once we give an explanation, it will all be sorted out. The Centre and the state have the same stand with regard to fight the pandemic. There is no contradiction in the stand taken. It's just a misunderstanding we will clear it,' Surendran told media persons.
Goa starts easing lockdown norms 
The Goa government on Monday began easing lockdown restrictions on some industries, and the the state's Chamber of Commerce and Industry stated that a majority of units would apply to Goa Industrial Development Corporation (GIDC) for permission to resume operations.
Earlier, chief minister Pramod Sawant had designated GIDC as the nodal agency for permission to industrial units to resume operations in the second phase of lockdown for the coronavirus outbreak.
'The exact picture as far as resumption of industrial operations is concerned will be clear in two to three days. However, we believe maximum number of units will resume operations,' GCCI president Manoj Caculo told PTI.
He said sourcing raw materials, transport and manpower may be concerns intially for some sectors.
A GIDC official said all sectors that will be allowed to resume will have to enforce strict social distancing norms and action would be taken if these are violated.
Meawnhile, the Goa Mineral Ore Exporters Association president Ambar Timblo, in a press statement, asked the state government to allow the sector, shut after a Supreme Court order, to resume with 'certain safety procedures and practices'.
The Supreme Court had, in March 2018, quashed 88 mining leases and banned extraction of fresh ore. Punjab govt rules out curfew relaxation
The Punjab government has ruled out any relaxation in the curfew till May 3 barring wheat procurement.
The move came after chief minister Amarinder Singh reviewed the current situation arising out of the coronavirus outbreak with senior officers from the administration and police department.
On Sunday evening, the chief minister ruled out any relaxation in the curfew, except as needed to ensure the procurement of wheat, till May 3, when he will again review the situation, a press release said.
With the decision, all exemptions given from April 20 to industries in rural areas, booksellers, dhabas, shopkeepers dealing in air-conditioners and those involved in sand and gravel mining and stone crushing have been withdrawn.
The state government had allowed booksellers, dhabas, shops selling air-conditioners, coolers, fans, and those dealing in sand and gravel mining and stone crushing to operate.
In line with the Centre's guidelines, industrial activity was also allowed in the state's rural areas, provided that the operators of industries, employing 10 or more persons, make all arrangements for the stay or transport of workers.
Singh ordered strict enforcement of the curfew in all districts with no relaxation or concessions whatsoever even during Ramzan beginning this week.
He also made it clear that no special curfew passes should be issued to the people on account of Ramzan.

No relaxations in parts of UP
With no let up in Covid-19 cases in some districts of Uttar Pradesh, the administration in Lucknow, Agra and Firozabad have decided against giving any kind of relaxation during the continued lockdown.
Reports from other districts in the state on giving relaxation were awaited.
Chief minister Yogi Adityanath, during a video conference with respective district magistrates on Sunday night, had authorised them to take a call on giving relaxation from Monday after assessing the prevailing conditions there.
He directed authorities in 19 districts with 10 or more coronavirus cases to take extra precautions.
District officials have been asked to work out the modalities regarding opening of specified industries, banks and other units in the remaining 56 districts that have reported less than 10 coronavirus cases. Telangana extends lockdown till May 7
Telangana chief minister K. Chandrasekhar Rao on Sunday announced that the ongoing lockdown in the state will continue till May 7 without any relaxations.
'The state cabinet, after assessing the pros and cons, decided that we are extending the lockdown till May 7. It is already there till May 3. Four days are added to it,' he told reporters on Sunday night.
'The existing lockdown rules, including night curfew, would continue to be in force and it would be implemented in a tough manner,' he told reporters after a meeting of the state cabinet.
The Centre permitted certain relaxations after April 20, but the state cabinet decided not to give any relaxation.
'No relaxation will be given in Telangana,' he said, adding the decision was taken in the interest of public health.
The state cabinet would meet on May 5 to take further decisions after reassessing the Covid-19 situation.
Citing reports that bookings for air travel may start from May 4, he appealed to air passengers not to come to Telangana till May 7 as taxi, hotel and other services would not be available.
The international airport in the city would be informed to follow the rules till May 7, he said.
Gujarat death toll now 67
Four more patients succumbed to coronavirus in Gujarat, taking the toll in the state to 67, a health department official said on Monday.
Out of the four deaths, two each were reported from Ahmedabad and Surat, principal secretary (health) Jayanti Ravi said.
Three of these patients had underlying health conditions like diabetes, hypertension and kidney disease.
The deceased from Ahmedabad included two men, aged 59 and 54, while the victims from Surat were a 70-year-old man and an 80-year-old woman, the official said.
'Most of these Covid-19 patients had some health risk factors or co-morbid conditions or both. So far, only seven deceased (amounting to 10.44 per cent of the total deaths) were without any risk factors or co-morbid conditions,' she said.
There were also patients with multiple co-morbidity, and such victims accounted for 50 per cent of the deaths, the official said.
Bihar cases rise to 96
Three more persons have tested positive for the novel coronavirus in Bihar, taking the number of Covid-19 cases in the state to 96, an official said.
They came in contact with Covid-19 patients, health department principal secretary Sanjay Kumar tweeted late on Sunday night.
The three persons -- aged 30, 36 and 52 years -- hail from Jamapur in Munger districts of the state, he said.
The disease has claimed two lives in the state while 42 patients have recovered till now. There were 52 active cases in Bihar till Sunday night.
The total number of samples tested in the state so far is 10,746.