Shops selling clothes, mobiles can open; but not those in markets, malls
Home-delivery of essentials only, no liquor sale as yet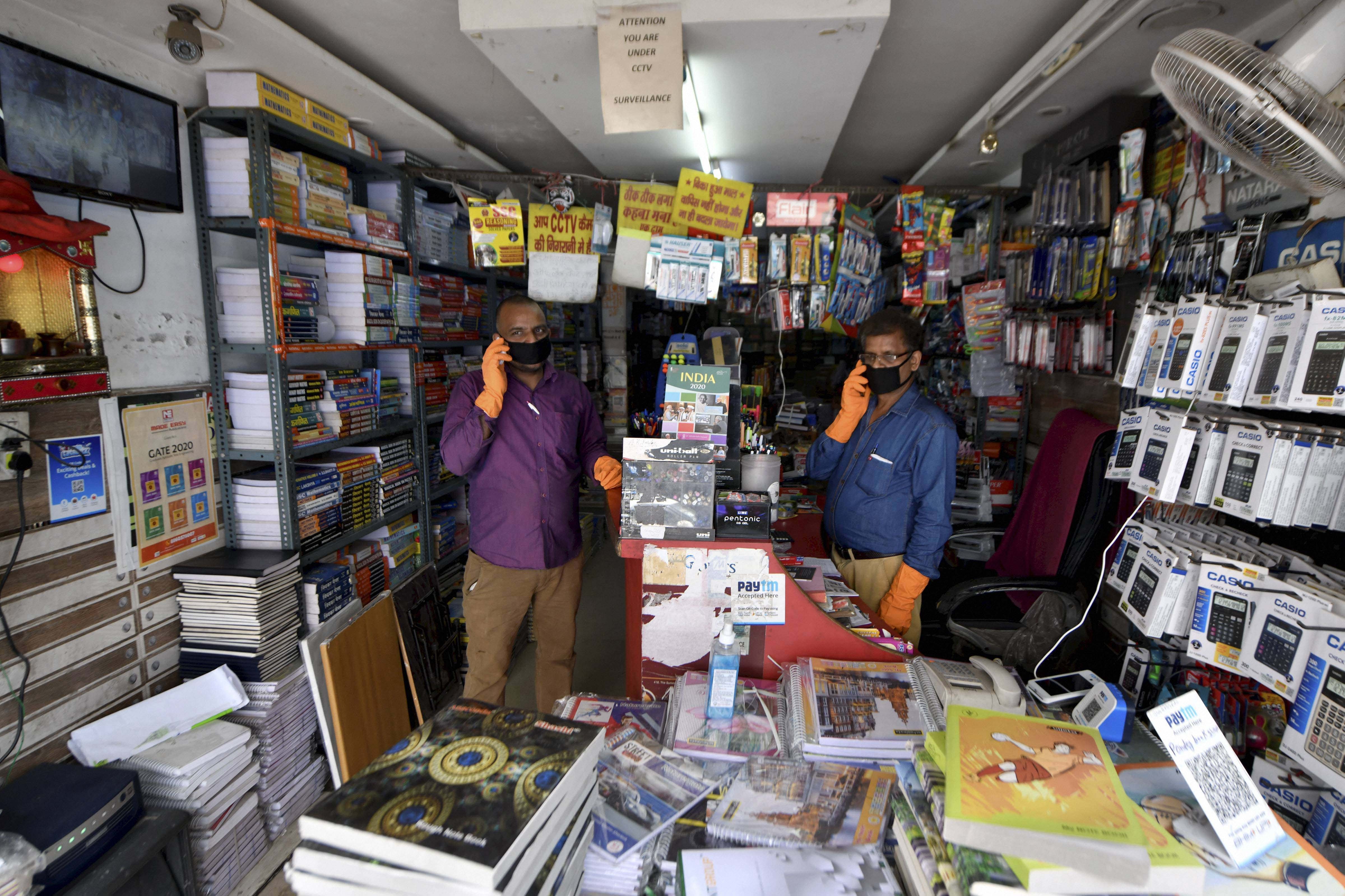 Shopkeepers wait for customers at a bookstore after authorities eased restrictions, during the nationwide lockdown to curb the spread of coronavirus, at Laxmi Nagar in New Delhi, Saturday, April 25, 2020.
PTI
---
New Delhi
|
Published 25.04.20, 02:34 PM
|
---
Neighbourhood and standalone shops, including those selling garments, mobile phones, hardware and stationery items, have been allowed to open but those located in market places, malls and Covid-19 hotspots and containment zones, will continue to remain shut till May 3.
But the Union home ministry, which was compelled to clarify Friday's order about relaxations in lockdown norms on Saturday, made it clear that a final decision on whether to allow additional shops to reopen would be taken by state governments.
In its order to all states and Union territories, the home ministry said that relaxations pertained to shops registered under Shops & Establishment Act. These include shops in residential complexes, neighbourhood and standalone shops within the limits of municipal corporations and municipalities.
"(But) shops in single & multi-brand malls would not be allowed to open anywhere," the order had said.
Saturday's clarifications, issue in view of the large number of queries, said in rural areas all shops would be allowed to open. Also, e-commerce companies would be restricted to selling essential goods only and sale of liquor and other items continued to be prohibited as specified in the National Directives for Covid-19 management.
An MHA spokesperson issued another round of clarifications at 2pm. "In view of queries coming from various sections of society, it is clarified that all restaurants, salons & barber shops would remain closed," she said, adding that places that rendered services would remain shut and lockdown relaxations "pertain only to shops selling items."
Friday's order had also made it clear that shops would have to function with 50 per cent of the workforce and strictly adhere to precautions which include social distancing and wearing of masks.
The order also made it clear that these relaxations in lockdown areas would not be applicable in hotspots/containment zones.
'As specified in the consolidated revised guidelines, these shops will not be permitted to open in areas, whether rural or urban, which are declared as containment zones by respective States and Union Territories,' the statement said.
About closure of liquor shops, the ministry explained that liquor shops licences were issued under the Excise Act of respective states and the establishments thrown open from Saturday were covered under the Shops and Establishment Act.
Sale of cigarettes, gutka continue to be prohibited during the lockdown.
The national directives issued on April 15 had told states and UTs to ensure that all preparatory arrangements with regard to social distancing in offices, workplaces, factories and establishments, and other sectoral requirements were in place, before allowing relaxations.
The guidelines had further said that any violation of lockdown measures would attract penalties under relevant sections of the Disaster Management Act.