In Kashmir, why students are children of a lesser God
Prolonged curbs on high-speed internet has cut-off access to online study material; professors want to help, but say they're helpless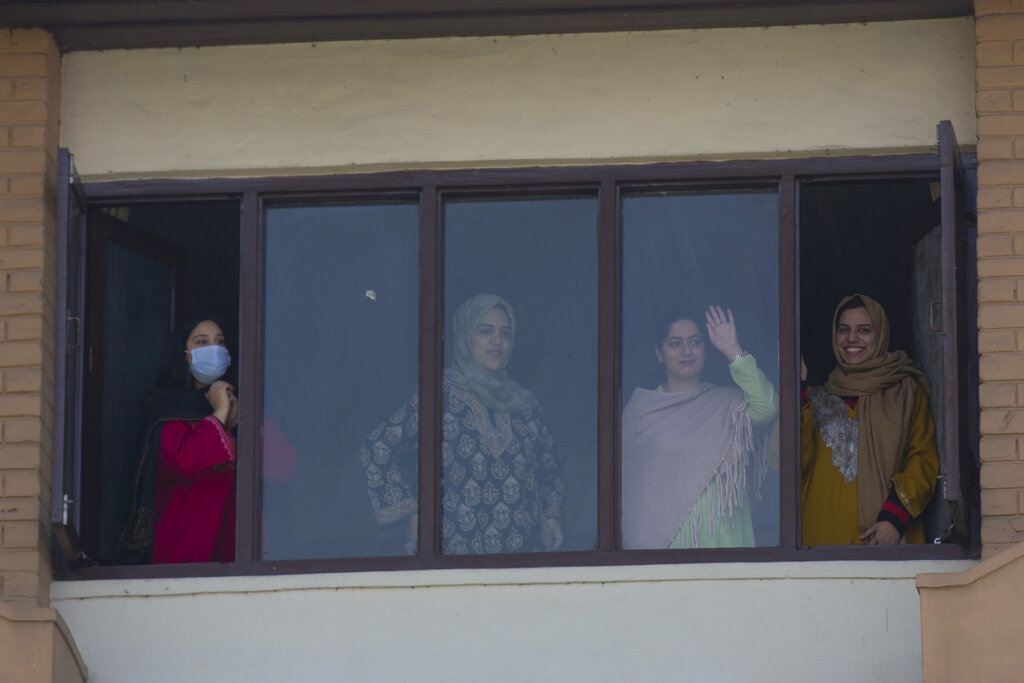 A Kashmiri medical student, who has completed her quarantine period after returning from Bangladesh, waves from her hotel room before being released in Srinagar, on Friday, April 3, 2020.
(AP Photo/ Dar Yasin)
---
Published 06.04.20, 04:11 PM
|
---
While extending restrictions on high-speed mobile internet services last week, the Jammu and Kashmir administration made it a point to emphasise that the curbs were in no way impacting access for students to study material and the ongoing efforts to control the spread of the coronavirus.
Yet, the experience of professors, students and even doctors on the frontline of the battle against Covid-19 tells a different story. Student after student is complaining of inordinately long hours they spend trying to download content put up by their college or coaching class.
"We are not begging or whining about getting some luxury," said an angry Sheikh Faraz Mehmood, a class 12 student from Srinagar. "We are only demanding our fundamental right," said the boy who spends most of his days trying to view online classes and YouTube lectures at his home.
As of Sunday, Kashmir recorded 82 Covid-19 cases and two deaths. It has been under a virtual lockdown since August 5, 2019 when the Centre abrogated Article 370 and revoked its special status. The recent closure of schools, colleges and universities, as a part of the nationwide lockdown to prevent further spread of the virus, has only prolonged the agony in the Valley.
For doctors it has been extremely difficult to access essential guidelines about Covid-19 that are available on the websites of WHO, ICMR and CDC. "Even government advisories cannot be downloaded from websites and accessed because of the slow-speed 2G internet," said Dr Ilham Iqbal, a postgraduate scholar who is on duty at the Government Medical College in Srinagar and other associated hospitals.
In effect, Kashmir has been deprived of high-speed internet since August 5 last year with the administration extending the curbs periodically through official orders.
The latest order, extending the curbs till April 15, was issued last Friday, disregarding multiple appeals of politicians, students, teachers and doctors to restore high-speed mobile internet in Kashmir. "… enabling access to essential services and sites (has) not posed any hinderance to COVID-19 control measures or to access online educational content, but checked the unfettered misuse of social media for incitement and propagating/coordinating terror activities,' the April 3 order said, citing security as the major consideration for continuing with the internet restrictions.
Javaid Rashid, an assistant professor with the social work department of University of Kashmir, is worried about his students who have been confined to their homes because of the lockdown and were missing out on crucial study time.
"I am still struggling to do anything substantial for my students due to the sluggish 2G internet. I wanted to use my Google Classroom app but that too requires uploading and downloading of content which is not possible on slow speed 2G internet," said Javaid.
Students and teachers, he said, have been suffering since last year when the communications restrictions were imposed after August 5. Now, things had become worse.
He wants high-speed 4G internet to be restored in Kashmir without any further delay. "Teachers and students need it the most in this pandemic," he said.
Private Schools Association of Jammu and Kashmir iterated a similar demand in a statement recently.
"Online classes through apps and software like Zoom and Google Classroom are the only options for schools till they reopen. High-speed internet facility at home is the only way to help students to learn remotely," said G.N. Var, the president of the association.
A government college lecturer threw up his arms in despair. "As a teacher, one really wants to do something and contribute in whatever possible way for our students. In August (2019), the situation was different because then we had no internet at all. Today we have connectivity but it doesn't make much of a difference," he said.
Muazam Ahmed, a class 11 student from Hyderpora, Srinagar, is preparing for Joint Entrance Examination (JEE). But he is unable to access video lectures and other online learning tools that are available for everyone.
"All major online courses have been made free right now due to the lockdown. Cambridge is also offering free books online because they realise the effects of the pandemic for students worldwide. But Kashmiri students are helpless," he said, pointing out that he ends up wasting several hours trying to download one lecture on YouTube.
Sheikh Faraz Mehmood, class 12 student from Srinagar, and Irtiza Manzoor, a class 9 student from Ganderbal district, narrate similar stories of frustration.
"Sometimes I try to load a video for the whole day, but at the end of it, when I play it, the video shows an error. It's frustrating," said Faraz.
Mubeen Masudi, an IIT graduate who teaches at RISE, a coaching institute for engineering and medical college aspirants in Srinagar, said the closure of schools due to the coronavirus epidemic is a bigger loss for Kashmiri students than for those elsewhere.
"In the past eight months, schools have barely functioned for 15-20 days. Unlike educators from the rest of the world, we cannot provide our students with online learning opportunities because of poor connectivity," he said.
Masaudi said conducting live classes on YouTube is the closest to real-time classroom experience where an entire class can attend the lecture from their homes. "And a lot of Ed-Tech companies in India are currently offering e-learning content free of cost to students. But students of Kashmir are unable to access these," he said.
Restoring high-speed 4G mobile internet would, therefore, go a long way to restore the confidence of students of Kashmir. "It is important that Kashmiri students have access to the same learning opportunities as those in the rest of India," he said.
Dr Ilham believes such a scenario could impact the mental health of children at an impressionable age.
"While elsewhere children are busy with online classes at home, our school-going children cannot even access educational videos online due to the restrictions on the internet. This makes them susceptible to childhood depression, too," he said.