Coronavirus patient count rises by 5 in India
Health ministry appeals to the public to reveal any foreign travel history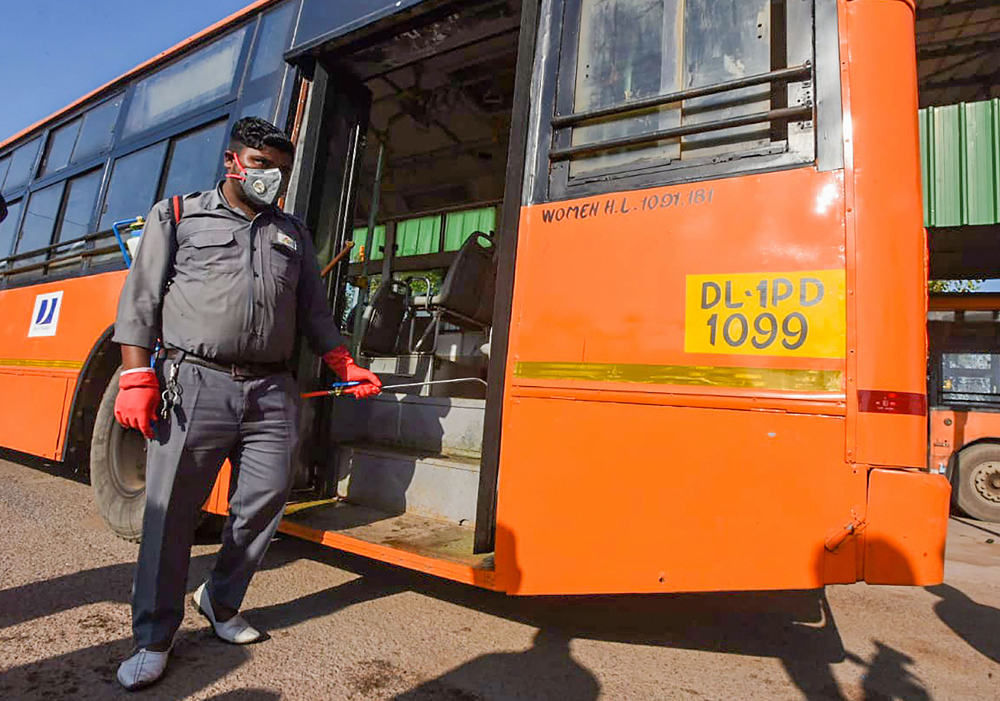 A worker carries out disinfection process of Delhi Transport Corporation bus in wake of the deadly novel coronavirus, at Rajghat Dept in New Delhi on Monday, March 9.
(PTI)
---
New Delhi
|
Published 09.03.20, 06:52 PM
|
---
India's count of coronavirus patients rose by five on Monday while the health ministry appealed to the public to reveal any foreign travel history a day after it emerged that airport screening protocols had missed a Kerala family from Italy infected with the virus.
The ministry said labs had confirmed four new cases of the coronavirus, one each in Kerala, Delhi, Uttar Pradesh, Jammu and Punjab. The country's cumulative number of patients is now 44, which includes the three earliest patients in Kerala who have recovered and been discharged.
The ministry's appeal to people to "clearly reveal" their travel history and details in self-declaration forms comes while health authorities are scrambling to look for the contacts of the Kerala family who had visited relatives and attended functions before they tested positive.
Virology experts say that airport-screening, contact-tracing and quarantining people with symptoms have helped India buy time, delaying the spread of the virus in the community, but the country needs to brace itself for growing numbers in the coming days and weeks.
The World Health Organisation on March 5 reclassified India's "transmission classification" to "local transmission" from what until March 4 had been "imported cases only". The change occurred after India detected the virus in six relatives of a coronavirus patient in Delhi with a travel history to Italy.
The Kerala trio — a couple in their 50s and their 24-year-old son — had arrived from Italy on February 29 but tested positive on March 7. In the intervening period, they had met friends and relatives in Pathanamthitta.
India has over the past seven weeks screened over 874,000 people from 8,200 flights, among whom 1,921 passengers were detected with symptoms. Over 33,000 passengers are currently under observation, while around 21,800 passengers have completed their 28-day observation periods.
Among the 3,003 blood samples tested till Monday, 43 were positive, the health ministry said.
The coronavirus, which emerged in China, has spread to 101 countries within two months. The WHO situation update on Sunday lists more than 45 countries with local transmission of the virus.
A senior health official clarified that a patient in Bengal's Murshidabad, who had died, had tested negative for the coronavirus. So far no death has been reported from the novel coronavirus in the country, the official said.
Health authorities have repeatedly asked the public to observe respiratory etiquette, wash hands frequently and avoid large gatherings.