Questions over Wuhan origin, December date
Covid-19 whiff in pneumonia in China couple reported in November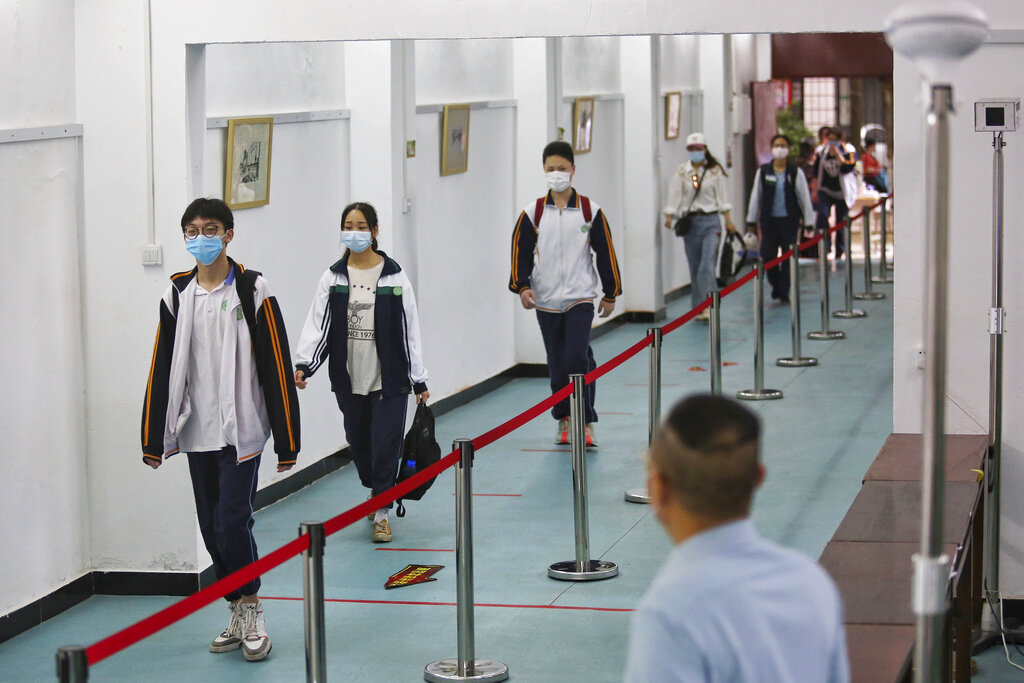 Students wearing protective masks maintain social distancing at a high school in Wuhan.
(AP)
---
Published 18.05.20, 09:22 PM
|
---
There are unanswered questions around the origin, spread and transparency of communications about SARS-CoV-2, the virus that causes the new coronavirus disease that spread out globally from China. The pandemic has already killed more than 300,000 people globally. When did the epidemic begin in China and start spreading to countries with high volume traffic with China? Did the epidemic begin in Wuhan in December, or, did it spread from elsewhere to Wuhan in December? Did China miss or hide the early phase of the epidemic?
The first lab-proven coronavirus infection in France was on January 24, 2020, in a Wuhan returnee. New information has emerged that a 43-year old pneumonia patient in Paris, without travel history, had lab evidence of infection on December 27, 2019. A doctor in Paris recalled treating a patient with clinical symptoms typical of Covid-19 in the last week of December. The first reported case in the US was on January 19, 2020, in a Wuhan returnee. Recent post-mortem evidence of death due to Covid showed infection one month earlier. Onset of infection in these cases would have been four weeks earlier.
To spread to western countries by late November or early December, China had to have the epidemic even earlier, in November or perhaps in October. Lab testing became available only in mid-January. Until then Covid was "pneumonia with unknown cause and high mortality".
China reported two cases of pneumonic plague, husband and wife, in Inner Mongolia to World Health Organization on November 13, after news was reported by journalists around the world. The man developed fever, cough and vomiting on October 25; on 31st, fever was >102. His wife took ill on October 31, with fever over >102. He was admitted to Sunitezuo Banner Hospital with bilateral lobar pneumonia on October 27, shifted next day to Xilingol League Traditional Mongolian Medicine Hospital (XLTMMH) ICU in single-room isolation. His wife was admitted in ICU on November 1. On November 2, both were moved to Xilingol League Central Hospital. On November 3, both were taken to Beijing Chaoyang Hospital.
Plague is epizootic in Sunitezuo Banner region, where, in 2019, it was detected in ten gerbils, five collections of fleas; and 15 strains of plague bacilli (Yersinia pestis) were collected, Chinese doctors reported in the journal Biosafety and Health. One case of human bubonic plague was reported there in early November after he had hunted a wild rabbit. There was nothing to hide if plague had occurred in October.
But Foreign Policy, a US journal, reported that a WeChat social media posting by Dr Li Jifeng of Beijing Chaoyang Hospital who treated both patients was quickly deleted, presumably by Chinese censors.
National Public Radio reported: "In her post, Li Jifeng claimed to be on duty at the hospital emergency room when the couple was brought in with symptoms of pneumonia".
"After years of specialist training, I am very familiar with diagnosing and treating the majority of respiratory diseases," Li Jifeng wrote online. "But this time, I kept on looking but could not figure out what pathogen caused the pneumonia."
Fan Mengguang, deputy director of Inner Mongolia's Disease Control and Prevention Center, was quoted by China Daily (November 14) that no source of the infection could be determined for plague in the husband. No contacts were infected by him, except the wife. Further investigation was promised, "but it was uncertain when a definite answer would emerge".
Plague should have been easily recognised and treated if indeed it was pneumonic plague, a severe form of plague. The infected couple would not have survived for more than 3 to 4 days from disease onset. The symptoms as reported at Beijing were breathing difficulty and fever of 10 days duration.
Our question is: was Covid doing the rounds already around China? If it was, the man was infected 2 to 6 weeks earlier.
Microbiological diagnosis of pneumonic plague is simple — sputum smear will show plague bacilli; culture on ordinary media available in all microbiology labs would grow Yersinia pestis.
The diagnosis would have been straightforward in the first hospital in Inner Mongolia. There would have been no reason to send the patients to bigger hospitals and later to Beijing, unless the disease was "pneumonia of unknown cause". Plague is treated with antibiotics available everywhere — Tetracycline or Chloramphenicol.
A report by Foreign Policy on November 16, titled "The Real Reason to Panic About China's Plague Outbreak", gave the "real reason" as: "It's not the disease that's worrisome — it's the Chinese government's response to it."
Censors had instructed online news aggregators to "block and control" online discussion about the plague cases, according to a directive seen and reported by The New York Times.
These multiple lines of evidence suggest the disease was not pneumonic plague, but severe pneumonia. Could it not have been Covid pneumonia? The clinical profile is compatible. If Covid began in October, the fog of mystery fades away. Patient-referral to Beijing suggests the government knew about a problem disease.
Was Wuhan the debut or the climax? When the epidemic ended in Wuhan, it ended in China. In a 1.4 billion population, only 82,926 infections and 4,633 deaths were reported — numbers that misled the world to underestimate the seriousness of the epidemic.
Had early information of a widely spreading infection causing severe pneumonia been shared openly, the course of the pandemic's evolution could have been faced with concerted global cooperation.
T Jacob John is a retired professor of Clinical Virology, CMC Vellore, and past president of the Indian Academy of Pediatrics.   And   Jagdish Rattanani is a journalist and faculty member at SPJIMR, Mumbai