Two states opt for Section 144
So far, 110 people have tested positive for the virus in the country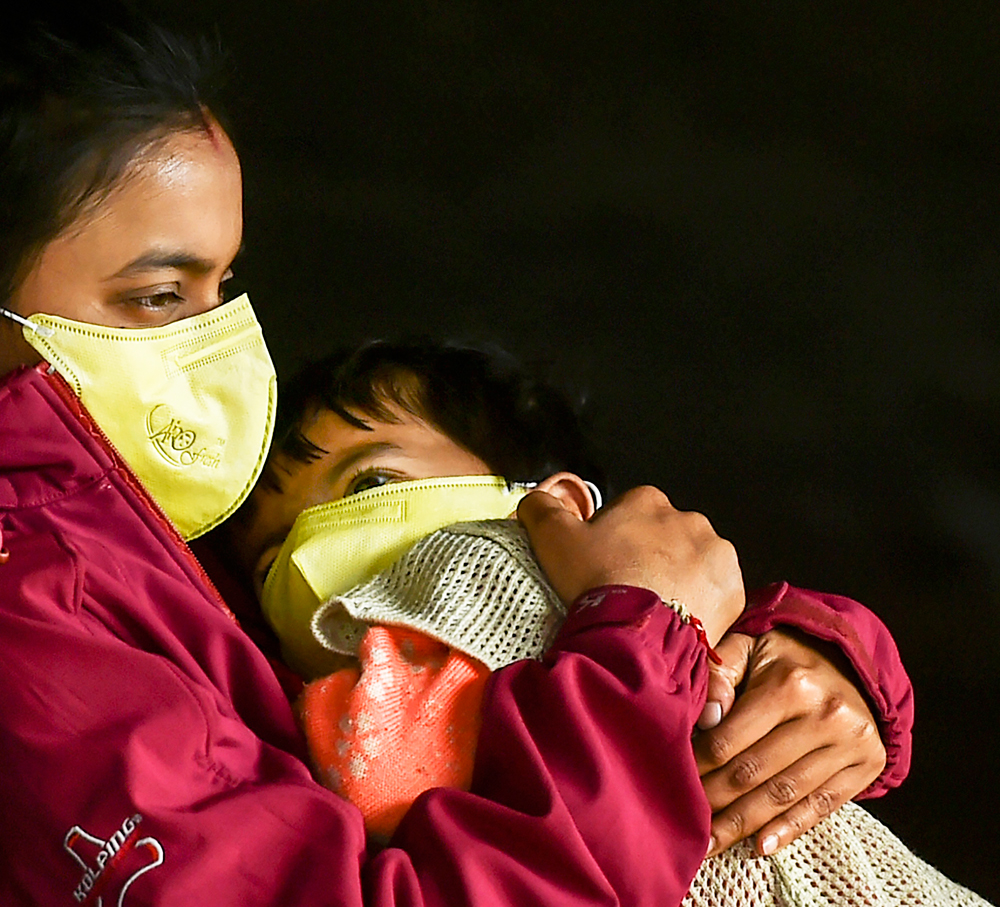 Passengers wear protective face masks in wake of novel coronavirus pandemic at New Delhi Railway Station, Sunday, March 15, 2020.
(PTI)
---
New Delhi
|
Published 15.03.20, 09:27 PM
|
---
Health officials in India have begun to discuss the need for curbs on non-essential travel and at least two states have imposed Section 144 in select areas to prevent gatherings as the number of coronavirus patients being treated in the country rose to 95 on Sunday.
With 26 cases testing positive on Sunday, health officials are mulling additional possible social-distancing strategies to contain the spread of the virus.
So far, 110 people have tested positive for the virus in the country. Two people have died and 13 have been cured. The remaining 95 are undergoing treatment.
Among the 110 cases, 13 patients — three in Kerala, four in Uttar Pradesh, two in Delhi, three in Rajasthan, one in Telangana — have recovered and been discharged. Two patients have died from the coronavirus — one in Karnataka and one in Delhi.
District-level disease surveillance units across the country are tracking the health of around 4,000 contacts of these patients amid concern that some may have picked up the virus and then spread it into the community.
Mumbai police on Sunday invoked Section 144 of the Criminal Procedure Code to prohibit tour operators from conducting any kind of group tours to foreign or domestic destinations till March 31, an official said.
Deputy commissioner of police Pranay Ashok said: "We have issued this order to prevent the spread of covid-19 (the disease caused by the novel coronavirus). This is a very specific order aimed at preventing danger to human life and safety. It will be in force till March 31."
Pune, which has 16 confirmed virus patients, is also thinking of invoking the section.
Several districts in Bihar have imposed Section 144 to ban large gatherings. Bihar has had no positive case till now.
Health minister Harsh Vardhan, who called a meeting of senior health officials and researchers on Sunday, reviewed the social-distancing measures taken up by states such as Delhi and discussed options for additional measures.
The Delhi government had earlier this week ordered the closure of all educational institutions, cinemas and swimming pools up to March 31.
Health researchers assert that social distancing and measures such as hand-washing and respiratory etiquette are the best options to contain the spread of the virus in the absence of proven anti-viral medications or a vaccine.
Senior officials at the review meeting discussed options such as curbs on non-essential travel, mass gatherings and work-from-home directives but one expert cautioned that such measures should be imposed at just the right time in the right locations.
There was no clarity whether non-essential travel, if curbed, would include movement within the country. The health ministry has already asked Indians to refrain from non-essential travel to countries affected by covid-19.
"Rigorous social distancing needs to be taken up at the right time and the right place where and when needed," said Raman R. Gangakhedkar, the head of the communicable diseases division of the Indian Council of Medical Research. "Otherwise, if too early, fatigue can set in."
Health officials point out that while India has slipped from having only imported cases to local transmission — where patients who ferried the virus in have passed it on to their close contacts — there is no evidence yet for community transmission, where no obvious chain of contact can be determined for a case.
"Our efforts right now are focused on trying to contain the spread through contact tracing, surveillance and isolation of infected patients — our goal is to prevent community transmission," Balram Bhargava, director general of the ICMR, had said earlier this week.
However, multiple public health experts and virologists believe that community transmission of the virus in India is inevitable. "India has taken appropriate steps, but it is only buying time — the patterns of spread in other countries suggest that the virus will at some point spread into the community in India too," a senior virologist said.
Thirteen states or Union territories have so far detected patients positive for the coronavirus.