Inside double lockdown: what we miss
'Extraordinary amount of chicken; pumpkin in everything'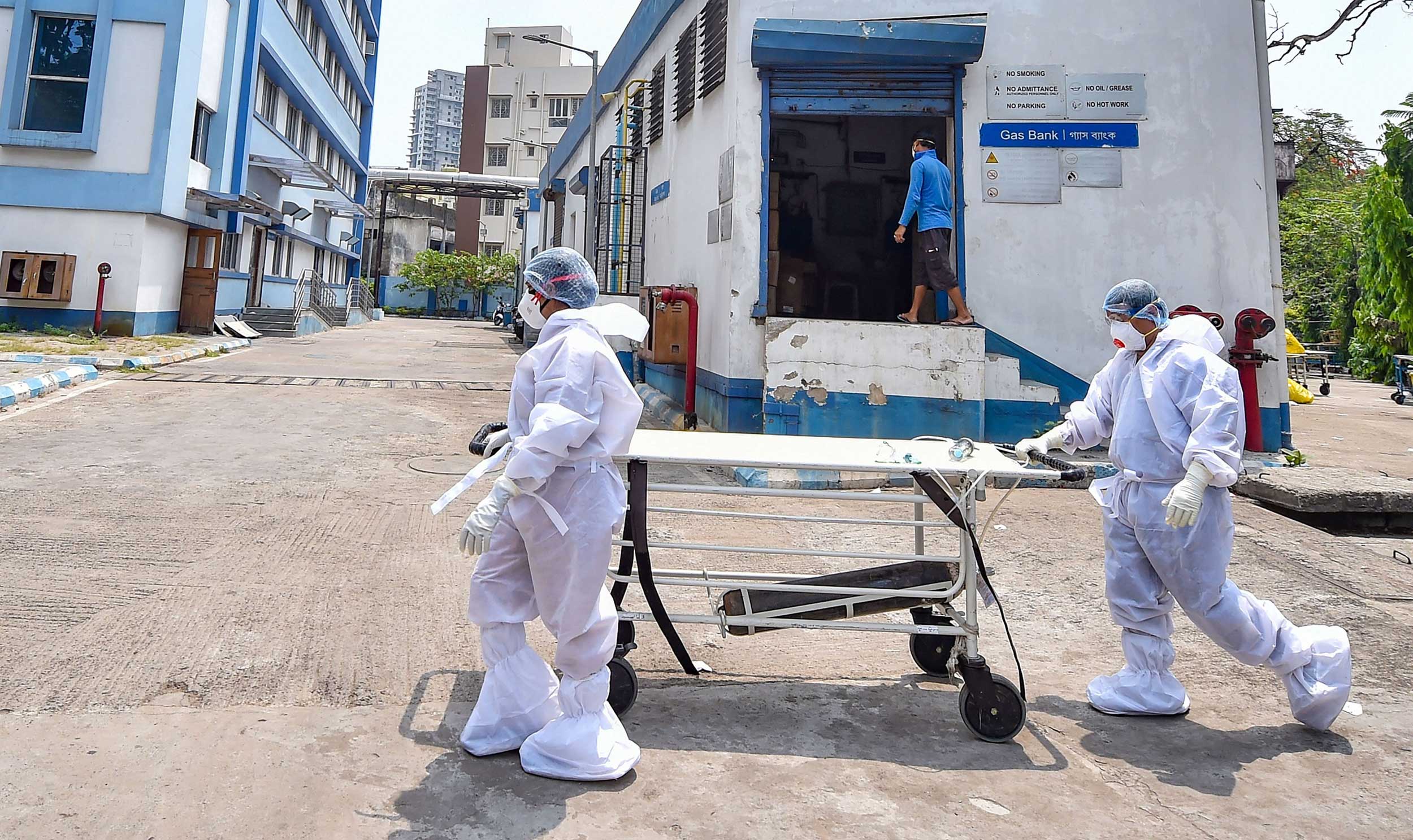 Medical workers wearing protective suits carry a stretcher for a Covid-19 patient at a Calcutta hospital on Monday.
(PTI)
---
Published 22.04.20, 09:22 PM
|
---
The accompanying account, written in longhand on two pages, offers an insight into the ongoing lockdown from someone who has achingly described his status as being in "double lockdown". The writer, who finished his postgraduate studies in pharmacy with specialisation in biotechnology, has been staying in a mental hospital in Calcutta for less than a year and feels he is now fully recovered and ready to be discharged.
Ratnaboli Ray, the founder of Anjali, a mental health rights organisation, told The Telegraph: "This story is not the only one; there are so many like the writer who are absolutely recovered but abandonment forces them to live on in these hospitals. For things to change, the Mental Health Review Board must be implemented. We are keenly awaiting the passage of the state rules for the Mental Health Care Act, 2017, which is still pending with the central government. This is the only way we can do justice to the writer and hundreds like him."
The italicised sentences are annotations by this newspaper. Today it's the 5th of April, it's the lockdown day, no? …oh, never mind. The important thing to stress is it's just more of the same….

We, in …hospital, are as it is, in a double lockdown. What I mean to say is for us, the fresh lockdown doesn't feel as much as a disturbance as it is to the rest of the country. But that is not to say that we have not felt the pinch.
The first noticeable thing was the masks on the faces of the staff. Naturally, we wondered if we too should be wearing them. After all, one positive case in here would start a wildfire of cases….
Slowly, the Group D staff dwindled to almost nothing -- as did the daily newspapers. Our main source of news is the TV and that too is under threat as one guy among us is trying to break the set. (He has been recently moved downstairs, Thank God).
The Nurses are being made to stay here in the hospital for a fixed period and they bus in the D groupers from time to time.
We are being served an extraordinary amount of chicken for lunch. Maybe because now it's cheaper or more easily available. We miss the gourd as the main vegetable; it's been replaced by papaya. They also give us lady's fingers or okra. There's pumpkin and potato in everything. They tell us getting vegetables from the market is becoming harder.
There's not much to do in the afternoons. Taking quick showers because of the heat, watching same old same old TV, lots of Ludo being played and there's always old faithful sleeping. We miss the Anjali sessions…. There are some of us who keep daily countdowns of the lockdown ending (pssst! Its 9 more days to go) and there are rumours of Anjali opening on 16th. (Since then, the lockdown has been extended to May 3)
We get served dinner at 6.30pm (yes, really) and then it's lights out till next morning.
How am I doing, you ask? Well, I am passing time joking with (an inmate). Poor guy has trouble eating the hospital food at night. So I share with him my chira and sugar. I go and then tell the next episode of the story I'm narrating to (two inmates). It makes them happy and makes me happy too. Till now I have narrated novels by Shirshendu Mukherjee, Satyajit Ray, Max Barry (Australian author), Meg Rosoff (American author based in London) and now we have started with Terry Pratchett (satirist).
The heat is becoming oppressive by the day but that is to be expected. The ceiling fan over (an inmate's) bed spins at full force but Heaven only knows where it is sending all that air. This mystery is driving me nuts. Some of us are of the opinion that heat will help making the virus inactive. Maybe.
I wish they had given us a bit more warning with the lockdown. A bit more time for preparation. There is a mental component to all this being shut in. Our singers have stopped singing. It's one way the lockdown affects us. Also the fact the Spring festival is cancelled has affected many badly.
The PM wants us to light candles and lamps tonight at 9 to show solidarity as a nation. I wonder if symbolism at this point is a good idea when there is acute shortage of PPE (personal protection equipment) kits, gear for doctors….
But let's look at the brighter side, if you don't mind some gallows humour. Italy is becoming empty and they must be needing some people to cook all the pasta….
05. 04. 2020
Calcutta