Coronavirus hate campaign triggers attacks
Reports of Muslims being attacked, threatened and boycotted have kept arriving from various parts of the country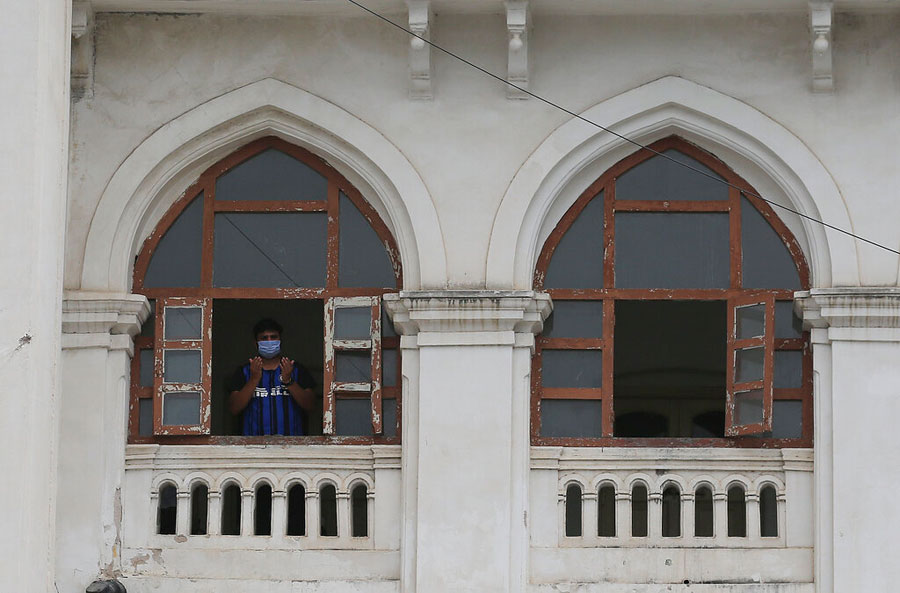 A Muslim offers prayers standing by a window of the Charminar Unani Hospital, currently used as a quarantine center, in Hyderabad on Friday
(AP)
---
New Delhi
|
Published 09.04.20, 10:34 PM
|
---
Alleged firing on a mosque, the targeting of Muslim vegetable vendors and a mob attack on a man who had attended a Tablighi Jamaat meeting in Madhya Pradesh have prompted the Delhi minority commission to send three notices to the police in the past one week.
These incidents, all reported from northwest Delhi and purportedly captured on WhatsApp videos, are part of a series of attacks on Muslims reported from across the country, from Assam to Punjab to Karnataka.
At their root is a campaign by BJP leaders and social media users to allege a concerted effort by Muslims to spread the virus across the country, a conspiracy theory built on last month's Tablighi Jamaat congregation in the Markaz Masjid at Nizamuddin, Delhi.
A commission notice on Wednesday to the Delhi police commissioner, which referred to an April 5 assault on Mahboob aka Dilshad Ali in Harewali village on the Haryana border, gave a chilling description of the build-up of communal tensions in the area.
"…Jats are telling the small Muslim minority in the two villages (Harewali and Qutubgarh) that from now on they must live according to Hindu customs, otherwise they will be thrown out of the villages," it said.
"They dragged Mukhtiar Singh (an elderly Muslim man who had changed his name in 1947) to a temple and forced him to commit that from now on he will not bury his dead and will live like a Hindu. Muslims in these two villages have been warned that they will be crushed and thrown out of the village if they complain to the police."
The notice cited reports of unsuccessful assault bids on a cleric and a mosque in the Northwest district earlier this week.
"...It is clear from the above that the small Muslim minority in the Northwest district in particular is having a difficult time at present. They need reassurance from your side while miscreants must be dealt with firmly to send a message that such behaviour will not be tolerated," it said.
Three people have been arrested for the assault on Ali, who has been isolated at the LNJP Hospital as a "corona suspect" although "there are no corona symptoms till date", a police statement said.
Ali had earlier been admitted to another government hospital for the injuries suffered in the assault before being transferred to LNJP, which normally hosts people with Covid-19 symptoms.
On Thursday, minority commission chairman Zafarul Islam Khan wrote to Delhi's health department asking it to drop any mention of the Markaz Masjid from its health bulletins.
"Your bulletins of coronavirus victims are showing a separate column 'Markaz Masjid'. Such thoughtless classification is feeding into the Islamophobia agenda of the lap media and Hindutva forces and has been easily turned into a handle to attack Muslims across the country," the notice said.
"As a result, Muslims are being attacked in various areas, calls are being made for their social boycott, one boy has been lynched (sic) in the Northwest Delhi village of Harewali, others attacked."
Khan also cited a statement issued on Monday by Mike Ryan, director of the World Health Organization's emergency programme, which said: "Countries should not profile novel coronavirus disease (Covid-19) cases in terms of religion or any other criteria."
But reports of Muslims being attacked, threatened and boycotted have kept arriving from Uttar Pradesh, Assam, Karnataka, Punjab and Jharkhand.
A tribal youth was killed in Gumla, Jharkhand, on Tuesday in a clash sparked by rumours that Muslims had come to spread the virus.
The BJP's head of information and technology, Amit Malviya, had recently tweeted that the Tablighi Jamaat gathering at Nizamuddin was an "Islamic insurrection of sorts".
Assam health minister Himanta Biswa Sarma had broken protocol and named those who had tested positive for the virus, almost all of them linked to the Tablighi Jamaat.
Shobha Karandlaje, a BJP parliamentarian from Karnataka, called the Nizamuddin event a "corona jihad" and the political secretary to chief minister B.S. Yediyurappa, who has warned against the maligning of Muslims, urged the shooting of the Nizamuddin participants if they resisted testing.
A third of India's positive cases have been traced to the Markaz event. However, while most of those who attended the congregation and their contacts have been tested, the testing rate for the rest of the country's population remains one of the lowest in the world.
Although the police have filed an FIR against vigilantes who targeted Muslim vegetable vendors, their boycott in parts of Delhi continues amid the false portrayal of an old video of a man licking vegetables as that of a Muslim spreading the virus.
In neighbouring Gurgaon, a mosque was fired on following a rumour that it was harbouring Tablighis on the run. Uttar Pradesh police have had to repeatedly tweet rebuttals of claims by a few news channels linking specific coronavirus patients to the Tablighi Jamaat.
Muslims aren't the only victims of discrimination. People hailing from the Northeast have from across India complained of denial of access to groceries and of social ostracism over false suspicions of being Chinese.
Communal bias has infected the relief effort too. On Monday, social worker Zareen Taj and her group were attacked by alleged BJP workers in Bangalore while distributing dry rations among slum dwellers. They were accused of spitting on the food to try and spread the virus among Hindus.
At Hoshiarpur in Punjab, nomadic Gujjar cattle herders have taken shelter on the dry bed of the Soan river after facing attacks and vigilante action to stop them selling milk.
The district administration, which has warned against vigilantism, now has the additional burden of feeding the otherwise self-sufficient herders.
The Union government has over the past couple of days issued a couple of advisories against the communal profiling of Covid-19 patients.
On Wednesday, the Union health ministry had said: "Never spread names or identity of those affected or under quarantine or their locality on the social media."
On Thursday, the Union information and broadcasting ministry tweeted: "Corona knows NO religion. Follow '#SocialDistancing', not 'Communal Distancing'."