Centre allowed entry, spread of coronavirus: Chhattisgarh CM
Bhupesh Baghel also claimed that Chhattisgarh had the minimum number of cases because of timely crackdown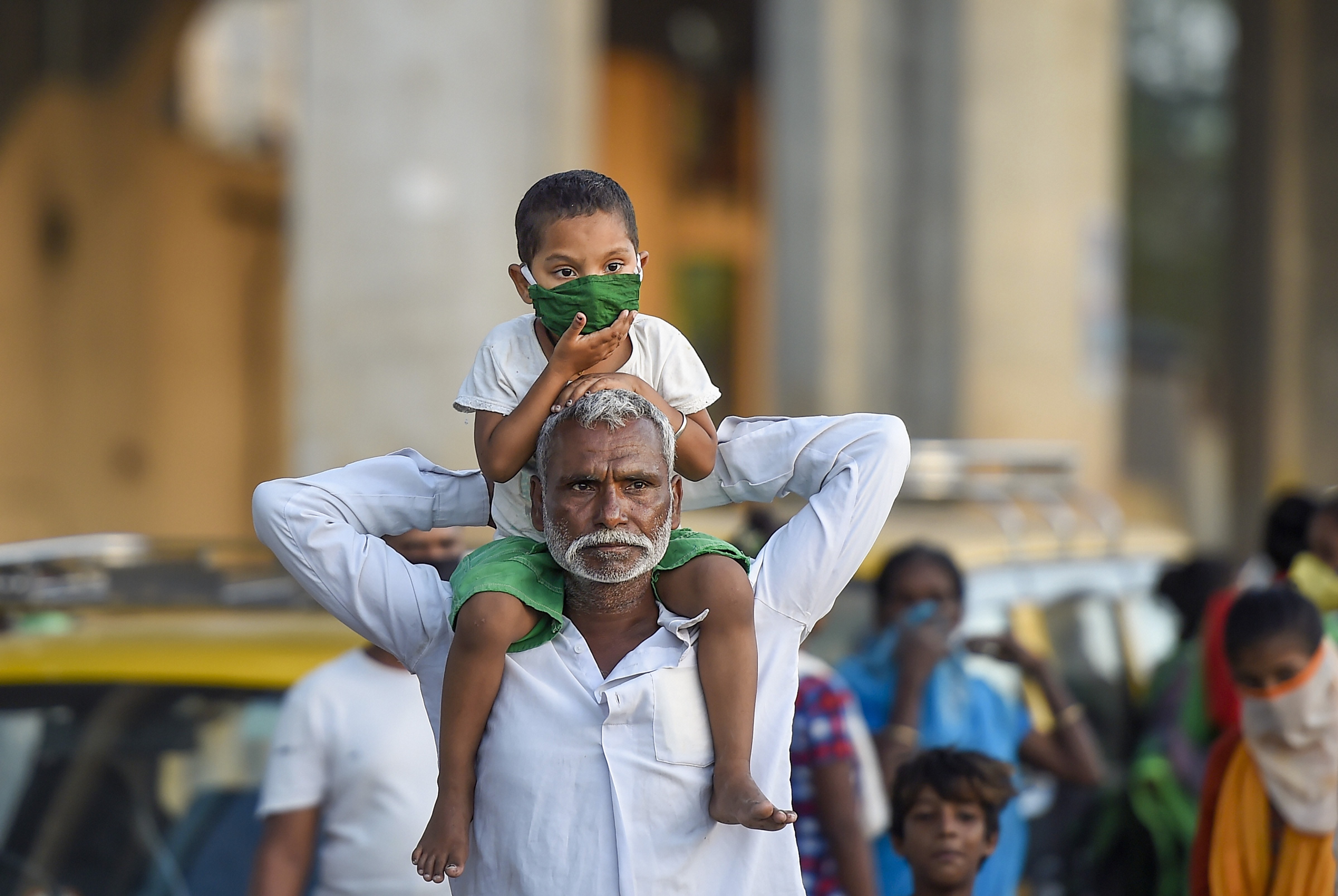 A child wearing a face mask sits on the shoulder of an elderly man during the nationwide lockdown, imposed in the wake of the coronavirus pandemic, at Sion in Mumbai, Wednesday, April 8, 2020.
(PTI)
---
New Delhi
|
Published 09.04.20, 11:01 PM
|
---
Chhattisgarh chief minister Bhupesh Baghel on Thursday said the coronavirus would not have triggered a national crisis in India had the Narendra Modi government woken up in time and quarantined people arriving from abroad.
Asked if he was blaming the Centre for the spread, the chief minister said: "It is clear that the coronavirus started in China. It came to India from outside; it is an imported disease. States could not have taken the decision to stop international flights. States could not have checked travellers at airports and quarantined. This decision had to be taken by the Centre."
India had begun screening air passengers from China on January 18 and added more countries to the list earmarked for screening as the pandemic expanded worldwide. But it wasn't until March 17 that the country issued a directive ordering all incoming travellers to stay home for 14 days.
The Telegraph had reported that between January 18, when airport screening began, and March 14 — three days before the health ministry ordered home quarantine for all passengers from abroad — 1,229,363 or over 12 lakh passengers arrived in India on 11,406 flights, as documented by the health ministry.
Through those weeks, many incoming travellers from other coronavirus-affected countries — having received no orders to remain at home for 14 days — met friends and relatives, visited malls and parties, even travelled by train.
On Thursday, Baghel told a media conference: "Why were people coming from outside allowed to spread across the country? They should have been stopped wherever they came and kept in quarantine. The Centre had the full list of passengers arriving by international flights. Even if they were not stopped there, the state governments should have been informed that these people who travelled abroad are going to your states."
Claiming that Chhattisgarh had the minimum number of cases because of timely crackdown, he said: "Rahul Gandhi instructed me on March 12 to get ready for the crisis. Our work started from March 13. A total of 2,100 people came to my state from abroad. We detected them and put all of them in quarantine. The first case cropped up on March 18. We immediately started sealing the areas."
He added: "Suspected cases were more among those who returned from England, 90 of them. Many were asymptomatic carriers as was revealed after tests. We kept all of them in isolation and sealed road routes as Chhattisgarh is surrounded by seven states. All the districts were sealed. Railways, we have no power to block, that the Centre should have done in time. I am sure the crisis would not have been so deep had international flights been stopped earlier. Passengers were then allowed to spread across the country."
The chief minister was asked about the Tablighi Jamaat, many participants of whose congregation in New Delhi have tested positive for the coronavirus. Baghel said: "Nobody condones what they did. But everybody knows Corona didn't develop in India, it was brought by outsiders. How so many people were allowed to attend the Delhi event in mid-March? What was the Centre and the Delhi government doing? When it was found that they had gathered in such large numbers where people from other countries were present, why did not strictest action follow? How were they allowed to spread across the country, infiltrating almost every state? Every single person should have been stopped in Delhi and quarantined."
The chief ministers of Maharashtra and Rajasthan, Uddhav Thackeray and Ashok Gehlot, respectively, have already questioned the decisions of the Union home ministry headed by Amit Shah to allow such an event in Delhi where foreigners were expected to attend. The Congress has demanded a judicial inquiry into the Tablighi episode.
The Tabilighi issue was later used by a section of media and the BJP ecosystem to give a communal twist to the corona crisis.
The Chhattisgarh chief minister cautioned the Centre against any abrupt lifting of lockdown, saying: "Many states are not allowing movement from other states. They will make assessments on the basis of the situation on the ground after taking inputs from every district. Extensive consultations were required. The Prime Minister is scheduled to talk to the states on April 11. We will wait for his decision."
Lamenting that the Centre did not consult the states before announcing the 21-day nationwide lockdown, Baghel said: "The decision was not backed by thorough planning. Arrangements for money and food were not announced. It created panic. Millions of workers marched towards their homes, demolishing norms of social distancing and lockdown. Now if the Centre will ask us about extension of lockdown, we will give our suggestions."
Underscoring the need for restoring the supply chain to sustain the lockdown, he said: "We have taken several measures. We given two months' ration, 70kg rice to 56 lakh families. In addition, 200kg of rice has been given to every panchayat for those who don't have ration cards. Every collector has been given Rs 1 crore to look after emergency cases. We are collecting food packets from ordinary citizens to be distributed to the poor. We have opened mills to ensure production of essential items, given relaxation to agriculture sector."