Medicines without evidence eliminated
Covid: Latest guidelines exclude Hydroxychloroquine & ivermectin
Doctors cheer Centre's step to also keep out the anti-viral favipiravir; say evidence-based medicines included for the first time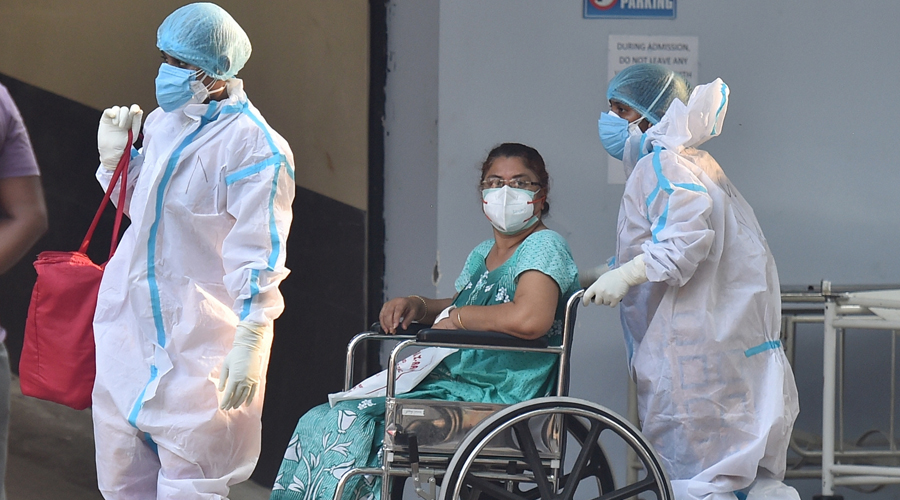 The nine-page document released by the Directorate General of Health Services (DGHS), a unit of the health ministry, has outlined in high precision the circumstances for using other medications and cautioned against the abuse of high-resolution CT scans of lungs
File picture
---
New Delhi
|
Published 08.06.21, 02:02 AM
|
---
The Union health ministry has eliminated hydroxychloroquine and ivermectin and kept out the anti-viral favipiravir from its latest Covid-19 treatment guidelines, a revised document that some doctors say reflects for the first time evidence-based medicine.
The nine-page document released by the Directorate General of Health Services (DGHS), a unit of the health ministry, has outlined in high precision the circumstances for using other medications and cautioned against the abuse of high-resolution CT scans of lungs.
The ministry's Covid-19 treatment guidelines first released last year and updated several times, including on May 19 this year, have long evoked criticism from sections of doctors who said they listed medications for which there was no evidence of benefits to patients.
"Many of us are pleasantly surprised," said Shri Prakash Kalantri, professor of medicine at the Mahatma Gandhi Institute of Medical Sciences, Wardha, who received the guidelines via a social media group of doctors on Sunday.
"The medications in the revised guidelines are all backed by high-quality robust evidence. We are for the first time seeing guidelines from the ministry that are as close to science and evidence based as they can get. Whoever wrote the revisions deserves high praise," Kalantri told The Telegraph.
Kalantri and others had decried the inclusion of hydroxychloroquine and ivermectin in the ministry's guidelines and the inclusion of the anti-viral favipiravir in some state guidelines which, they say, had encouraged doctors nationwide to prescribe medicines without evidence.
The earlier May 19 guidelines developed by the All India Institute of Medical Sciences, New Delhi, and the Indian Council of Medical Research Covid-19 task force that had retained hydroxychloroquine and ivermectin are contradictory in content with the latest DGHS guidelines dated May 27.
Senior AIIMS doctors, however, said they had stopped prescribing hydroxychloroquine to patients several months ago. An institute doctor told this newspaper: "When the evidence was no longer there, we stopped."
The earlier guidelines "encouraged low-value care and provided doctors justification for prescribing medications that gave no benefit to Covid-19 patients," said Vivekanand Jha, executive director of The George Institute for Global Health, New Delhi.
Jha and his colleagues Soumyadeep Bhaumik and Oommen John had last week in a commentary in The Lancet Global Health expressed concern that the guidelines and resulting prescriptions had "enabled others to engage in pandemic profiteering."
They said favipiravir had become a top-selling drug in India during April 2021 even though it was not recommended by the ministry's guidelines. Blood-thinning agents were prescribed to patients who were not at risk of clotting, against the recommendations of most international expert panels.
"Because 90 to 95 per cent of Covid-19 patients recover — no one really can tell whether the patients recover on their own or because of medicines. This allowed the practice of prescribing unproven medicines to continue," said Vijoy Sinha, a senior physician, who had criticised the AIIMS-ICMR guidelines.
Under the new DGHS guidelines, patients with asymptomatic Covid-19 need no medicines and no tests at all. Patients with mild illness have been recommended only paracetamol and cough syrup, if needed, and another drug called budesonide, also only if needed.
Mild patients may need tests only if symptoms persist or worsen. The guidelines recommend oxygen, steroids, and a class of blood-thinners called anti-coagulants for moderate disease. The blood tests recommended have also been rationalised, doctors who have seen the revised guidelines said.
The guidelines recommend "extreme caution" when ordering CT scans, , with four bullet points on why routine CT scans should not be done and four bullet points on when CT scans should not be ordered, Kalantri said.
The page that mentions remdesivir and tocilizumab urges caution, underscoring that remdesivir is an "experimental drug and has a potential to harm."
 "We see a good job done, but this could have been done last year," Jha said. "The challenge ahead is to ensure that these new guidelines reach everyone who has become used to the questionable practices. No one should be heard louder in the noise. Effective dissemination and education is going to be critical."