Study fuels polio vaccine hope on Covid
The trial is aimed at finding out whether OPV can reduce the combined risk of hospital admission or death from the virus in the 6 months after the vaccinations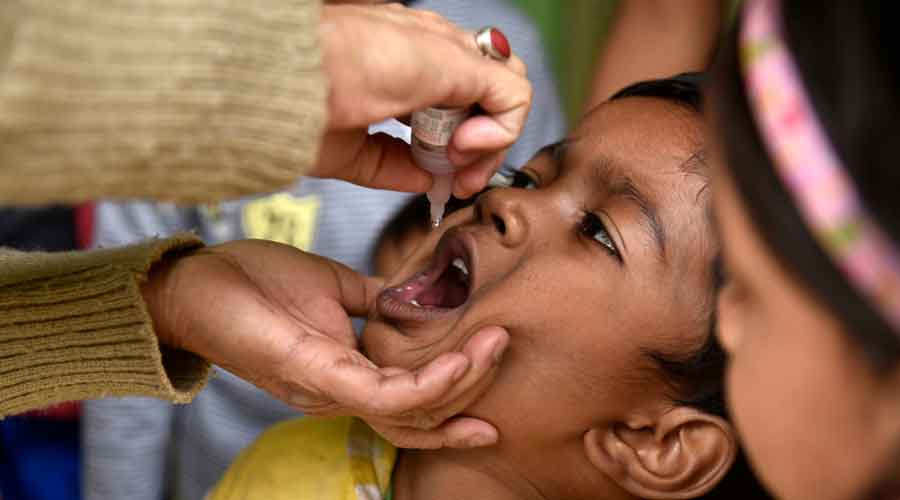 ---
New Delhi
|
Published 14.11.20, 02:44 AM
|
---
Scientists at India's National Institute of Immunology have detected similarities in structural proteins of poliovirus and the novel coronavirus that they say buttress existing proposals to deploy oral polio vaccines (OPV) against the coronavirus disease.
Immunologist Tanmay Mazumdar and his colleagues at the New Delhi-based NII have found that two protein fragments on SARS-CoV-2, the virus that causes Covid-19, are 80 per cent and 87 per cent similar to protein fragments of viruses used in the OPV.
"The similarities in protein fragments strengthen arguments in favour of testing OPV against Covid," said Mazumdar.
The oral vaccines based on live, weakened poliovirus are routinely given to infants in India and many other countries to prevent polio.
Infectious disease specialists have asserted that there is no evidence yet that OPV protects people from SARS-CoV-2, but experimental signals from multiple studies over the years have indicated that OPV has certain "non-specific" effects on the immune system.
Clinical studies of OPV in the 1960s and 1970s in Russia had suggested that OPV is effective against the influenza virus and appeared to reduce influenza illness three-fold.
Other studies had found that OPV could accelerate healing from herpes simplex virus and even reduce respiratory infections.
Mazumdar said the protein similarities between SARS-CoV-2 and poliovirus raise the possibility that OPV can protect people from Covid-19 through a mechanism called "cross-protection". They have published their findings in the journal Viruses.
"This is for now only a hypothesis — this will need to be followed up through more detailed research on the 3D structures of proteins and human trials," said Debi Sarkar, a senior biologist at the University of Delhi's South Campus, who is not associated with the NII work.
American biologist Robert Gallo, the co-discoverer of the HIV virus, is among proponents of assessing OPV against Covid-19.
"We propose the use of OPV to ameliorate or prevent Covid-19," Gallo and four other researchers had advocated in a report in the US journal Science in June.
Gallo and his colleagues also pointed to the multiple advantages of OPV. The vaccines have a strong safety record, they are inexpensive and easy to administer and over a billion doses of OPV are produced and used in more than 140 countries.
An international research team has already planned a clinical trial. Ane Fisker at the University of Southern Denmark and her colleagues plan a clinical trial in Guinea-Bissau in western Africa in which they will test the effect of OPV versus no vaccine in 3,400 people above 50 years of age at risk of Covid-19.
The trial is aimed at finding out whether OPV can reduce the combined risk of hospital admission or death from Covid-19 in the six months after the vaccinations.