Covid: Rahul Gandhi flags vaccine shortage, ruffles BJP
Several states have had to suspend vaccination drives, while some others like Bengal have been focusing on second doses because of a shortage of doses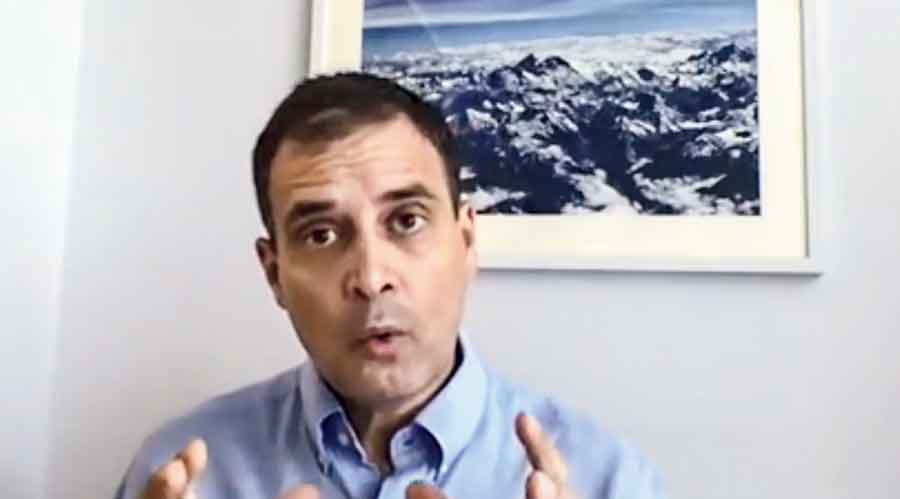 Rahul Gandhi
File picture
---
New Delhi
|
Published 03.07.21, 01:31 AM
|
---
A seven-word tweet by Rahul Gandhi on Friday flagging the vaccine shortage ruffled the BJP so much that a plethora of ministers and leaders came out to launch a vicious attack on the Congress leader, both on social media and off it.
"July aa gaya hai, vaccine nahi aaye (July has arrived but the vaccines haven't)," Rahul tweeted on Friday morning with the hashtag "WhereAreVaccines".
जुलाई आ गया है, वैक्सीन नहीं आयीं।#WhereAreVaccines

— Rahul Gandhi (@RahulGandhi) July 2, 2021
Soon, BJP leader after leader began coming out of the woodwork. Health minister Harsh Vardhan was the first to take on Rahul. Later, other ministers too joined in, and the BJP even held a media address.
Several states have had to suspend vaccination drives, while some others like Bengal have been focusing on second doses over the past week because of a shortage of vaccines. The Centre had on June 21 resumed responsibility of buying and distributing the bulk of the vaccines, with Prime Minister Narendra Modi appearing to blame the states for the sluggish pace of inoculation during a 50-day period when they were allowed to directly procure from the manufacturers half the doses.
The health ministry has said 120 million doses will be available for distribution to states and private hospitals in July, the same quantum as was available during June 2021. Health experts had pointed out that this would mean an average of 4 million doses a day, much lower than the 5.7 million achieved during a seven-day blitz after the Centre again took over the inoculation drive on June 21. Moreover, the Centre had itself set a target of ramping up vaccination to 10 million doses a day by mid-July.
While Rahul had highlighted these genuine concerns at a time the delta variant of the coronavirus is causing concern and vaccination needs to be rapidly stepped up to stave off a third wave driven by mutations and large pools of unprotected people, the BJP chose to go on the war path with the Congress leader. 
Harsh Vardhan called Rahul arrogant and ignorant.
"What is @RahulGandhi Ji's problem? Does he not read? Does he not understand? There is no vaccine for the virus of arrogance and ignorance!!" the health minister tweeted, adding that he had put out facts on vaccine availability for July a day earlier.
Just yesterday, I put out facts on vaccine availability for the month of July.

What is @RahulGandhi Ji's problem ?Does he not read ?
Does he not understand ?

There is no vaccine for the virus of arrogance and ignorance !!@INCIndia must think of a leadership overhaul ! https://t.co/jFX60jM15w

— Dr Harsh Vardhan (@drharshvardhan) July 2, 2021
The Centre has been denying a vaccine shortage and instead accusing the states of lousy planning and wastage of doses.
The Union government has been highlighting the total number of vaccine doses administered, pointing out that the US had taken 193 days to reach the 320-million-dose mark, while India took 163 days. Experts, however, have underlined that the US has fully immunised over 47 per cent of its population. India had till Wednesday administered more than 335 million doses, but only about 4.5 per cent of the estimated eligible population of 944 million is fully vaccinated with two doses.
While the Centre's target of vaccinating the entire adult population by year-end looks a distant dream given the current pace of inoculation, the BJP's reaction to Rahul's tweet made it clear that he had touched a raw nerve.
Senior ministers Piyush Goyal, Dharmendra Pradhan, Smriti Irani and some others tweeted to slam the Congress leader and even accused Opposition-ruled states such as Maharashtra, Rajasthan and Punjab of indulging in corruption amid the pandemic, including graft over vaccination and treatment equipment.
वैक्सीन की 12 करोड़ डोज़ जुलाई महीने में उपलब्ध होंगी, जो प्राइवेट हॉस्पिटल्स की आपूर्ति से अलग है। राज्यों को 15 दिन पहले ही आपूर्ति के बारे में सूचना दी जा चुकी है।

राहुल गांधी को समझना चाहिये कि कोरोना से लड़ाई में गंभीरता के बजाय इस समय ओछी राजनीति का प्रदर्शन उचित नही है। https://t.co/xmDqtrLcLI

— Piyush Goyal (@PiyushGoyal) July 2, 2021
महाराष्ट्र के वसूली एजेंट क्या पकड़ में आ गए, पंजाब और राजस्थान कांग्रेस ने अपनी सरकारों को ही धन उगाही का माध्यम बना लिया है।

भ्रष्टाचार और कमीशन खोरी की अपनी विरासत को आगे बढ़ाते हुए कांग्रेस इस भयंकर आपदा में भी कमाई के नए नए तरीक़े ढूँढ निकाल रही है। https://t.co/VoBTHJ81AF

— Dharmendra Pradhan (@dpradhanbjp) July 2, 2021
12 करोड़ वैक्सीन के डोज़ प्रदेश सरकारों को उपलब्ध कराए जाएंगे जुलाई माह में।

राज्य सरकारों को 15 दिन पहले ही जुलाई की वैक्सीन सप्लाई के बारे में बताया गया है, शायद वैक्सीन की मुनाफ़ाख़ोरी में व्यस्त कांग्रेस सरकारों ने इन्हें जानकारी नहीं दी।

ना जाने महाशय नींद से कब जागेंगे! https://t.co/PioehQmr9Y

— Smriti Z Irani (@smritiirani) July 2, 2021
The BJP also organised a media address at the party headquarters where spokesperson Gaurav Bhatia accused Rahul of spreading "misinformation" and termed him an "immature" leader.
"Under the leadership of Prime Minister Narendra Modi, India is running the largest vaccination drive in the world and vaccines are being administered on a war footing," Bhatia said, asking Rahul to name a country that was administering more vaccines a day than India.
The Congress too held a media address to highlight the slow pace of vaccination.
"Indians have the first right over vaccines manufactured in India and in this context the government needs to answer how some export deals still continue," Congress spokesperson Supriya Srinate said, asking the government to come clean on allegations of corruption in a deal with Brazil for supply of the indigenously manufactured Covaxin.