Only 4.5 per cent of eligible population inoculated
Covid: US jabs not available for import to states as manufacturer's 'order books are full', says Centre
Health policy professionals say the absence of immediate extra doses through imports underline the government's poor planning that has left India struggling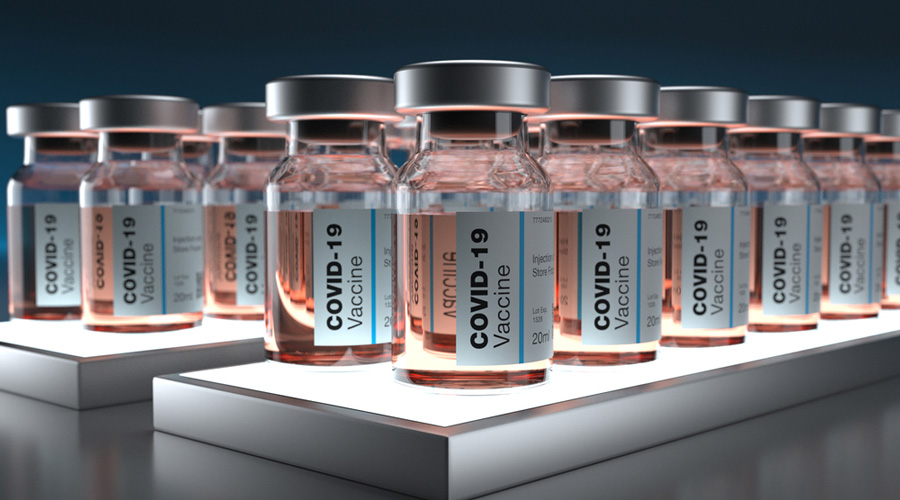 Many health experts have said that India should have, during the second half of 2020, invested in vaccine procurement through advance purchase pacts just as other major countries – the US, the UK, Brazil, among others – had done
Shutterstock
---
New Delhi
|
Published 25.05.21, 02:36 AM
|
---
Covid-19 vaccines from US companies are not immediately available for import by states because the vaccine makers' "order books are full", a Union health ministry official said on Monday, flagging what health experts say is the Centre's self-inflicted vaccine quagmire.
Lav Agarwal, a joint secretary in the Union ministry, said the Centre would facilitate regulatory approvals and procurements of vaccines when they become available, amid concerns expressed by Delhi and Punjab that the companies had indicated they would deal only with the Centre.
Agarwal said the Centre is "coordinating" with Pfizer and Moderna, two US pharma companies that make Covid vaccines. "Their order books (are) already full. It is depending on their surplus – how much they can provide to India, they will come back to the Government of India and we'll ensure, facilitate supply at the state level," Agarwal said.
Health policy experts tracking India's vaccine supplies said the absence of immediate extra doses through imports underlined the Centre's poor planning that has left India, one of the world's largest vaccine makers, struggling to inoculate its people.
"The demand-supply mismatch shows the poor planning," said R. Ramakumar, an economist and professor of development studies at the Tata Institute of Social Sciences, Mumbai. "We would have known last year how many doses we needed and what our production capacity was."
Many health experts have said that India should have, during the second half of 2020, invested in vaccine procurement through advance purchase pacts just as other major countries – the US, the UK, Brazil, among others – had done.
By November 2020, many countries had advance-purchased hundreds of millions of doses of the vaccines from Pfizer, Moderna and Johnson and Johnson. The Centre neither pursued deals with the US vaccine makers nor did it invest to scale up domestic production.
"The Centre did not even order vaccines from Serum or Bharat (Biotech) until January this year – and that too in bits and pieces," Ramakumar said.
The Centre announced its first large tranches of funds to Serum and Bharat Biotech only in April this year. The vaccination campaign currently relies on Covishield from the Serum Institute of India and Covaxin from Bharat Biotech.
Ramakumar and other health experts have described the Centre's April decision to allow states to procure vaccines for people 18 years or older as an effort to deflect blame for the emerging vaccine shortages from itself to the states.
"Throughout 2020, the Centre directed the states not to independently procure vaccines, assuring them that the Centre would do so," a public health expert who requested anonymity told The Telegraph. "Then, on April 19, they abruptly asked the states to procure vaccines for themselves."
Pfizer and Moderna have told Delhi, and Moderna has told Punjab that the companies would engage only with the Centre and not with state governments or private entities. A Pfizer spokesperson had also told this newspaper in December that the company would only deal with the government.
The two states are among many across the country trying to procure vaccines after the Centre revised its policy on April 19 to allow the states to inoculate all adults 18 years or older, increasing the number of the beneficiaries without provisions for extra vaccine supplies.
India has an estimated 950 million people 18 years or older for whom the country would require at least 1.9 billion doses, or a production capacity of 158 million doses per month for full immunisation within a year. The current capacity is about 85 million doses per month -- 70 million doses of Covishield and 15 million doses of Covaxin.
Only about 43.2 million, or 4.5 per cent of the eligible population, in India have so far received the two doses required for full protection. 
A health official had said earlier this month that Pfizer, Moderna and Johnson and Johnson had indicated they were not in a position to supply their Covid-19 vaccines to India until the third quarter of this year.