No basis yet to blame Tablighi: Scientists
Over 2,300 people from India and other countries had assembled for the Tablighi Jamaat event in Delhi last month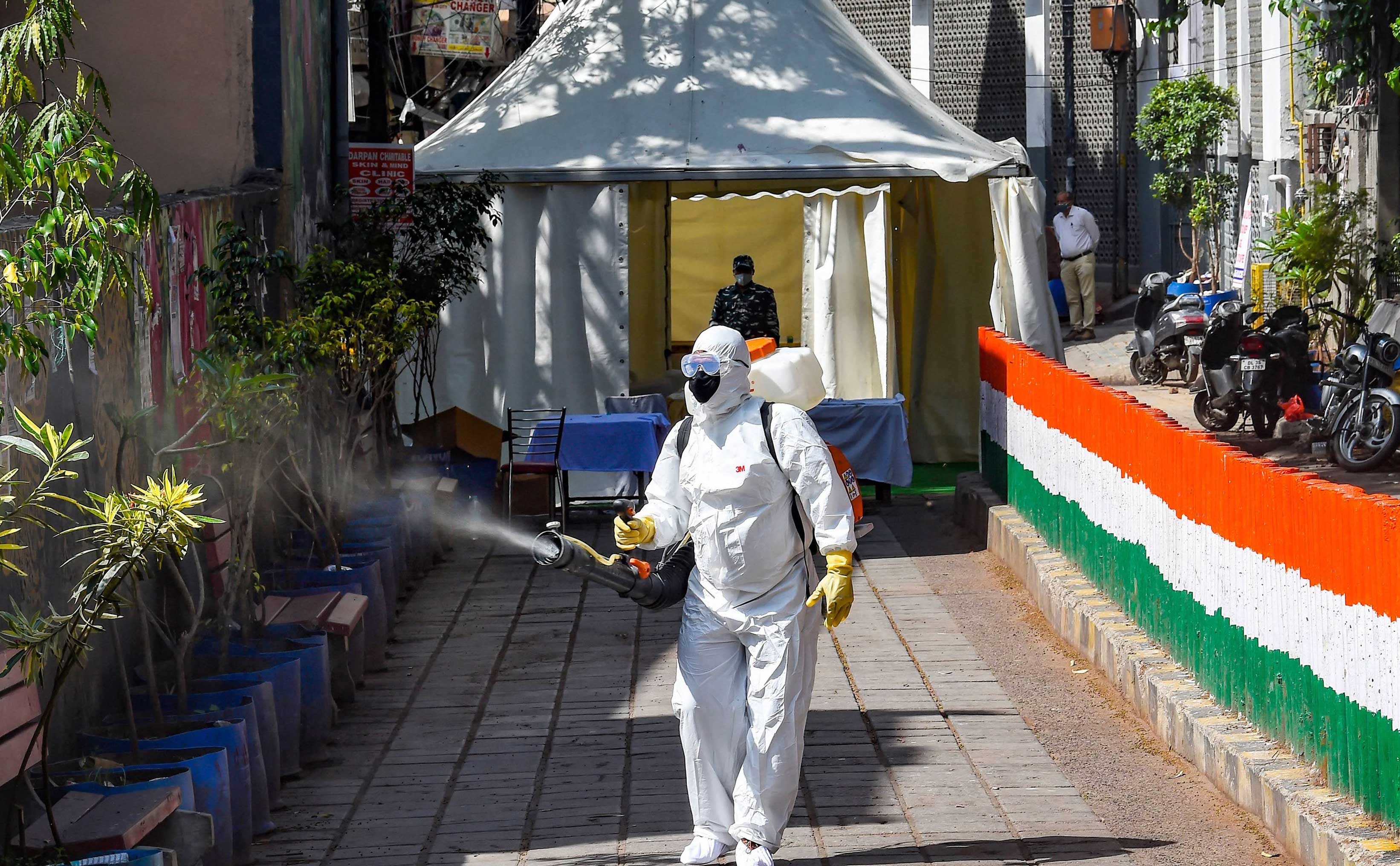 A health worker sanitises an area near Nizamuddin mosque, after people who attended the religious congregation at Tabligh Jamaats, tested postive for COVID-19
File picture
---
New Delhi
|
Published 10.04.20, 10:49 PM
|
---
A group of Indian scientists has said the available data do not support speculation that the primary blame for the continued growth of the novel coronavirus disease (Covid-19) in the country lies with the Tablighi Jamaat convention in Delhi last month.
The Indian Scientists' Response to Covid-19 (ISRC), a group seeking to provide authentic information and bust myths about the pandemic, has expressed concern that some media outlets and politicians have suggested the primary blame lies with the Jamaat event.
Over 2,300 people from India and other countries had assembled for the Tablighi Jamaat event in Delhi last month with approval from multiple government agencies.
The health ministry had earlier this month indicated that at one point, a third of India's cases could have been linked to the Jamaat event.
The government's statements that highlighted the Jamaat event-linked cases among the total number had triggered anti-Muslim comments, including the hashtag "coronajihad", on social media. One website had posted that the Tablighi Jamaat event had turned into a coronavirus bomb.
"We strongly condemn any attempt to communalise the pandemic," the ISRC said, citing the World Health Organisation's statement not to profile cases on racial, religious or ethnic lines.
The ISRC has also cited the health ministry's own document that says: "Do not label any community or area for the spread of Covid-19."
While the Tablighi Jamaat had erred by not cancelling the event, the ISRC said, the central and state governments should acknowledge their administrative lapses.
This (the congregation) was a "pre-approved event and arms of the government were aware that foreigners from infected countries would be participating", the ISRC said.
The ISRC said the government had not released data on how many tests were conducted among the attendees of this event and their contacts. "Thus, we do not know how the fraction of tests that were found to be positive in this case compares to testing on the general population," it said.
"We call on the government to release this data."
The actual number of people infected with the coronavirus across the country is believed to be far larger than the number confirmed so far, the ISRC said.
The effects of the Delhi event on the growth rate of the all-India numbers "may thus be significantly less" than the numbers put out by the health ministry, the ISRC said.
Medical researchers have highlighted that an Indian Council of Medical Research study, released on Thursday with evidence for community transmission of the virus in 36 districts, suggests that the infection is likely to be more widespread than has been assumed.
The ISRC has underlined that coronavirus epidemics have in general been marked by "super-spreader events" in other countries. Such super-spread events have occurred in South Korea and Italy this time.
A single patient in Punjab has led to the quarantining of 40,000 people across 20 villages in the state, the ISRC said. "Those who contract the virus in such an event or spread it unintentionally are themselves victims of the epidemic," the ISRC said. "They must not be demonised."