Mystery of missing Covaxin doses
The entire consignment that the Centre had ordered was to be delivered before January 16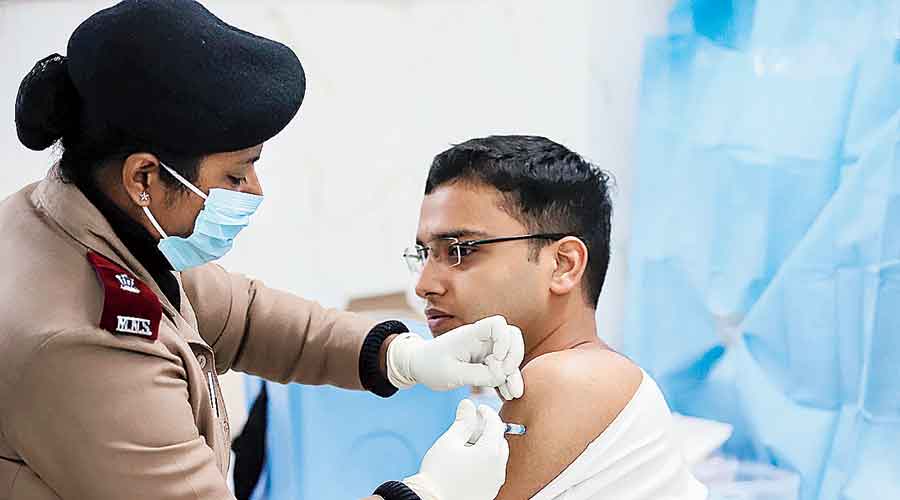 A jawan receives a dose of Covishield vaccine at a military hospital in Allahabad on Monday
PTI
---
New Delhi
|
Published 19.01.21, 12:27 AM
|
---
Eleven of the 12 states earmarked to receive the home-grown Covid-19 vaccine Covaxin have got 20,000 doses or less each, although the Centre ordered 55 lakh doses and expected the entire consignment to be delivered before January 16.
Health officials in Andhra Pradesh, Assam, Bihar, Haryana, Karnataka, Maharashtra, Odisha, Rajasthan, Tamil Nadu and Uttar Pradesh have told The Telegraph that each state had received 20,000 doses of Covaxin and larger supplies of the AstraZeneca-Oxford vaccine, called Covishield.
Telangana received 16,000 Covaxin doses and around 3.44 lakh Covishield doses, a state official said. The volume of Covaxin doses received by Delhi could not be ascertained immediately.
If the 12 states received an average of 20,000 doses of Covaxin each, the total would come to 2.4 lakh – just 4.4 per cent of the 55 lakh doses ordered.
The Union health ministry had said last week it had ordered 1.1 crore doses of Covishield, produced in India by the Pune-based Serum Institute of India, and 55 lakh doses of Covaxin, developed by Bharat Biotech, Hyderabad.
A top health official had said that "100 per cent doses (are) to be received by 14th January".
The health official had added that the vaccine orders would be staggered, implying that more orders for, and supplies of, both vaccines would emerge in the coming weeks as the campaign to immunise around 1 crore healthcare workers and 2 crore frontline workers progresses.
But the relatively small numbers of Covaxin doses supplied to each state, in contrast to Covishield doses, remains unexplained and, as one state official said, "surprising" because Bharat Biotech had earlier this month indicated it had 1 crore doses ready to go.
On January 4, a day after India's drug regulatory authority had approved the restricted emergency use of Covishield and Covaxin, Krishna Ella, a scientist turned entrepreneur and head of Bharat Biotech, had said that 1 crore Covaxin doses were "readily available".
Multiple queries sent by this newspaper to Bharat Biotech and to the health ministry asking about the uniform 20,000-dose supplies to the states have remained unanswered. Two state officials who requested not to be named said the sizes of the supplies were determined by the Centre.
"One possible explanation is that the company isn't prepared to ship out all 55 lakh doses," said a medical expert who is advising a state government. "Another possible explanation is that the government has for some reason initially released only the limited 20,000 doses to each state," the expert said.
"But if the company indeed has 1 crore doses, why aren't we seeing much more supplies of Covaxin?"
If both Serum Institute and Bharat Biotech had delivered 100 per cent of the initial orders of 1.1 crore and 55 lakh doses, the campaign rollout would have seen a 2:1 ratio of Covishield and Covaxin.
But the actual ratios are much higher, given the much larger supplies of Covishield. The 12 states have received 2 lakh to 10 lakh doses of Covishield each.
Maharashtra, for instance, has received 9.6 lakh Covishield doses, Uttar Pradesh has received 10.55 lakh, Karnataka over 7 lakh and Bihar 5.5 lakh.
While health officials have asserted that both vaccines are safe and generate strong immune responses against the novel coronavirus, many medical experts and doctors have expressed concern that the efficacy of Covaxin is yet to be proven.
Some experts have speculated that India's accelerated approval to Covaxin without efficacy data reflects a political desire to launch a home-grown vaccine alongside the AstraZeneca-Oxford vaccine.