Elicit contrary opinions: Ex-secretary
Govt should ensure infection did not slip into green zones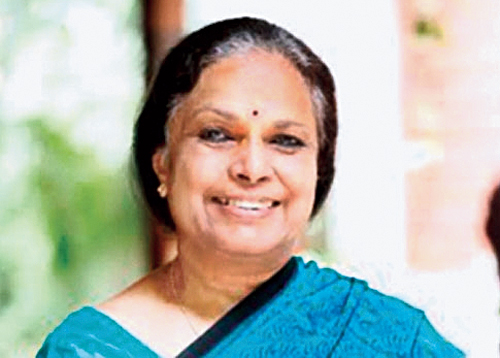 ---
---
Some public experts, while acknowledging India's early initiatives to curb the spread of the novel coronavirus, have expressed concern about what they believe are signals of inadequate planning and poorly coordinated responses to the pandemic.
The Telegraph had requested former Union health secretary Kanuru Sujatha Rao, who had spent in the health sector 20 of her 36 years as an IAS officer, to share her thoughts about how India has handled the epidemic. Rao was the Union health secretary in 2009-10.
"It is important to find independent voices and contrary opinions to optimise final decisions," Rao, who has been a Takemi Fellow at the Harvard School of Public Health, said.
She highlighted the absence of epidemiologists at the helm of India's responses and said the lockdown imposed with only four hours' notice has been problematic.
Rao said the quicker India moved out of the lockdown the better, but the government should through micro-planning ensure the infection did not slip into the green zones.
Excerpts from an interview follow:
Q: How would you describe India's response? Could things have been done differently? Do you see avoidable mistakes or judgement errors?
Rao: The challenges the Centre and the state governments are facing are extraordinary. In hindsight it is always easy to find something that could have been done better or differently. This virus is like no other — in its speed, stealth and virulence — and calls for highly sophisticated responses.
Very little is known about this virus. So a response is beset with uncertainties and unknowns that necessitate doing by learning — step by step. Given these circumstances, there is an urgency to fall back upon the science of epidemiology, past experience — after all, this is not the first time India (has encountered) a new virus — and a careful weighing of options based on evidence.
I would perhaps have opted for a calibrated response like Kerala's. I would have closed borders for foreign travel in the first fortnight of February, with the World Health Organisation declaring the novel coronavirus to be a Public Health Emergency of International Concern on January 30, enforced a strict protocol of isolating the infected, and rigorously traced all contacts and tested them. It would have been advisable to engage with state health ministers and alerted them to ensure close coordination with the MEA (ministry of external affairs) and the states early on.
The second set of actions would have been to focus on expanding testing, launch information campaigns towards physical distancing, (encourage the) use of masks to ensure people don't get into panic or fear. These are standard responses and must have been considered in the department of health. I don't know the reasons for not acting along those lines.
Q: You mentioned the need to fall back on the science of epidemiology in decision-making. Do you believe India has done that in the best possible way?
Rao: I'm not sure who ultimately is driving the decision-making of our response. If it is the Indian Council of Medical Research (ICMR), I would find it strange as it is the department of health that has the experience of having handled and operationalised interventions to contain epidemics over decades — from small pox, polio or HIV to the spate of viral outbreaks we've faced in recent times such as SARS, H1N1 influenza, Zika or Nipah.
The ICMR has always provided the knowledge base on which the department of health would formulate the response in consultation with states. Here, I find the ICMR laying down strategy to the extent of even fixing test rates for the private sector.
Be that as it may, I didn't see many of the known epidemiologists in the initial phase of the response. Even the technical committee constituted by the Niti Aayog /ICMR on March 18 didn't have any of the well-known epidemiologists.
They have one or two but they work under the DG-ICMR and that could have circumscribed their ability to give their frank views in case they were different from that of the DG or other seniors in the department. What is important is to find independent voices and contrary opinions for optimising the final decision.
It would seem odd if an epidemiologist, no matter how famous, guides policy on clinical disciplines. So too public health or epidemiology is a distinct discipline and a science on its own. That needs to be respected. I'm not sure what epidemiologists would have recommended but I think they would have argued for strategic interventions and differential approaches based on evidence rather than a one-size-fits-all approach.
I think they would have asked for more testing and ring-fencing of vulnerable populations such as the elderly and people with comorbidities.
Q: Over the past week, we've seen government efforts to show evidence that the nationwide lockdown has been timely and effective and given India the opportunity to ramp up testing and hospital facilities. Some officials have argued that without the lockdown, India's confirmed cases would have by now exceeded 100,000 instead of being less than 35,000. How do you view these efforts to showcase the "success" of the lockdown?
Rao: I don't think one should get defensive and at this stage of the battle try to justify past decisions with data. Who is to say whether we have averted 1 or 2 lakh infections? It could even be 3 lakh depending on the assumptions you make. Those estimates may well be true. But the issue is not that. The issue is why everyone from Kashmir to Kanyakumari had to be locked up at a four-hour notice.
On March 24, we had around 500 cases and barely 10 deaths. In over 600 districts, people had not even heard of the infection. In locking down the whole country, our attention and scant energies were diverted in managing the lockdown instead of focusing on persons returning from abroad and international travellers.
This does not mean the lockdown is a bad decision. But it could have been a planned act instead of a knee-jerk reaction as there is no evidence to suggest that if we didn't, we would have lost many lives the very next day.
In planning a week (ahead), we could have saved the huge amount of human suffering, got medical supplies and ration shops stocked, placed orders to buy kits and PPE (personal protective equipment).
But it has been said again and again: the lockdown does not eliminate the virus; it just slows it down. To contain the virus, we need to know where it is spreading and that can be known only by testing. We should have called on our biotech companies to work on good kits, bought high-quality kits and ramped up our lab capacity to expand testing in what would be the red and buffer zones.
The ICMR should have swung into action and set up surveillance sites to monitor the spread of the virus. There is an important distinction that needs to be understood. The tests for surveillance and epidemiology help us know where the virus is, among whom and at what speed it is circulating; the tests to diagnose the infection (are meant) to isolate and treat.
Q: There have been anecdotal reports of private hospitals/clinics denying patients healthcare services. Recently, the health secretary asked all states to ensure that private hospitals/clinics continue to offer such services to patients. Could such a situation have been avoided?
Rao: The private sector has reacted somewhat irresponsibly at one level by shutting down OPDs and refusing elective surgeries. I don't think this was necessary at all. At the same time, with the conversion of almost all government facilities for Covid patients, it is private hospitals that have helped patients get some care at least. This should have been managed better at the state levels.
The letter from the health secretary is timely and I hope the states pay heed to it. We must remember that we'll soon face outbreaks of vector-borne diseases that are seasonal and preventive actions need to be taken now to avert deaths and outbreaks of dengue. While Covid is important, it is not a choice a government can offer — die of Covid or dengue.
Q: You have tweeted about the ICMR's embarrassing recall of antibody test kits that its own lab (NIV) had earlier approved. Does this not cast doubts about the ICMR's test validation process? Do you view it as unusual that the ICMR became involved in procuring test kits?
Rao: The ICMR is a reputable organisation. It has people of high calibre and integrity. When kits are recalled and found substandard it affects its credibility. This could have been avoided. There are procurement processes and procedures. The ICMR procures kits or consumables for its own laboratories. I have never come across an instance where procurement for a programme like this was done by the ICMR.
Q: Some experts have said India's poor capacity to respond is partly the outcome of the low priority given over the years to investing in disease surveillance, which they describe as the "radar" for infectious diseases. Has India under-invested in this radar?
Rao: Absolutely. There cannot be doubts or opinions about this. India not only under-invests in health but has completely neglected public health at its own peril. Today we are witnessing the results of our past neglect. Our surveillance systems are hopeless. More than 250 epidemiologists' posts are vacant at state levels, forget the districts. The public health cadre of the Union government is becoming extinct.
This is worrying as 36 per cent of our disease burden is still communicable diseases. Since 1995, several expert committees have recommended that a department of public health be created with the director-general of public health as its technical head. The DG public health would be a qualified public health person with experience in primary healthcare institutions implementing disease control programmes. But that has not found traction.
Our technical wing in the ministry has been gradually weakened as clinicians after working all their life in an operation theatre in Ram Manohar Lohia Hospital or Safdarjung Hospital become the DG. This has to change. We need a strong public health cadre and expertise in every state.
The directors of public health and chief medical officers in the districts must be qualified in public health, infectious diseases or family medicine. But in India, I feel no one cares and when a Covid strikes, we get hysterical. Unfortunately, we don't respect science. I earnestly hope the government will act at least now after this horrific experience and develop public health cadres and our public health institutions.
Q: We're still in the middle of the pandemic. Are there any course corrections in India's technical or operational response that you would like to or hope to see?
Rao: Not course corrections. Our challenge is to get out of the comfort zone of the lockdown and restore normality and have the ability to face any surges in infection. It is sad to see that the lockdowns are so arbitrarily being extended by chief ministers. On what grounds, may I ask?
Goa had seven infected people, all cured. Not a single death and not a single infection. Why should it have a lockdown? I'm afraid such decision-making reflects a fear and an inability to face the tougher job of restoring normality.
My hunch is that this up and down, hide and seek with the virus will continue till a vaccine is found or we develop herd immunity. But for any herd immunity we have to get out of the lockdown and allow our young and healthy to get exposed to the virus. The quicker we move towards that by getting out of the lockdown the better.
That said, I feel that the lifting of the lockdown has to be gradual and planned in micro-detail. District collectors must come up with micro-plans of how they would ensure that public health principles are adhered to by the public and under no circumstances is infection allowed to enter the green zones.
As for the red zones, very detailed planning (is necessary) and a humane enforcement of the lockdown needs to be enforced. We have the institutional capability for this.
Q: What lessons do you believe India can take away from this pandemic?
Rao: The positive outcome of this pandemic is that people are more disciplined, maintaining social distance, wearing masks, not violating lockdown rules and so on. I have to compliment our people, the police authorities, our caregivers and the administration for doing such a great job. It's not easy.
In several cases, people have come out to help and also shown great respect to healthcare workers and doctors. The people have borne huge inconveniences with a great sense of resilience that is truly remarkable.
But at the policy level, as said above, institutional reform needs to be brought in without further delay. Health is a state subject but infectious diseases are very much a concurrent subject and so the central government has an equal responsibility.
Second, we have to learn to incentivise and engage civil society and NGOs. Health and education are sectors that need people's engagement and can never be done by the government alone through fiats and orders.
Third, we must invest more in research. The ICMR has some fine institutions, all struggling for funds. The department of health research should be more like the US National Institutes of Health, focus on fundamental research, strengthen disease surveillance, and build capacity to assess disease burdens at district levels and even below.
Until we have that kind of knowledge base, our policies and their implementation will always be found wanting or inadequate. And finally, it is very important that in health, the spirit of federalism is fully maintained.
The states must be encouraged to build their own capacity and capabilities and the GOI must not be prescriptive (but) facilitative. There is great merit in differential planning and differential focus.