Centre finally expands testing criteria
Hospitalised patients with respiratory issues to be examined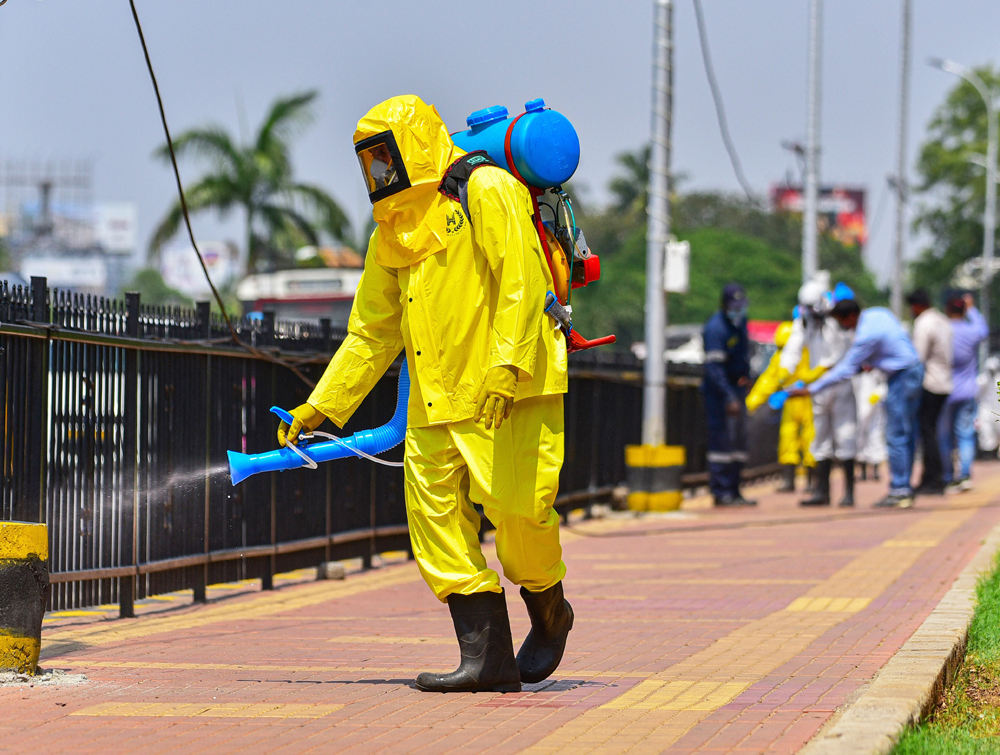 ---
---
Indian Council of Medical Research revised its strategy to fight the spread of the new coronavirus on Saturday, saying all hospitalised patients with severe acute respiratory illness, shortness of breath and having fever and cough will now be tested for COVID-19 infection.
The new ICMR guidelines, coming a day after the Union health ministry's directive to hospitals to notify the government about all pneumonia patients so that they could be tested for the novel coronavirus, also spelt out certain specifics.
ICMR said asymptomatic direct and high-risk contacts of a confirmed case should be tested once between Day 5 and Day 14 of coming in his/her contact.
The apex body for biomedical research revised its strategy in view of a spurt in coronavirus cases in the country this week. The new strategy aims to contain the spread of infection more effectively and to provide reliable diagnosis to all individuals meeting the inclusion criteria of COVID-19 testing.
Till now, all asymptomatic individuals who undertook international travel in the last 14 days and developed symptoms, all symptomatic contacts of laboratory-confirmed cases and all symptomatic health care workers were being tested for the infection as per the guidelines.
Novel coronavirus cases in India rose to 258 on Saturday after 35 fresh cases were reported in various parts of the country, the Union health ministry said.
Friday's health ministry advisory diverges from the country's current testing criteria to look for the coronavirus only in patients with symptoms who have had a recent foreign travel history or have had contact with such persons.
The advisory has also called on every public and private hospital across the country to set apart some beds and create isolation facilities and procure additional masks, gloves and other personal protection equipment in preparation for "any possible influx" of coronavirus patients.
It has also asked hospitals to "procure sufficient numbers of ventilators and high flow oxygen masks" and ensure that they have trained staff for ventilator care.
But critical care specialists have cautioned that it won't be easy to implement all the ministry wants. "In many places, existing critical care facilities already face staff and infrastructure shortages," said Dhruva Chaudhry, president of the Indian Society for Critical Care Medicine (ISCCM).
However, the advisory has said no hospital should turn away any suspected coronavirus patient and should inform the National Centre for Disease Control or local district-level disease surveillance units about "all pneumonia patients" so that they could be tested for the coronavirus.
Senior officials with ICMR who have guided national testing criteria had earlier this week said there was no need to expand testing as there was no evidence for community transmission of the virus.
But public health experts and virologists have criticised the policy of testing only a subset of patients, contending that the rapid spread of the coronavirus demands that India start testing more patients.
T. Jacob John, emeritus professor at the Christian Medical College, Vellore, among other experts had told this newspaper that anyone with suspicious pneumonia should be considered as a potential coronavirus patient.
Mock drill at hospitals
The health ministry has directed all hospitals to conduct a "mock drill" on Sunday, March 22, to prepare their doctors, nurses and paramedical staff in personal protection measures and other precautions needed to manage any influx of coronavirus patients.
The advisory has called on hospitals to cancel leave — unless sought in emergency or unavoidable circumstances — of staff and asked them to urge patients not to come to hospitals for avoidable or routine out-patient department visits. Patients with chronic diseases or minor illnesses should be advised to use primary or secondary facilities instead of crowding tertiary care centres.
But public health experts believe the Centre needs to fund the response. "Central procurement and supply of essential medicines, including personal protection equipment, will be critical," said Oommen John, a senior research fellow at The George Institute for Global Health, New Delhi.
Not enough time
But critical care experts are worried India may not have enough time to bolster its infrastructure fast enough before the demand for critical care beds spikes.
"There is a shortage of ventilators, other countries have also ordered more ventilators — in any case, just getting ventilators will not help," Chaudhry said. "Ideally, you need one nurse for each ventilator, but the country faces a shortage of critical care nurses. In many places, we have a ratio of one is to two, or even one is to three."
The ISCCM is set to release guidelines to help doctors manage what is expected to be a surge in demand for critical care beds if widespread community transmission sets in.