For the forgotten, a healing touch
A month's grace period to pay water and electricity bills has been given to everyone in Kerala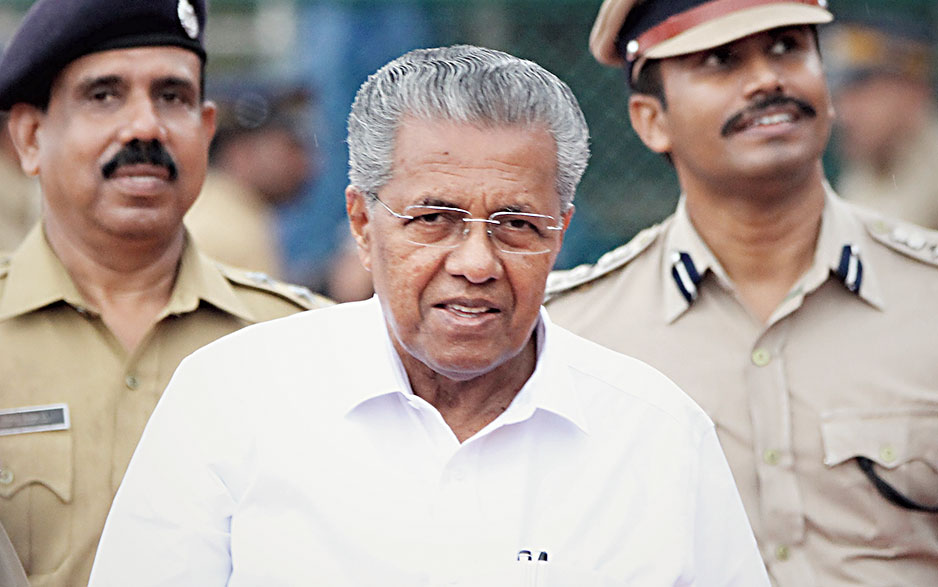 Pinarayi Vijayan
(Telegraph file picture)
---
Bangalore
|
Published 19.03.20, 09:23 PM
|
---
Once is happenstance. Twice must be something more than coincidence.
The voice that reassured Malayalis two years ago when floods ravaged Kerala is making its presence felt again in the state that was first hit in India by the coronavirus. Chief minister Pinarayi Vijayan is defying the nose-diving fortunes of communists elsewhere in the country by displaying stellar leadership that has left the Congress-led Opposition in disarray.
This time, Pinarayi is ably assisted by a formidable minister called Shailaja Teacher. Her single-minded focus on fighting the virus, unflappable demeanour and courage under fire have pitch-forked her to a maternal pedestal: she is now known as "Teacheramma".
Into this multi-pronged thrust was added a healing economic touch, often overlooked when unparalleled crises strike populations en masse. On Thursday, Pinarayi announced a Rs 20,000-crore package to help those economically crippled by the virus that has shut down income-generating activities.
Kerala is not out of the woods yet. Over 31,000 people are still under observation in Kerala. One more positive case was reported on Thursday, taking the state-wide confirmed Covid-19 count to 28.
But the remittance-dependent state that has a high exposure to travellers from abroad is making probably the most visible effort in the country to survive the virus scare. Driven by community participation, the signs of the fight-back against the virus are everywhere, including the queues before liquor stores.
On Thursday, Pinarayi, heading a Left coalition government, told a media briefing that the package would facilitate advance payments of social welfare pensions, free food grain for all, subsidised meals, loans for the needy and other welfare measures, including a health package of Rs 500 crore.
There was no clarity yet from where the funds are being sourced, and the steps announced are not the kind that would make headlines in the pink press.
But care has been taken to address the most basic needs that touch everyday lives. For instance, in view of the adverse impact on the earnings of the people, the government will advance to April from September the launch of eateries offering affordable meals. The price per plate will be cut to Rs 20 from Rs 25.
Pinarayi said that from the package, "an amount of Rs 14,000 crore will be utilised in clearing all dues to people and establishments". He said Rs 2,000 crore had been set aside for a village employment guarantee scheme, to be implemented in April and May.
A sum of Rs 1,320 crore will go towards paying social security pensions to about 50 lakh people. Those from the below-poverty-line category who do not receive social security pension will be paid Rs 1,000 each.
People who hold below-poverty-line and above-poverty-line ration cards will receive Rs 10kg free food grain to tide them over the virus crisis, which is preventing many from earning their livelihood.
Buses, taxis and auto-rickshaws have been offered concessions in road taxes and fitness charges since the transport sector has been badly hit.
A month's grace period to pay water and electricity bills has been given to everyone in the state.