Covid surge prod to 35 districts
Health secretary underscores need for local authorities to scale up testing, containment measures and door-to-door surveillance to achieve early diagnosis, effective case monitoring and hospitalisation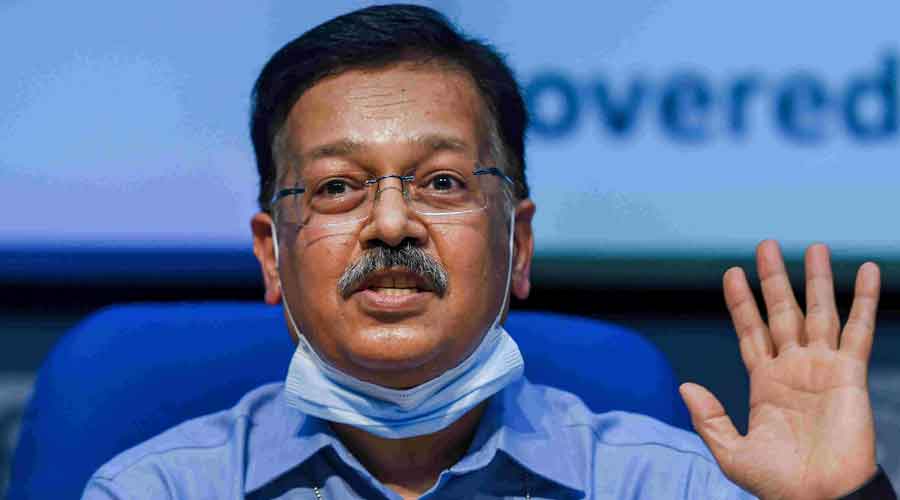 ---
---
The Union health ministry on Sunday pointed to surges in new coronavirus disease cases and high mortality in 35 districts, including four in Bengal, and has deployed central health teams to Chandigarh and Punjab that are also displaying worrying trends.
Health secretary Rajesh Bhushan, in a videoconference with state and district officials, underscored the need for local authorities to scale up testing, containment measures and door-to-door surveillance to achieve early diagnosis, effective case monitoring and hospitalisation if required.
Calcutta, Howrah, North 24-Parganas and South 24-Parganas are among the 35 districts that also include Mumbai, Pune and Thane among 17 districts in Maharashtra, 11 districts in Delhi, Surat in Gujarat, Puducherry, and East Singbhum in Jharkhand.
The health ministry had on Friday named 15 districts in Andhra Pradesh, Karnataka, Punjab, Tamil Nadu and Uttar Pradesh with similar troubling trends of surges in daily new cases and high mortality.
Sections of public health specialists believe the emergence of the surges or the spikes in mortality more than six months into the epidemic suggests health systems' responses are not what they should ideally be in many places across the country.
The health ministry has since March circulated multiple guidelines and standard operating protocols for the public as well as health systems' responses required.
"But states haven't been learning from each other as efficiently as they could have," said Jugal Kishore, a professor of community medicine at the Safdarjung Hospital, New Delhi. Districts across the country should take lessons from what large cities have experienced.
The health ministry has asked state authorities to improve monitoring of patients placed under home isolation so that they can be quickly transferred to hospitals if their oxygen levels fall.
The central health teams heading to Chandigarh and Punjab will assist local authorities in managing the surge and high mortality there. Similar teams have earlier visited other states such as Bihar, Chhattisgarh, Jharkhand, Madhya Pradesh and Odisha.
"Sometimes states request teams, sometimes we send teams on our own if we see certain parameters changing," a senior health official told The Telegraph.
The daily number of new cases, the absolute numbers of deaths, and early mortality within 24 to 72 hours of admission to a hospital are key parameters that the health ministry uses to mark trouble spots.
Early death within 72 hours of diagnosis is possibly the result of delayed diagnosis or delayed recognition of deteriorating disease, the health official said. In such circumstances, the health teams provide guidance to local authorities for early detection and effective case monitoring.
The central teams typically include epidemiologists from the National Centre for Disease Control and doctors who have managed Covid-19 patients from central hospitals such as the All India Institute of Medical Sciences, the Safdarjung Hospital, Lady Hardinge Medical College, and Ram Manohar Lohia Hospital in New Delhi.
India on Sunday recorded 90,632 new Covid-19 cases, its highest yet single-day rise, raising the cumulative number of cases to over 4.11 million, of whom more than 3.18 million patients have recovered, over 862,000 are under medical supervision and 70,626 have died.