Covid: Centre flags measures taken by Mumbai and Pune as models for the nation
The Union health ministry cited 'stringent containment measures' and a mix of effective public communication, decentralised war rooms, and augmented health infrastructure to curb the spread of the infection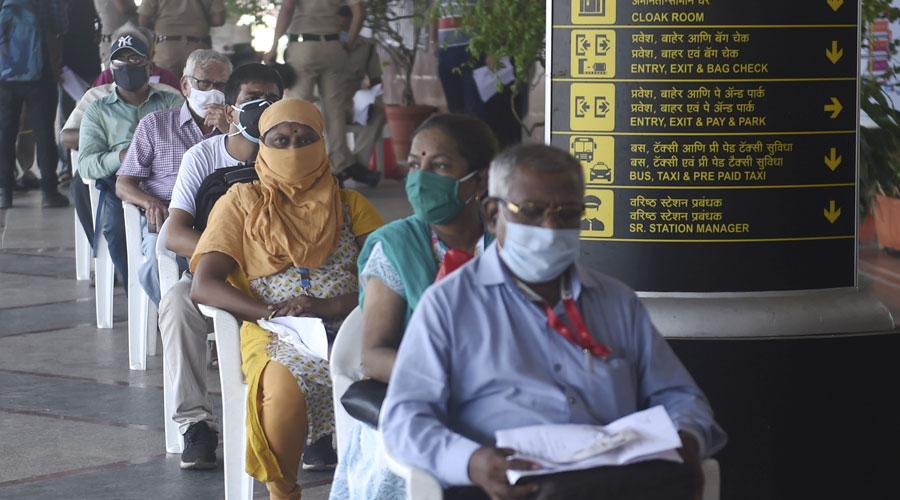 ---
New Delhi
|
Published 12.05.21, 01:34 AM
|
---
The Centre on Tuesday flagged measures taken by Mumbai and Pune as models the rest of the nation should emulate in efforts to control the second Covid-19 wave at a time 310 districts across India show runaway infections.
The Union health ministry cited "stringent containment measures" in Pune and a mix of effective public communication, decentralised war rooms, and augmented health infrastructure in Mumbai as examples of efforts needed to curb the infection spread in other states.
Health authorities on Tuesday recorded over 329,000 Covid-19 new infections, a decline from 366,000 a day earlier, but the national test positivity rate — the proportion positive among those tested — is 18 per cent, significantly higher than the ideal of below five per cent.
In 310 districts, the positivity rate is greater than 21 per cent, meaning one in every five persons tested is found positive and implying that the local epidemics there have grown to levels where tests are unable to detect many infected people.
A health official said 533 districts across India — including 45 in Madhya Pradesh, 38 in Uttar Pradesh, 36 in Maharashtra, 34 in Tamil Nadu, 33 in Bihar, 28 in Karnataka, 23 in Gujarat, and 22 in Bengal — have positivity rates above 10 per cent and qualify for "stringent containment measures".
The official said Pune's actions to couple night curfews with additional restrictions on mass gatherings, on intermingling of people, and the closure of non-essential services for a period of 15 days from April 12 onward had led to a plateauing of daily new infections.
He also cited Mumbai's responses, including a decision to create a "decentralised citizen communication approach" in which the test results were shared with the administration to communicate the results with the public.
Mumbai's municipal corporation created decentralised war-rooms in 24 wards across the city and served as a hub, receiving close to 10,000 test results every day from 55 labs and sorting them based on wards and shared with each war room.
Each war room had 30 telephone lines, 10 telephone operators, 10 doctors or medical support staff, 10 ambulances and dashboards that showed hospital bed availability. Patients were encouraged to call in and the ambulances would move patients to hospitals, a state task force member told The Telegraph.
The health ministry also cited Mumbai's moves to augment medical infrastructure.
Health experts say what Mumbai has done is unlikely to be easily replicated in resource-poor states or districts. A state task force member had also told this newspaper last week that the Maharashtra government deserved credit for taking decisions based on guidance from "science and doctors".
Health officials and experts are worried that the epidemic has grown beyond the testing capacity in some districts with high daily cases. India has a capacity for 1.6 million RT-PCR tests — the standard genetic diagnostic tool — and about 1.7 million alternative rapid antigen tests per day.
India conducted 1.85 million tests on Monday. The ICMR had last week revised testing guidelines to expand the use of rapid antigen tests and recommended the establishment of 24x7 testing booths in public spaces to increase the numbers of tests.