AIIMS issues Covid guide for doctors
The document aims to try and curb 'arbitrary practices' that are not based on evidence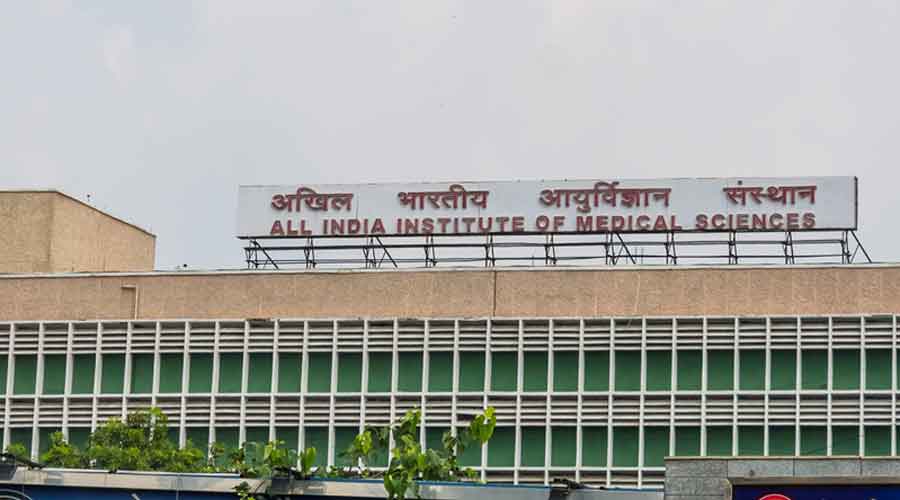 ---
---
Doctors at the All India Institute of Medical Sciences, New Delhi, have released guidelines on Covid-19 treatment and medications to try and curb "arbitrary practices" that are not based on evidence.
The document, released by the Union health ministry on Wednesday, says that pirfenidone and methylene blue have no role in the treatment of the coronavirus disease and that evidence for another drug, favipiravir, is "weak".
India's drug regulatory authority had in June approved favipiravir for use in Covid-19. But the AIIMS panel has underlined that studies have used favipiravir primarily in mild and asymptomatic patients, claiming to prevent progression, while most such patients recover with just supportive care.
"Our guidelines seek to curb arbitrary practices that might be based either on personal experiences or anecdotal accounts of what works or doesn't," Anjan Trikha, professor of anaesthesiology and critical care and chairperson of the Covid-19 clinical management team at AIIMS, told The Telegraph.
The AIIMS document underlines that "sudden deaths" among Covid-19 patients have been reported both at their presentation at emergency departments and in hospital. It says these may have resulted from a sudden cardiac event preceding silent hypoxia (oxygen deprivation) that went unnoticed, or from blood clotting complications.
Patients showing risk factors for the development of severe Covid-19 or those with prior health disorders such as coronary artery disease or chronic lung disease "should be strictly monitored for their oxygen levels and should not be allowed to move unattended", the AIIMS panel has said.
Anticoagulants – drugs that reduce the risk of clotting – should be used in all "at-risk" patients who do not show any risk factors for bleeding, it has said.
According to the panel, there is no evidence to support the use of the antiviral remdesivir in patients who show no symptoms but have underlying health disorders that put them at risk of severe disease.
The guidelines recommend the use of corticosteroids, either dexamethasone or methyl prednisolone, in the treatment of patients with moderate to severe Covid-19. But there is no role for steroids when patients are discharged, they say.
Some patients who develop severe disease and whose oxygen levels do not improve through non-invasive oxygen-delivery mechanisms might require invasive ventilation, the guidelines say.
Patients unable to maintain oxygen levels and heading into respiratory fatigue, and those unable to tolerate non-invasive oxygen, should be considered for invasive ventilation, the guidelines add.
"This document is part of efforts to promote the standardisation of clinical practices," said Sumit Ray, a senior critical-care medicine specialist at the Holy Family Hospital, New Delhi.
Standardisation efforts, he said, are important when the medical community faces a new infection.
However, Ray said, there remain uncertainties about certain medications used in Covid-19.
For instance, tocilizumab has been approved by India's drug regulatory authority for use on "compassionate grounds". But the AIIMS panel has stressed that tocilizumab represents "an experimental therapy" with a limited role and should be used only in patients with features of an inflammatory condition called cytokine storm after ruling out active infections.
There are still questions about tocilizumab, Ray said. "The only major randomised clinical trial with this medication did not show benefits."
Early during the epidemic, AIIMS had established a helpline for doctors from across India to provide them with technical guidance on the clinical management of Covid-19.
Senior AIIMS doctors have for the past eight weeks hosted twice-weekly online conferences to exchange experiences with other doctors.