SC issues order on Assam detainees
Bench headed by Chief Justice says those held for two years or more may be freed, activists unhappy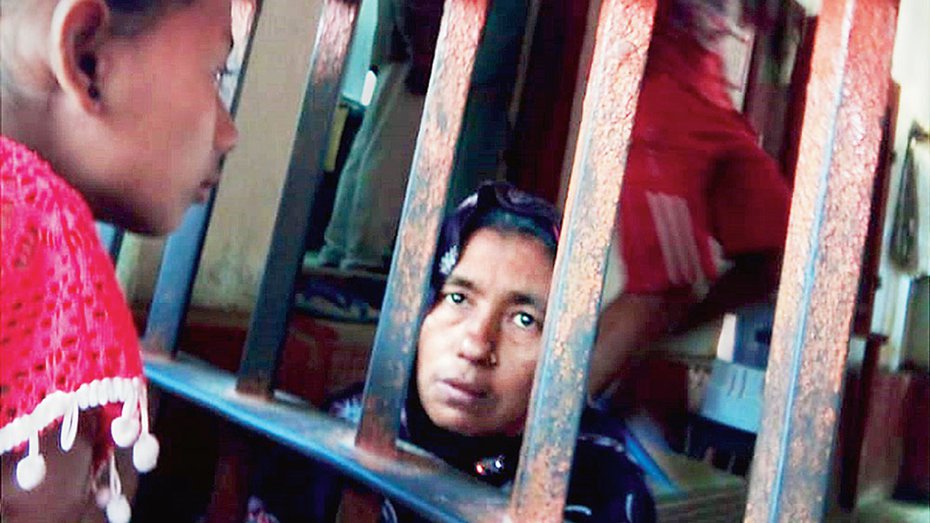 A person in the detention camp inside Silchar Jail with her daughter.
File photo
---
New Delhi
|
Published 13.04.20, 03:43 PM
|
---
The Supreme Court has said that individuals lodged in detention centres of Assam for more than two years may be released on personal bond and surety, the judges making the observation on Monday while hearing multiple petitions seeking release of the incarcerated in the wake of the coronavirus pandemic.
The petition was heard by a bench headed by Chief Justice S.A. Bobde, who assured petitioners that the court would "pass orders in this regard."
One of the petitions was filed by detainee Raju Bala Das, who had spent more than two years in a detention centre in Assam. He pleaded that there was a serious risk of infection inside such centres that are essentially housed in over-crowded district jails.
Justice and Liberty Initiative, an Assam-based non-profit, had filed a similar prayer in the Supreme Court after the apex court took suo motu note of over-crowding in prisons that could prove dangerous in the light of the Covid-19 outbreak.
On March 23, the court had directed all states and Union territories to set up high-level committees to determine undertrials and prisoners who could be released for four to six weeks.
The Attorney General K.K. Venugopal told the bench that certain prisoners have been released on the 'recommendation of the High Powered Committees except in the States of Delhi and Goa.' He added that the Bihar government was of the opinion that the state's jails are not over-crowded and no prisoner is infected of coronavirus.
The petition cited Section 59 (3)(a) of Civil Procedure Code which empowers state governments to release prisoners if there was an outbreak of an infection or a contagious disease.
The petition sought a change in the apex court order of May 2019 which allowed the release of detainees who hadcompleted three years and could furnish two sureties.
"The duration should have been brought down. I would have been happy even if it was reduced to a year," said Aman Wadud, a Guwahati-based lawyer and founder of the non-profit that provides legal aid to the individuals facing Foreigners' Tribunals in Assam.
"There is no rationale behind detaining people for two years… If you are willing to release people who are convicted criminals why not release people who have not committed any crime (under the penal code)," said Wadud.
Solicitor General Tushar Mehta, however, argued that it would be hazardous to release such people [detainees] since 'they would again mix with rest of the population and it would be difficult to trace them.'
'Having regard to the present circumstances prevailing in the country and having regard to the fact that we have already permitted the release of prisoners and people under detention in general, and such detenues who have completed three years upon their declaration as foreigners, we see no reason why the period should not be reduced from three years to two years,' the court observed.
The Assam non-profit's petition also cited several media reports from countries that reported the spread of the virus in prisons as a result of which violence had broken out in some. It cited a Washington Post article which reported on American prisons authorising release of prisoners and mentioned riots in prisons of Italy and Colombia amid fears of Covid-19 outbreaks.
Indonesia released more than 20,000 prisoners – those who have served two-thirds of their sentences – last week to reduce the risk of coronavirus transmission. Cautioning that "correctional facilities may amplify and enhance Covid-19 transmission beyond their walls" the World Health Organisation issued guidance for prevention and control of Covid-19 in prisons and other places of detention.
Former bureaucrat and activist Harsh Mander had filed another petition, a general one, on people in various kinds of custodial conditions, including jails, beggar homes and detention centres.
Mander, who had inspected such detention centres for the National Human Rights Commission, had even filed a report. "These are jails within jails. A portion of the jail is carved out and designated a detention centre. It doesn't have the kind of open spaces and courtyards that ordinary over-crowded jails have. So, it's far worse than even jails," he noted.
Last month, the Union home ministry had informed the Rajya Sabha that there were 802 individuals held in Assam's six detention centres as of March 6, 2020.