No food and water aboard Shramik Special trains
Passengers have been sending out SOS messages, with groups protesting at several stations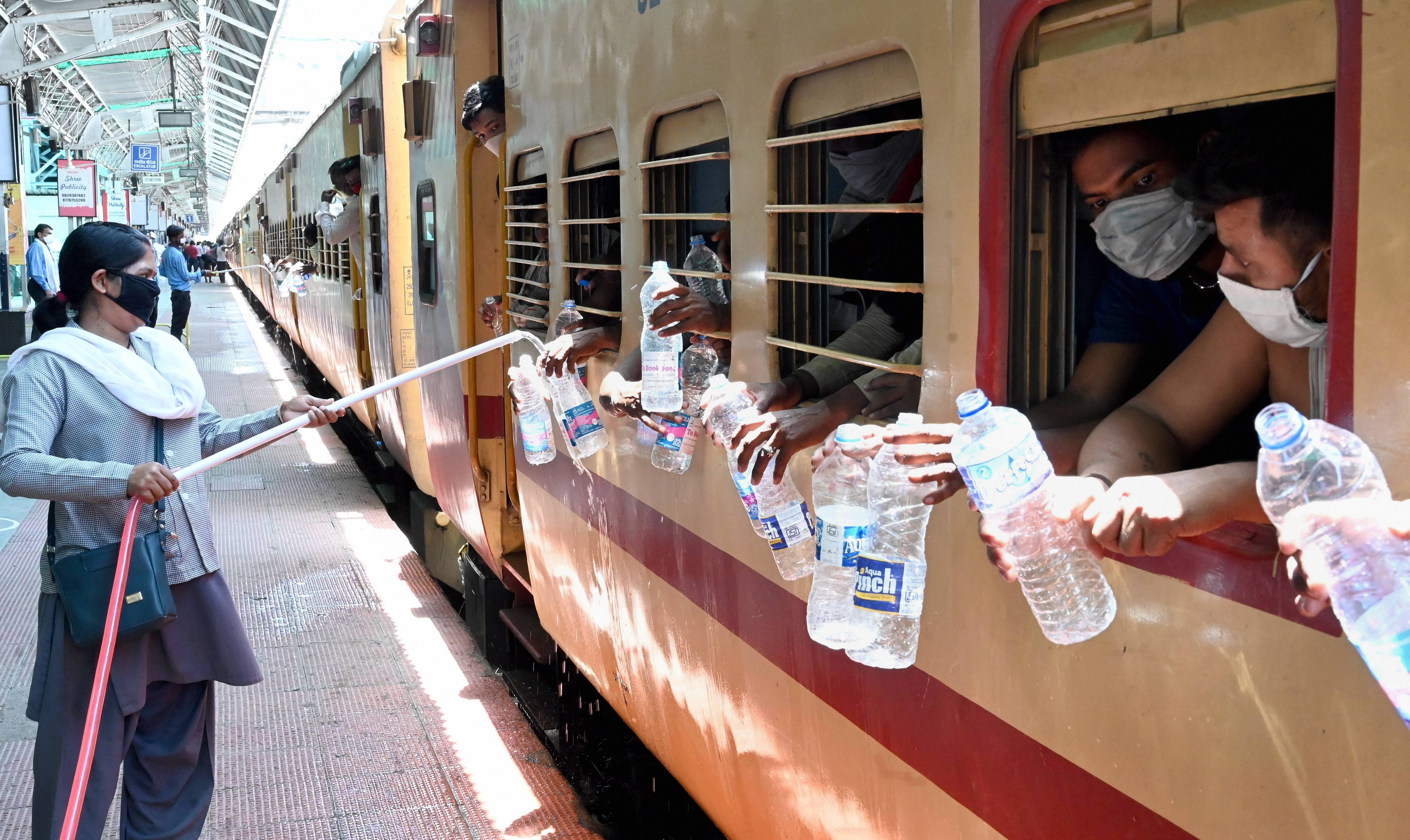 ---
---
The migrant crisis in India is far from being resolved. Now that the government has begun rail service to ferry workers back to their home states, reports of deplorable conditions aboard these trains are emerging.
Multiple trains are being delayed by 10 -15 hours, with passengers sending out SOS messages to get food and water. Several passengers spoke with The Telegraph online and complained about scarcity of water amid soaring temperatures.
These special trains run by the government, mostly for the stranded working class population, are non-air conditioned. Some students were also allowed on these trains under special arrangements.
Nearly 300 students from Aligarh Muslim University were taken to Mathure on university buses to catch a Shramik Special train going to Howrah. After being told that sleeper coaches were attached to the train in an arrangement between the university and the West Bengal government, the students were bundled into general coaches with no scope of social distancing.
Multiple reports of protests by travelling migrants have also emerged. In UP's Unnao station, where a train coming from Bangalore halted, several passengers on board resorted to stone pelting.
In another case, visuals of passengers frantically grabbing water bottles kept on the platform went viral. Hungry and exhausted migrants were on a train which halted at the Deen Dayal Upadhyay station, earlier called Mughalsarai Junction, for more than 10 hours.
Migrant workers were seen raising slogans to get water and food at Bhusawal station in Maharashtra. They were travelling in two trains from Hubli and Gulbarga to Bihar.
On Friday evening, migrants going back home on a train from Gujarat to Bihar threw away food handed at Kanpur saying that it was rotten. Same day, another group travelling back from Visakhapatnam to Bihar, got out on railway tracks to protest after the train was held up for more than 10 hours.
In some instances, trains have been diverted from their usual routes which resulted in long delays. A shramik train bound for Gorakhpur in Uttar Pradesh somehow ended up at Rourkela in Odisha. It started from Vasai road station in Maharashtra on May 21.
The Western Railways tweeted saying that the train was diverted "due to heavy traffic congestion on existing routes."
Social media is filled with several such posts and messages of people crying out for help. With the lockdown still in place, stations remain shut with no sale of food items or water allowed on the platforms. Passengers are left with no other option but to send out SOS messages for help.
Dehradun resident Satish Chawla said that her daughter had left on a special train from Bangalore on May 20 at 10 pm when they were handed some food and water. The group could manage to get water and food after almost a day when a district official responded to their messages.
"It wasn't sanitised so we had to do it ourselves with sanitisers given by the university. We were also handed tickets with the price of sleeper class (around Rs.700) printed over it," Ghulam Noor, a 22-year-old student who was travelling back to Uttar Dinajpur told The Telegraph online.
He said they had to send out desperate messages to college administration, government officials in Madhya Pradesh and Bengal to get water and basic food arranged on the way. The group had reached Berhampur in Bengal and were waiting for hours to be allowed on the connecting train.
The guidelines placed responsibility for food and water on state authorities where the trains are originating. But Indian Railways has been accused of leaving passengers to fend for themselves as trains are delayed.
"They are a group of nearly 100 students who were stranded in Mysore and were later evacuated. For two days, they have not received any food but managed to get some water after posting on social media for help," said Chawla.
The students from two colleges in Dehradun were stranded in Mysore since the lockdown in March.
Another passenger, MK Amir Khan, going back home to Manipur in a train from Mumbai, said there were small children in his coach and everyone had run out of water.
"We were given food and water, one bottle each, at Jabalpur at 3 am last night. After that, we didn't get anything. It is almost 41-42 degrees and everyone is exhausted, especially small children. There is one 10-month-old too," said Khan on Friday night.
Shramik special train set off to Gorakhpur (UP) from Vasai road (Maharashtra) on 21st May, 2020 reaches Rourkela station in Odisha today morning. Clueless passengers claims that driver has lost the route. No official word from @WesternRly. Can someone help. pic.twitter.com/CcccayFCT0

— Ritvick Bhalekar (@ritvick_ab) May 23, 2020
Mumbai - Jiribam Train stop from last 3 hours , without water in the Train, No food is provided till now..they couldn't even go out & buy food,Children are hungry.... Temperature is 44.
Help! Please do something! @PiyushGoyal @RailMinIndia @RailwaySeva #ShramikSpecialTrains pic.twitter.com/fy8RmRZcuJ

— Linda Newmai (@lindanewmai) May 22, 2020
Help required urgently: No water, food on the the Mathura- Howrah train

Why AMU students are being harassed because of the Central and state government politics?@RailMinIndia @IRCTCofficial @PiyushGoyal @PiyushGoyalOffc @MamataOfficial https://t.co/glI8RiyFM3

— Abdul Hafiz Gandhi (अब्दुल हफीज़ गाँधी ) (@hafizgandhi) May 22, 2020
Sir, Inconvenience regretted. Food and water is arranged by state government at boarding station . Further, Meals and water bottles are provided as per schedule and running status of the train.

-IRCTC Official

— Indian Railways Seva (@RailwaySeva) May 22, 2020