Screen time limits suggested for pupils
Centre has advised teachers not to rush to complete the syllabus and emphasised on alternative ways of assessment
---
---
The Centre has advocated limited screen time for students and teachers in guidelines for digital learning issued on Tuesday.
It has also advised teachers not to rush to complete the syllabus and emphasised on alternative ways of assessment.
Online classes for pre-primary children should not extend beyond 30 minutes a day, according to the guidelines prepared by the National Council of Educational Research and Training (NCERT).
Screen time for students of Classes I to VIII should be limited to 90 minutes and for students of Classes IX to XII to three hours, the guidelines said. (See chart)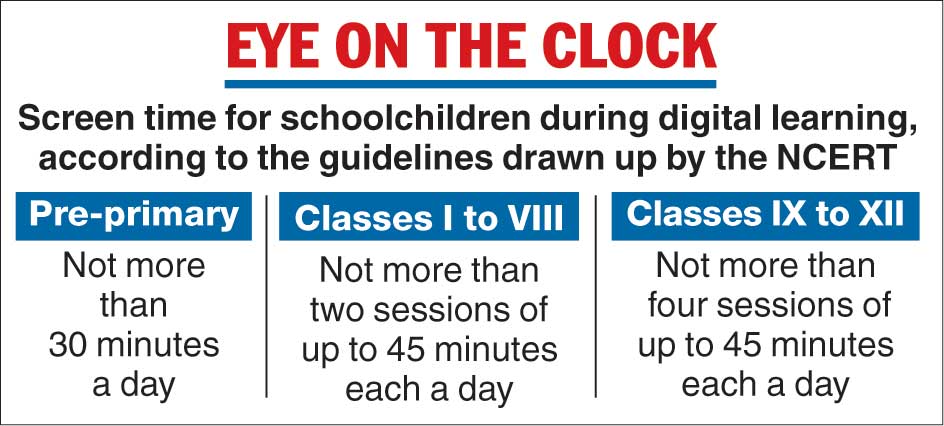 Teachers should also not be made to work online for more than two-three hours a day, they added.
The guidelines are, however, advisory in nature and are not binding on states.
The pandemic has forced schools, mostly in the private sector, to switch to online education. Government schools in some states have also opted for digital learning. However, the design and duration of online classes differ from school to school, with some parents describing them as erratic.
The NCERT recommendations — titled the PRAGYATA Guidelines on Digital Education — appear similar to norms prescribed by the American Academy of Paediatrics. The Academy says: "For kids of all ages, screen time should not replace time needed for sleeping, eating, playing, studying and interacting with family and friends."
The NCERT has said children exposed to digital technologies for longer periods are prone to severe health issues and that parents should monitor the content a child accesses online.
Prashant Joshi, whose daughter Adamya is a Class IIstudent of a private school in Delhi, welcomed the guidelines.
"For the past three months, my daughter has been attending online classes for three hours every day, followed by a few hours more of homework. It was affecting her sleep. Hope the Delhi government adopts these norms. She can get some relief then,"Joshi said.
According to the NCERT guidelines, the focus on the pen-and-paper mode of assessment should be avoided and stress should be laid on open-book exams, writing blogs and undertaking projects and assignments.
The NCERT has addressed the issue of teachers having to spend lengthy hours online, first taking three to four classes a day and then checking homework.
"The school heads should not expect the teacher to beengaged in six to eight hoursof online teaching a day. Rather they may be engaged for two to three hours of online activities a day," the guidelines said.
The advice to teachers is to "not rush for the sake of completing the syllabus. Rather, focus on consolidation of learning".