Mother borrows, some sell goats
Fund raised for son stranded in Bangalore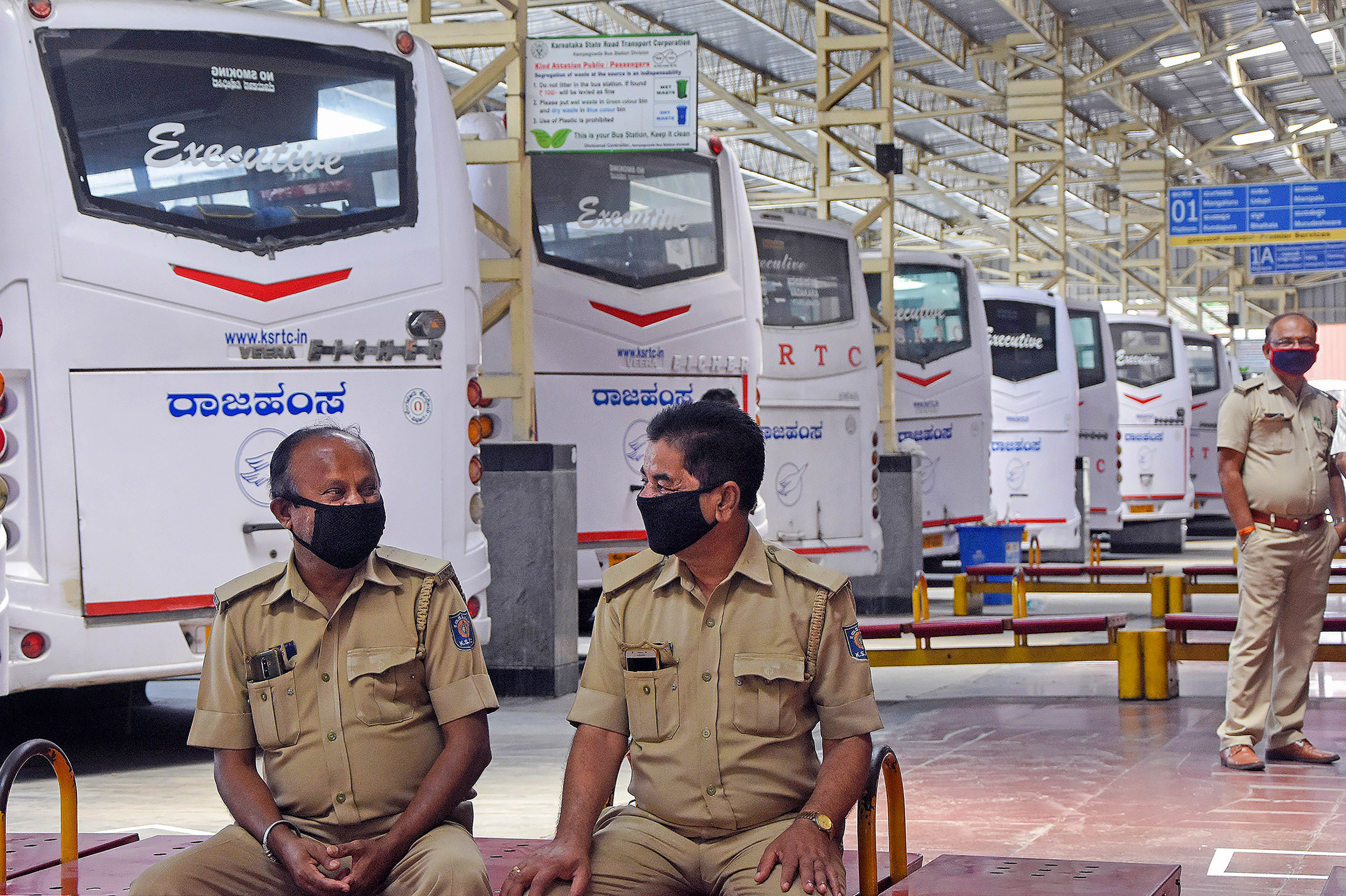 KSRTC employees at a bus stop in Bangalore on Monday.
(PTI)
---
Bangalore
|
Published 18.05.20, 09:55 PM
|
---
Mohammed Sheikh's mother had borrowed money from a moneylender so her son could pay his share of the bus fare for the journey back home to Nadia, over 2,200km from workplace Bangalore.
Sheikh, a small-time labour contractor, and his group of 40 workers were set to leave their camp in Bangalore and board a bus sometime after 7pm on Monday, after three days of haggling with transporters over the fare.
"I'll be back home by Wednesday," he told The Telegraph.
That wouldn't have been possible if his 75-year-old mother had not borrowed around Rs 15,000 from a moneylender in Bengal. "My mother borrowed the money at an interest of 8 per cent per month from a moneylender," he said. "The families of some of my colleagues sold their goats or pawned jewellery."
They had then gone to a local bank and transferred the money to the bank accounts of their migrant kin.
Even then, till Monday afternoon, a return home had seemed like a mirage for these 40-odd migrants before one transporter finally agreed to take them to Bengal.
"We tried several transport companies that asked us for Rs 4 lakh to Rs 5.5 lakh (for the trip). Finally, one transporter agreed to take us for Rs 3.2 lakh," Sheikh, 27, said.
That works out to Rs 8,000 per head.
A bus operator said transporters usually charge around Rs 35 per kilometre for a non-AC trip, so the fare for the round trip to Nadia in normal times would have been a little more than Rs 1.5 lakh. Which means Sheikh and his group are paying double.
Raju, a friend of Sheikh, helped him bargain with Siddaganga Travels, the transport company that will take Sheikh and his group to Bengal.
The rate was "reasonable", considering the difficult times, Raju said. "Other companies are charging Rs 4 lakh to Rs 6 lakh. They need to send two drivers and spend on diesel."
Sheikh had landed in Bangalore on March 8, weeks before the countrywide Covid lockdown kicked in on March 25. "Never in my wildest dreams did I expect to get stranded without money and food. Since I didn't even work for a month, I can't expect any wages from my employers," Sheikh, who works for a builder and lives in Nagasandra on Bangalore's northeastern outskirts, said.
Waiting for him back home are his mother, wife and five-year-old daughter.
As the lockdown dragged on, he had to often cheer up his labourers who were getting increasingly restless. "Some of the labourers threatened to commit suicide since I wasn't being able to arrange a bus," he said.
A shortage of Shramik Special trains to Bengal and a long wait list of thousands of workers added to the delay.
A senior railway official told this newspaper that so far, only four of the 55 Shramik trains from Bangalore had gone to Bengal. The trains to Bankura, New Jalpaiguri, Purulia and Malda Town carried around 4,500 migrant workers.
"Most of us didn't have a chance to board a train since there are so few from here (to Bengal). So we thought buses would be a better option even though we have to pay more," Sheikh said.
Hundreds of migrant workers have left the city on hired buses by paying large amounts of money. Wajidali Mulla, part of a group of 60 from Bengal trying to reach Murshidabad, is still waiting.
He and his group had haggled down the fare to Rs 2.4 lakh each for two buses. They have paid half the total fare but are yet to get on the buses.
"We paid half of Rs 2.4 lakh to a private bus operator since we were supposed to leave last night (on Sunday). But our trip got delayed since the operator asked for the entire amount," Mulla, resident of a labour camp in Kanakapura, near Bangalore, said.
Mulla and his friends are not willing to pay the entire amount. "What if the bus breaks down on the way and they ask us to find some other transport?" he said.
Like other migrant workers in the city, Mulla and his friends have been surviving on handouts by social organisations like the Swaraj Abhiyan.
"We have pending wages that our company has not paid. But our first priority is to reach home," Mulla said.
R. Kaleemullah, state coordination committee member of the Abhiyan, said the frequency of the special trains should be increased. "There are so many more workers waiting to leave. They need frequent trains," Kaleemullah, who has been working with migrants for several years, said.
He also urged the state labour department to collect all pending wages and transfer them to the migrant workers. "Otherwise, they will not come back to Bangalore," he said.