Migrants pay price of staying back in Delhi
Workers who didn't join exodus face wrath of residents, go hungry because they can't step out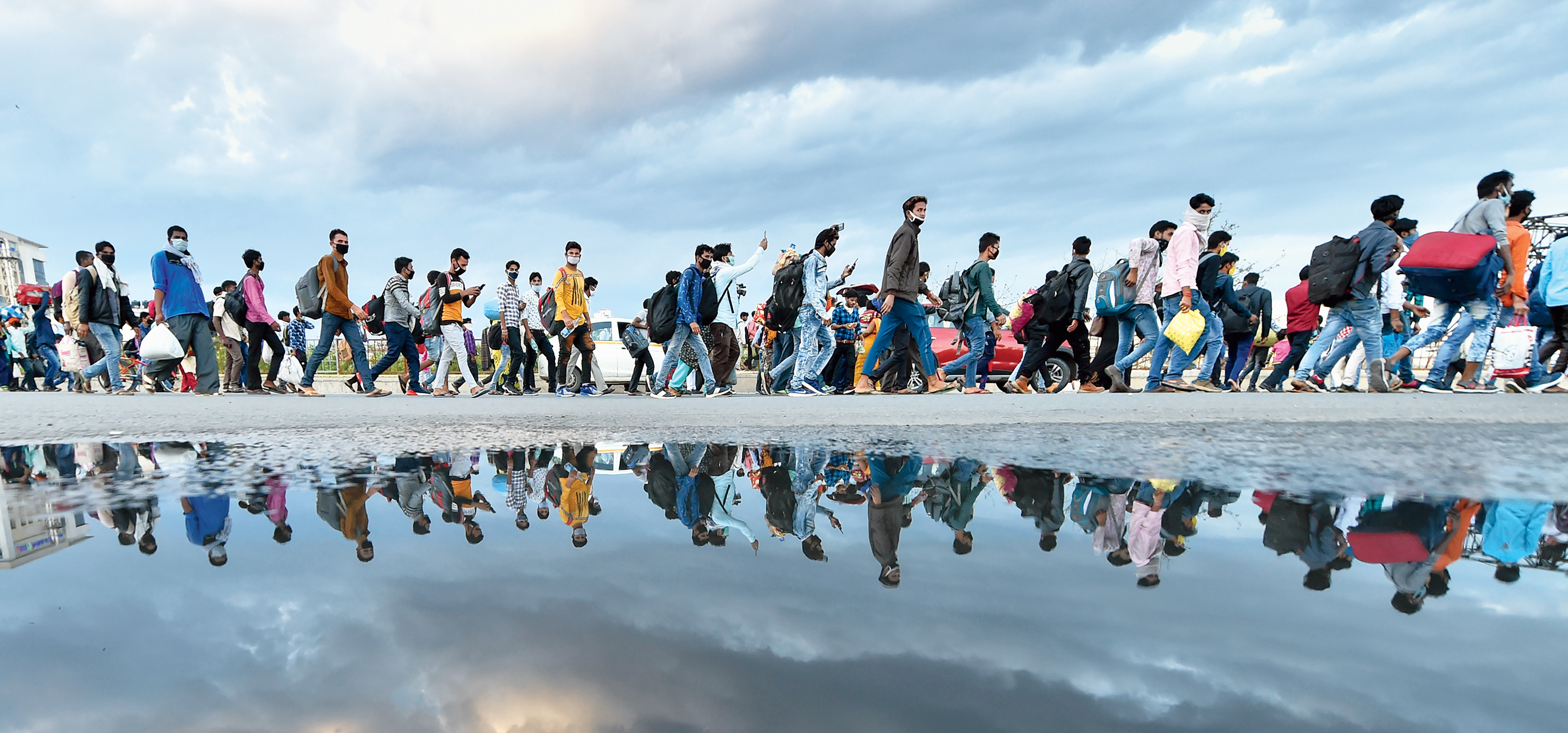 A group of migrant workers walk to their native villages amid the nationwide lockdown in New Delhi on March 27, 2020.
PTI
---
Patna
|
Published 07.04.20, 09:42 PM
|
---
Ritesh Singh, barely out of his teens, had decided to stay back in Delhi and not return to his native place like lakhs of other migrant workers. Now Ritesh, who hails from Bihar, cannot step out for fear of being beaten up, left at the mercy of the family that has given him shelter, hungry and with just Rs 7 in his pocket.
Like Ritesh, many migrant workers in north India who did not join the post-lockdown exodus are facing the wrath of locals who accuse them of spreading the coronavirus.
Ritesh of Telpa in Bihar's Saran district used to work as a daily wage labourer at a casting-and-moulding factory in Haryana before the unit closed down in view of the lockdown.
Ritesh has not been going out of the house at Jhund Sarai off Gurugram-Pataudi Road where he has taken refuge, even if it entails going without food.
"I shifted here with an acquaintance after my roommate from Gorakhpur in Uttar Pradesh fled to his native place on a bicycle soon after the lockdown was announced. The local people here accuse outsiders like us of spreading the coronavirus and thrash us if we venture out," Ritesh told The Telegraph over phone on Tuesday.
According to the youth, policemen too were beating migrant workers if they stepped out.
"We have stopped going out entirely, not even to buy vegetables or pulses. In any case I have just Rs 7 left in my pocket, which won't buy me anything substantial. I tried to borrow Rs 1,000 or Rs 2,000 from some people I know, but they refused. I have nothing to do but to while away my time with the family with whom I have taken refuge. I ate just two rotis today," Ritesh said.
Lakhs of migrant workers from across the country, including Delhi, Haryana, Punjab, Rajasthan, Gujarat, Madhya Pradesh and Uttar Pradesh, had set out for their native villages in the immediate aftermath of the sudden lockdown that left them in the lurch without food and means of livelihood.
Mohammad Monazir, a tailor from Bihar, is facing a predicament similar to that of Ritesh.
"People in the locality, including those who own houses here, beat us if they see us in the streets even if we are out to buy rice or vegetables. They say outsiders are spreading the coronavirus in Delhi. We feel we have been imprisoned at our places," Monazir, 23, who hails from Bihar's Madhepura district, told this correspondent over phone from his rented accommodation in Rajapur at Sarai Kale Khan in Delhi.
Monazir shares the accommodation with 16 others. All of them hail from neighbouring areas at Gosain Tola in Tulsibari of Madhepura. All of them have been confined to their rooms for fear of being assaulted by locals. They have not been able to go to the centres from where the Delhi government has been distributing food among the poor and needy.
"We all get paid per piece of garment stitched everyday. There is no work now and whatever money we had is fast getting spent. We are managing somehow. But we cannot go to the food centres because either the local people will beat us or the police will," Monazir said.
The likes of Monazir and Ritesh are praying that the lockdown ends as scheduled on April 14 so that they can return to their villages, where at least they won't go hungry or be beaten up.
"If the lockdown is extended after April 14, we will die. My only wish is to go home and be with my parents. I am in touch with them over phone and they are constantly worrying about me. Hope the government will make some arrangements to transport us to Bihar. I am now ready to undergo 14 days of quarantine in my own state than stay on here in Haryana," Ritesh said.
Monazir alleged that shopkeepers in his Delhi neighbourhood were charging more during the lockdown.
"They are taking Rs 4 extra on every half-litre packet of milk. Rice that we used to buy at Rs 32 per kilo is now being sold at Rs 40 a kilo. This is hurting us at a time when we are low on money. We cannot do anything. The government should look into our situation," Monazir said.
Migrant workers in Rajasthan said they were better off as factory owners, panchayati raj representatives, the government and local people were arranging for food for those stranded because of the lockdown.
Anil Kumar Yadav of Saran district who works at a textile mill in Bhilwara, which was a hotspot of the coronavirus outbreak in Rajasthan, said the mill owners had been arranging for food. "They call every two days to enquire about our well-being."
Jai Prakash Yadav of Madhubani district in Bihar who works at an automobile parts repairing company at Tapukada village in Alwar district of Rajasthan said his landlord was providing him cereals, while the sarpanch was giving him cooked food sometimes.
Chief minister Nitish Kumar on Monday launched a scheme to provide Rs 1,000 to every migrant worker from Bihar stranded in other states. On the first day, Rs 10.36 crore was transferred to the bank accounts of 1.36 lakh workers.