Home-bound but led astray
No arrangements yet for Bengal-Bihar travel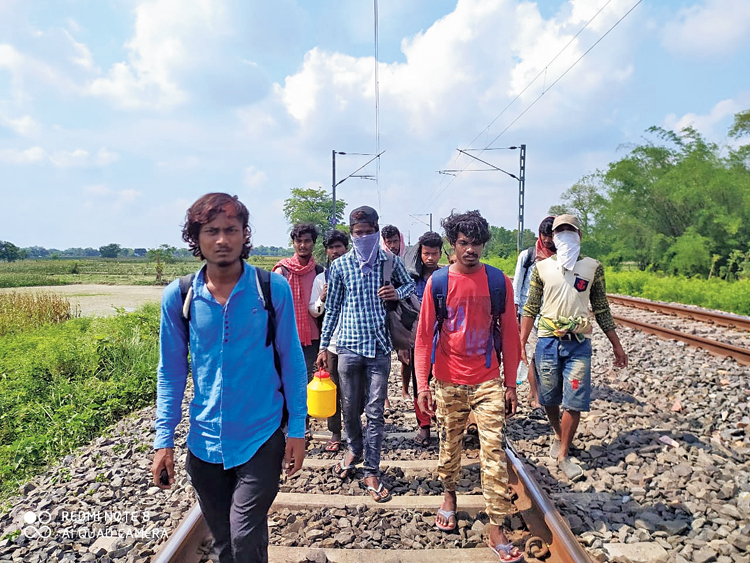 ---
---
The choice was between trying to survive the ever-lengthening lockdown on a few hundred rupees and walking a few hundred kilometres. The group of 10 migrant labourers from Bengal chose the second option.
They set off on foot from Madhubani, Bihar, on April 27 for their villages near Kalna in East Burdwan, about 580km away.
On Saturday afternoon, having walked about 220km over five-and-a-half days and taken a longish train ride, they were still 450km from their homes, with just Rs 145 on them.
If the maths sounds wrong, the answer is that misguided by railway police, the workers had boarded a goods train from a small station near Darbhanga in Bihar that took them farther away from home, to Raxaul on the Nepal border.
"Instead of getting near home, we ended up 650km away from our villages. Since then we have been walking back towards Bengal. We don't know when we'll reach home," Rajesh Debnath told The Telegraph over the phone from Samastipur on Saturday afternoon.
From Raxaul the group had trudged about 200km along railway tracks in four-and-a-half days, with only biscuits to sustain them, their feet swollen and blistered and their shoes and slippers in tatters. Walking in the rain had left four of the 10 with a temperature.
No one gave them food. Instead, at many places the local villagers hurled stones at them: a consequence of the pervasive fear of strangers the Covid-19 pandemic has bred.
The 10 migrants, all aged between 22 and 28, were working for a water project at Phulparas, Madhubani, when the nationwide lockdown began on March 25.
The youths, who earned Rs 12,000-15,000 a month each, had stayed back hoping work would resume once the lockdown, initially announced for three weeks, was lifted. They had a pool of Rs 30,000 to survive on.
But the extension of the lockdown by another 19 days, till May 3, meant their cash began running out. Eventually, they decided the hardship of walking back home was preferable to starvation.
Setting off from Sakri railway station near Madhubani, they reached the small station, over 20km away, on the first day. Probably because of exhaustion, they could not recall with certainty the name of the station. They decided to spend the night there with the railway police's permission.
"Around midnight a cop came and told us a goods train would travel towards Burdwan. We boarded it but found ourselves in Raxaul the next morning," Debnath said.
He was speaking a day after the Centre had extended the lockdown by another three weeks. While the government has now given permission for inter-state travel by migrants, asked the states to organise buses, and eventually allowed train travel, no arrangements have been made yet for Bengal-Bihar travel.
The group of 10, who last spoke to this newspaper in the evening, having walked about 20km from Samastipur by then, were desperately hoping a train would be arranged for people like them.
"We are at the end of our tether. Our legs are refusing to take the torture. We don't know whether we'll die before reaching home but we won't stop," Debnath said.
Dipak Hembram, one of his colleagues, said: "We haven't had a proper meal the past six days. We are eating glucose biscuits and water, and spending the nights on the sides of railway tracks or at stations where we can recharge our mobile phones."
He added: "We have faced attacks: villagers at several places threw stones at us; we were driven off from places where we had taken shelter for the night."
Asked how they would survive without jobs after returning home, the young men said they hoped to get work under the rural job scheme, MGNREGA.
"We all have job cards in Bengal and our families and relatives will feed us. Had we stayed back in Bihar, we would have starved to death. We had to take this risk (of walking home) to survive," said Dipak Debnath, cousin of Rajesh, before quickly ending the call because his phone was fast running out of charge.
Conversations with some of their families in Burdwan revealed that six of the 10 youths were from tribal communities. All the 10 families are impoverished farm labourers although two of them own small plots of farmland.
The families said they had requested police and local political leaders to help their sons return home.
"We have told the police they have no food, and it's impossible to walk another 450km with their leg injuries. The police said they were looking into it," Raju, elder brother of Rajesh, said from Nadanghat, East Burdwan.
Kalna sub-divisional officer Suman Sourav Mohanty said he wasn't aware of the 10 labourers' journey. He said inter-state travel was banned and "we don't have permission to take up the issue".
A call to local Trinamul MLA Swapan Debnath was answered by an aide, who told this newspaper the animal resource development minister was busy.
Haphazard and tragic

As trains started rolling with thousands of migrants, reports of human tragedies linked to knee-jerk decisions by the Centre, taken with little coordination, began to emerge. All the migrants have to be quarantined in their home states now. Which raises the question why the Centre had to lock them down abruptly on March 25 instead of running the trains earlier and seeking isolation in their states.
⚫ On April 28, Dharamveer, 32, started cycling from Delhi to Bihar. On April 29, the Centre announced conditional movement of migrants (Wednesday) by bus. Trains were allowed only on Friday. On Friday night, Dharamveer collapsed in Uttar Pradesh and died.
⚫ Tabarat Mansoor, 50, started cycling on April 25 from Maharashtra in the hope of reaching his home in Uttar Pradesh. He cycled over 390km and reached Madhya Pradesh. He died on Thursday.
⚫ Jamlo Kadam, 12, started walking from Telangana, where she worked in a chilli farm, on April 15 towards her home in Chhattisgarh, 150km away. She died on April 18, just 50km from her village. She tested negative for Covid-19.
⚫ On Saturday, after the train movement had begun, Indore police found 18 people, mostly migrant workers, crammed inside a cement mixer-laden truck headed towards Uttar Pradesh from Maharashtra.
⚫ Migrants from Surat on their way to Uttar Pradesh were stranded in transit. The Uttar Pradesh government is not allowing the buses in, Surat police commissioner R.B. Brahmbhatt said on Saturday.
Incidents reported by PTI