Coronavirus strains a tight bond of history
Karnataka decision to shut door on patients from Kasaragod leaves many dead, district bitter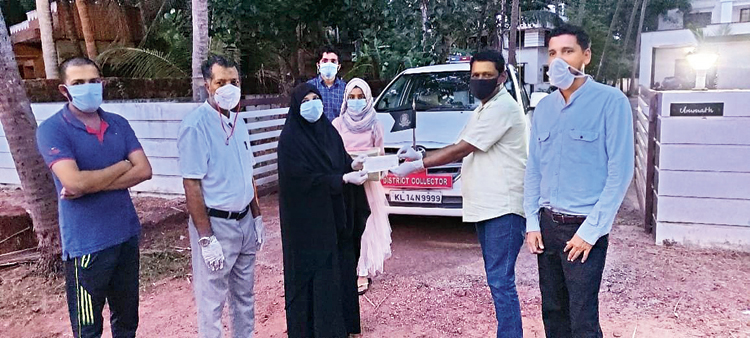 A family in Kasaragod, whose six members recovered from Covid-19, donates Rs 1 lakh to the Kerala Chief Minister's Distress Relief Fund saying gratitude should not be expressed in words alone.
Telegraph picture
---
Thiruvananthapuram
|
Published 11.05.20, 11:57 PM
|
---
Number of people killed by the coronavirus in Kasaragod, Kerala's original Covid-19 epicentre: Zero.
Number of people killed in the district by ostracism triggered by the outbreak: 13.
At first sight, this may seem a cautionary tale against the panic and stigma attaching to the infection across swathes of India — attitudes the country needs to shed urgently as it inches towards a lifting of the lockdown and a consequent rise in positive cases.
But the ostracism that shut Kasaragod's patients out of top hospitals, causing many of them to die unattended, differed from the usual kind of coronavirus scare in two ways.
One, none of these patients had Covid-19 — they were denied treatment of their various critical ailments just because they were from a district afflicted by the virus.
Two, it's impossible to say how much of the ostracism resulted from genuine if misplaced fear of the virus and how much of it was deliberately engineered by linguistic and regional chauvinists who saw an opportunity in a public crisis.
The patients who died had been denied entry into neighbouring Karnataka to seek treatment in Mangalore's speciality hospitals — something Kasaragod's ailing had done for decades since, unlike most of Kerala, the district lacks quality health infrastructure.
They were stopped at the inter-state border in Thalappady by Karnataka police and vigilante mobs of language chauvinists, mainly Sangh parivar activists.
Most of the deaths happened on the roadside at the inter-state border, inside parked ambulances, as the accompanying health workers tried to convince Karnataka officials of the emergency situation. A few patients died on the way back home.
Mixed population
At the root of the issue lies the unique history and demography of Kasaragod, which has a sizeable Kannadiga population — and Konkani and Tulu speakers — apart from the majority Malayalis.
Indeed, Kannadigas are the majority in the northern half of Kasaragod, lying beyond the Chandragiri and Payaswini rivers, which virtually remains an extension of Karnataka geographically, economically, culturally and linguistically, said Muralidhara Balukaraya, president of the Karnataka Smathi in Kasaragod. Kannada is the medium of instruction in most schools there.
Historically too, Kasaragod had been part of the former Mysore kingdom, and then of an undivided Canara under British rule, before it was merged with Kerala in 1956 during the reorganisation of the states on the basis of language.
It's this mix of history and demography that has prompted Kannada nationalists and parivar activists across the border to demand that Kasaragod be split from Kerala and merged with Karnataka or declared a Union Territory.
They blame the Kerala government's "step-motherly attitude" for Kasaragod's poor healthcare infrastructure that forces its residents to rush to Mangalore, headquarters of Karnataka's Dakshina Kannada district, in medical emergencies.
But some Kannadigas of Kasaragod are now asking if this Karnataka lobby cares so much about their district, why is it forcing its patients to die on the roadside without treatment?
"The road blockade is hurting people here emotionally. Earlier, we felt Kerala was discriminating against us (Kasaragod district) by denying larger projects in health, education and infrastructure. Now Karnataka too is turning against us, ignoring the historical fact that we were part of the erstwhile Mysore state till November 1, 1956," said Dr Y.S. Mohan Kumar, a Kannada-speaking medical practitioner and social activist in Kasaragod.
He regretted that the current blockade — continuing with the support of the BJP governments at the Centre and in Bangalore in the face of a Supreme Court directive — was vitiating old personal and community ties.
"Kasaragod is home to 3 lakh people speaking Kannada, Konkani and Tulu. Families here have a strong bond with Dakshina Kannada in general and Mangalore in particular. The connections transcending generations are personal, professional and social," Dr Kumar said.
Bitter blockade
One of the most visible signs of these "connections" was the daily rush of Kasaragod's patients to Mangalore — just 53km from Kasaragod town and less than 25km from most of the northern Kannada-speaking villages.
Kasaragod has just one district hospital — upgraded to a medical college hospital during the lockdown — one general hospital and two taluk hospitals.
In contrast, Mangalore has had a long history of excellence in medical care. Its famous Wenlock Hospital was opened in 1891; and in 1953 the city became home to the country's first private medical college, the Kasturba Medical College and Hospital.
Besides, Mangalore and Kasaragod were always seen as twin cities, with strong cultural bonds promoted by successive rulers down the centuries, from the Vijayanagara empire to Tipu Sultan.
All was fine till end-March, when Kasaragod became known as Kerala's Covid-19 hub, with 168 people testing positive by March 31. By March 28, Karnataka had unilaterally closed all road links with Kasaragod, including a crucial stretch of a national highway, under pressure from Sangh-backed pro-Kannada groups.
Neither the police nor the vigilantes were ready to consider that none of the arriving ambulances was carrying any Covid-19 patient.
Although the Supreme Court has directed that Kasaragod residents who have tested negative for Covid-19 be provided necessary treatment in Mangalore, the Karnataka government has refused to relent.
Reports suggest that some of the negative Covid test reports furnished by patients from Kasaragod have been torn up by Karnataka police and the parivar activists manning the border post.
Infection irony
The Centre and the Karnataka government have said they are closing the border to prevent community spread of the disease, and that Kerala must fend for itself.
That argument, however, has been sounding thinner by the day with Kasaragod having reported not one positive case since March 31, and the last of its 168 patients recovering on May 10. As on May 11, Kasaragod had zero active Covid-19 patients.
Luv Agarwal, joint secretary in the Union health ministry, has said the Kasaragod model of cluster containment must be replicated in other coronavirus hotspots in the country.
Shared history
When the British created the undivided Canara district in 1799, it stretched from Karwar (now in Uttara Kannada, Karnataka) in the north to Kanhangad (a taluk in present-day Kasaragod) to the south. It also included the Lakshadweep islands.
In 1862, the British divided the district into North Canara and South Canara. Kasaragod remained a part of South Canara till 1956, and the language differences never caused any major problem between communities.
Religion formed a bond too — the Kollur and Mukambika temples in Dakshina Kannada drew more people from Kasaragod than their home district, and more Malayalis than Kannadigas.
And many Malayalam-speaking families of Kasaragod insist their favourite writer is the late Kannada novelist Kulkund Shivarao, known widely by his pen name Niranjana.
The connection is as much political as literary. Shivarao was a schoolchild in a village near Mangalore in 1943 when the British hanged four members of the undivided communist party for leading a peasant rebellion at Kayyur village, Kasaragod, that killed a police constable.
Years later, Shivarao visited Kayyur to pen Chirasmarane, which revolves around the revolt. Such is the Kannada novel's popularity in Kasaragod that the local Karyamkodu river has come to be known as the Thejaswini — the name it's given in the book.
"Chirasmarane became a publishing sensation after C. Raghavan translated it into Malayalam. A Kannada novel revolving around a Kerala village winning wide acclaim in both states is a rarity," said M.A. Rahman, Malayalam writer, filmmaker and activist.
"For me, the book symbolises the cross-cultural relations between the people of Kasaragod and Dakshina Kannada, with Mangalore as the common meeting ground."
Kasaragod Tulu Academy president Umesh M. Saliyan, however, warned that all that cultural bonding was now under a threat.
"The pandemic has divided the people of Kasaragod and Dakshina Kannada on the basis of language and regional sentiments. Certain segments of society are using the situation politically to achieve  their sectarian agendas," he said.
"The demand for Union Territory status involves linguistic and regional chauvinism. It's a modified version of the earlier demand to merge Kasaragod with Karnataka. We have to be careful against any possible outbreak of violence over the issue."