Deliberate bid to stall aid for migrants: Congress
Even Haryana chief minister Manohar Lal Khattar has asked the workers not to return home as industries are opening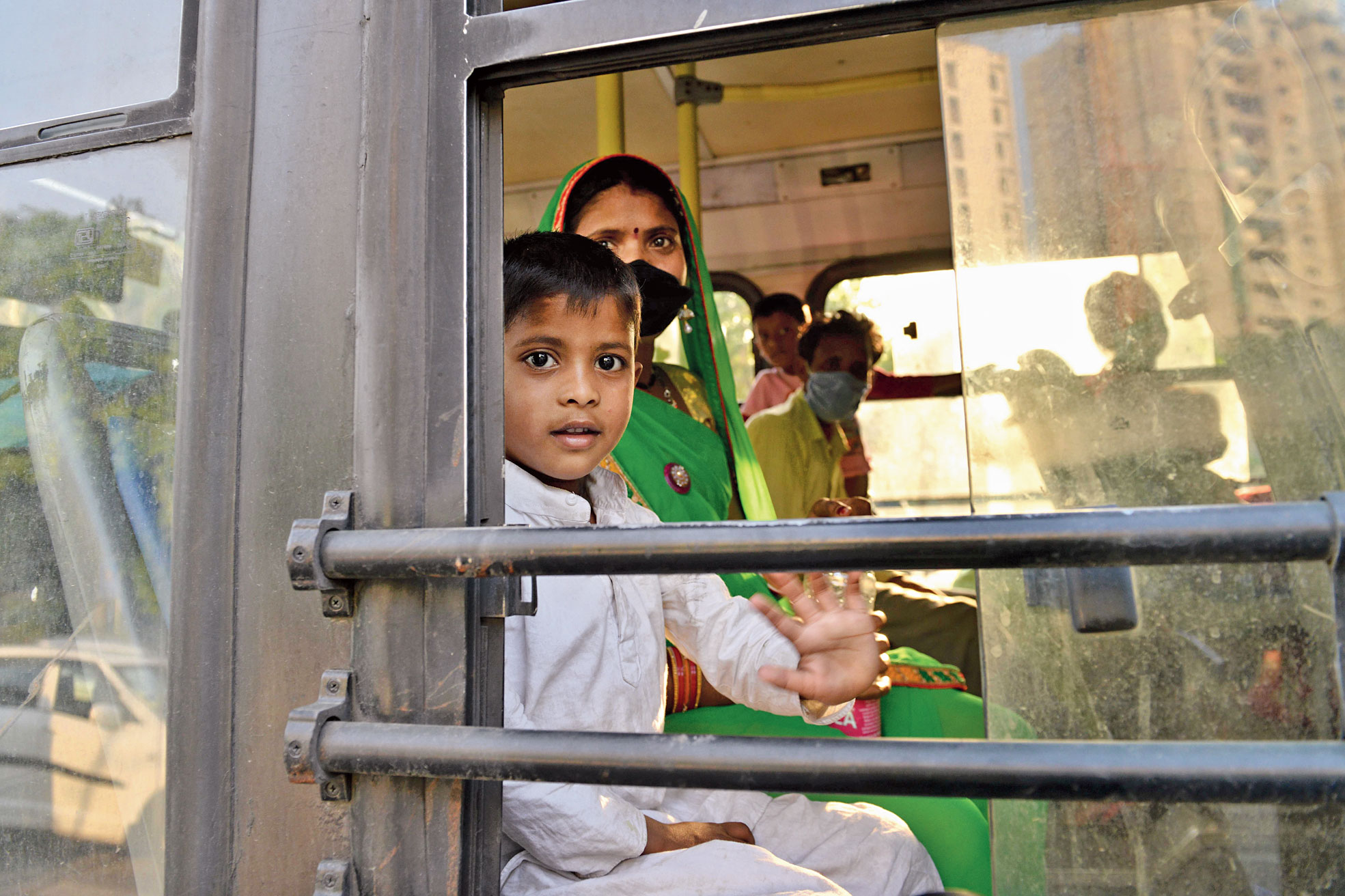 Migrant workers and their relatives sit in a bus at New Delhi railway station on Thursday before boarding a special train bound for their home states.
Picture by Prem Singh
---
New Delhi
|
Published 08.05.20, 12:09 AM
|
---
Congress leaders are complaining that they have been facing deliberate hurdles from BJP-ruled states as they start executing party chief Sonia Gandhi's ambitious plan of sending home stranded migrant workers free of cost.
Senior leader Ahmed Patel had on Wednesday expressed shock that Karnataka and Gujarat, both ruled by the BJP, had stopped trains fearing that an exodus of workers would hamper resumption of economic activities.
Even Haryana chief minister Manohar Lal Khattar has asked the workers not to return home as industries are opening.
A large number of workers have had an agonising experience without food and money over the past few months and are not in a psychological framework to stay back at present.
While videos of anguished workers publicly taking a vow not to return ever are flooding social media, an industrialist from Noida confirmed the trend: "Most of us in the MSME sector paid the salaries for March but couldn't give salaries for April. Some of the workers have already gone back and the others are also not willing to stay."
Patel tweeted: "First Karnataka and now Gujarat, some business lobbies are ensuring state government doesn't permit migrants to return to their families. To hold them against their will is a violation of human & fundamental rights. It is a feudal mindset. Do migrants not get a choice because they are poor?"
Patel, however, managed to ensure that a train left on Thursday morning from his district, Bharuch in Gujarat, for Katihar via Patna.
Senior leader from Gujarat Shaktisinh Gohil, who is also the Congress in-charge for Bihar, tweeted: "The train left Bharuch today with 790 students and 335 workers. We paid Rs 6.90 lakh for the train."
Asked how the train left when the Gujarat government was stopping workers, Gohil told The Telegraph: "They are not yet directly stopping trains like Karnataka did. There are hurdles and delays to defeat our efforts and help the builders and industrialists who don't want workers to leave. They want workers to be used like slaves, like bonded labour."
Gohil said: "We asked for several trains as thousands of workers are stuck in Surat and Ahmedabad. But not one train has been sanctioned from these places even as we are ready to pay. They are not giving passes to the workers. Then there are so many formalities; online registration is anyway difficult for these workers and the site is crashing regularly. We have the list ready; the workers registered with us. But we don't have the trains."
Gohil also said that workers were able to reach Gujarat from Bihar in unreserved compartments for around Rs 300 and now they were charging Rs 780, along with the farce of 85 per cent discount.
Accusing the Gujarat government of showing "inhumane" attitude, Gohil said: "Workers are crying on the phone, pleading with us for help. The situation is so miserable that it has become difficult for us to eat and sleep at our homes. Thodi bhi insaniyat bachi hai to sarkar ko jaagna chahiye (The Government should wake up if any humanity is left). They say they are giving cooked food. You have to walk several kilometres; there is no packing facility, even the children and the elderly have to walk to get the little khichdi they are giving."
He added: "In Surat, we know how workers live – six in a room. There are three beds; three work in the morning, three in the night. Now all of them are cramped together in that one room without money and food. Some of them are daily wage earners. It has been a torture for them; they want a break. We are shocked that the sight of thousands of people walking for hundreds of miles to reach their villages hasn't moved Narendra Modi as yet. It's cruelty of the worst kind. People are dying on the way. The state can't be so irresponsible."
While the Congress units of Punjab and Maharashtra have taken the lead, sending several trains to Bihar and Uttar Pradesh, other states are gearing up to make arrangements for online registrations and by publishing contact numbers.
In Punjab, 10 lakh workers have already registered and nine trains have left so far from Ludhiana, Jalandhar and Mohali. In Maharashtra, trains have been sent to Patna and Gorakhpur from Wardha, Nagpur and Mumbai. Arrangements for free health check-up, masks, water and food have also been made by the party's Maharashtra unit.
In Delhi, registrations started on Wednesday and 1,300 have booked for the journey so far. The Haryana Congress unit started registrations on Thursday and received frantic calls from Gurgaon and Manesar on the four helpline numbers.
In Uttar Pradesh, a UP-Mitr contact number was released by Priyanka Gandhi Vadra, who also highlighted the lack of application of mind in sending the workers home.
Priyanka tweeted: "Workers were brought from Gujarat to Uttar Pradesh; even money was charged from them. But those who have to go to Agra and Bareilly are being deboarded at Gorakhpur."
She took a dig at Prime Minister Narendra Modi in a tweet: "Today is Buddh Purnima. Buddha spoke the language of compassion. We should try to show compassion to the migrant workers. Only repeating Buddha's words is not enough, the Government should act accordingly."
Modi had in a series of tweets on Thursday morning recalled how Buddha's teachings of compassion, sacrifice, truth and kindness guided his government.