Caught after 600km trek along rail tracks
The group was left jobless by the nationwide lockdown and is now lodged in a quarantine centre in Rayagada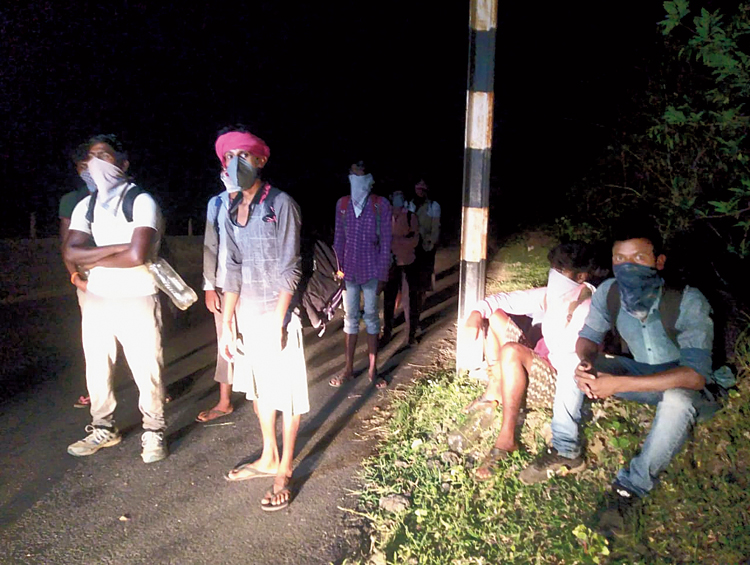 Pramod Kumar Ram (in red headgear) and his friends on the road when the police picked them up
Telegraph picture
---
Bhubaneswar
|
Published 20.04.20, 09:16 PM
|
--- Fear of being caught and put away in a government quarantine centre had led them to avoid roads and trudge about 600km along the railway tracks over 14 days.
Wearing frayed slippers and surviving on biscuits and water, this homebound group of 11 labourers from Jharkhand followed the tracks up and down hills and through forests and tunnels. They even found a way to charge their mobiles from the railway electrification system.
But luck ran out for the group on Saturday with the police in Odisha's Rayagada district spotting and promptly rounding them up. By then, they had covered about half the distance home.
The group, which worked for a construction company in Vijayawada in Andhra Pradesh and was left jobless by the nationwide lockdown, is now lodged in a quarantine centre in Rayagada.
Their ambitious odyssey was born out of sheer desperation. "We had worked for just seven days at the company's site when the lockdown was announced. When we demanded our wages the supervisor fled, leaving us in the lurch," Pramod Kumar Ram, leader of the group, told The Telegraph.
"The company made no arrangement for food. We still managed to stay on for a few days. But with no income it was pointless to stay. With our money running out, we decided to leave Vijayawada. Since all transport was closed, we had to make it on foot."
Ram, who is from Chatania village in Jharkhand's Lamri Kalan area, wore a turban to beat the heat during the journey."We feared the police would catch and beat us if we travelled on the streets and highways," Ram said.
"We dreaded the idea of being sent to the quarantine centres. So, to avoid being caught, we walked along the railway tracks."
Some of them suffered injuries walking on the rough, scorching tracks. They halted in dense forests and occasionally on the outskirts of villages, cautious all the time to avoid being caught.
They let their route-tracking mobile app guide them. They knew the tracks passed through Jharkhand, because they had earlier travelled to Vijayawada on train, and so were sure they would not lose their way. "We remembered the names of the stations we had passed through during the train journey to Vijayawada from Jharkhand," Ram said.
The labourers carried with them a few packets of biscuits and some water bottles.
"Villagers at many places gave us food. We tried to manage with as little food and water as we could," Sunil Choudhary, who is from Manjhigon, Garhwa district, said.
"Each of us had between Rs 200 and Rs 300, on which we had to survive."
They usually began their journey each day around 4pm and walked till late in the night and set off again early next morning, continuing till 10am. On an average they walked a little over 40km a day.
"It's tough to walk on the tracks during the daytime. The tracks and the road metal covering them become hot," Choudhary said. "The journey was tiring. Sometimes the tracks passed through dense forests and hills. We had to negotiate several dark tunnels using our mobile flashlights."
He added: "Our only goal was reaching home even if it took a month. We had walked for almost 14 days when the police rounded us up."
Another challenge for the labourers was recharging their mobile phone batteries.
"We managed to charge our mobile phones using the battery switches on the electric poles along the tracks," Rabindra Urawn, from Garhwa, said.
"While we were passing through a railway junction in Rayagada, two police constables spotted us and informed their bosses. Later, they took us to the shelter home. Our family members were devastated when they learnt we had been caught."
Divisional labour commissioner, Rayagada, Prashant Tripathy, said: "We are providing the labourers food and shelter free of cost. Once the restrictions are lifted we will arrange transport for them."