Buses barred by Yogi, Priyanka promises migrants food, water
We are trying to help you to the best of our capacity: Congress general secretary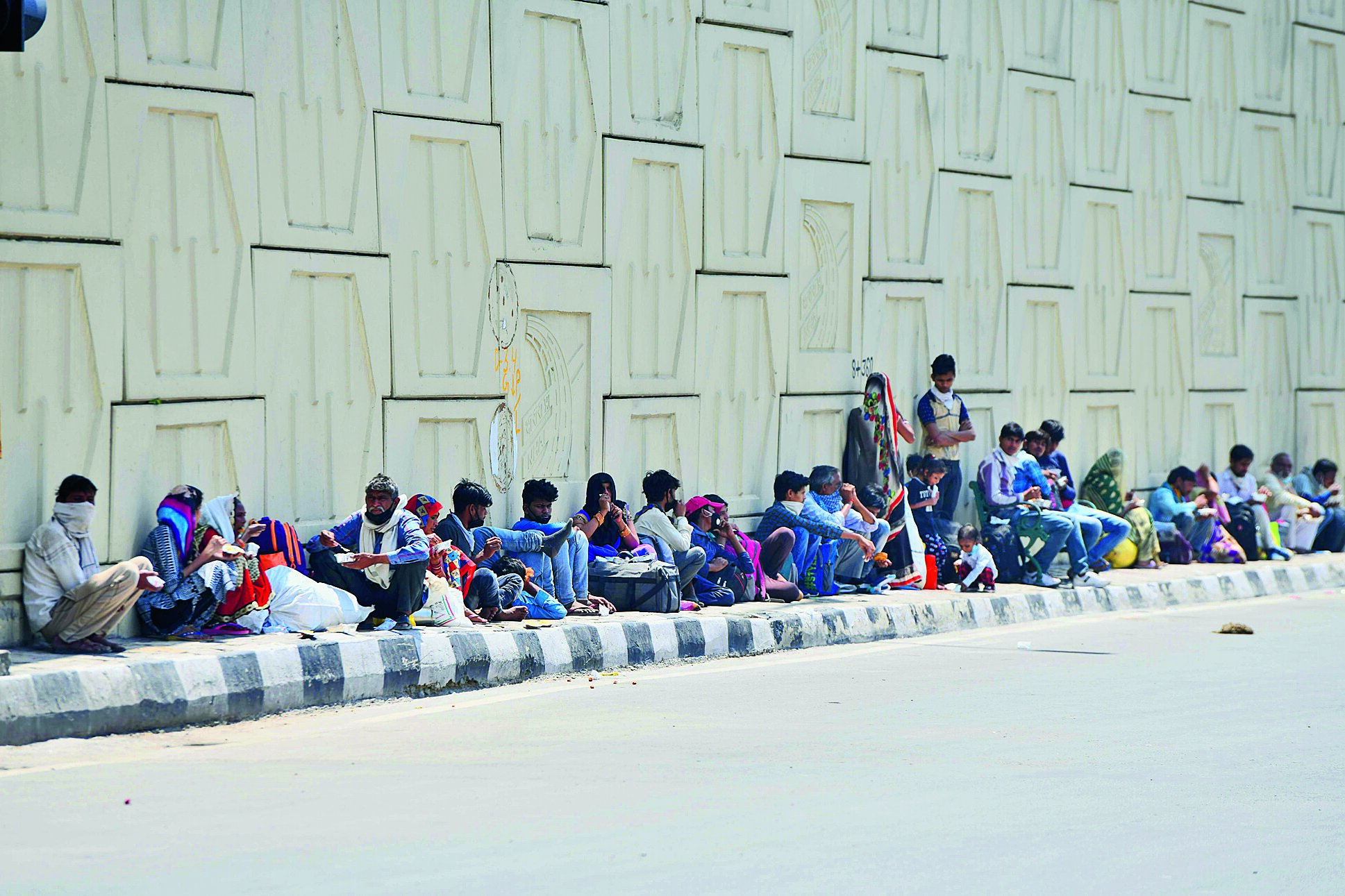 ---
|
Lucknow
|
Published 20.05.20, 10:49 PM
---
Priyanka Gandhi Vadra on Wednesday told migrant workers that party workers were standing on roads across Uttar Pradesh with food and water for them, while repeating her appeal to the state government to allow the Congress's buses to ferry the labourers home.
'Our workers are standing wherever you are passing through. They will keep providing you food and water. We are trying to help you to the best of our capacity,' the Congress general secretary said in a 10-minute video circulated on social media.
She said the Congress buses would already have ferried 92,000 migrants home over the past two days had the Yogi Adityanath government not barred their entry. 'These 92,000 people are on the roads today,' she said.
The Congress had on Sunday lined up 500 buses near the Rajasthan-Uttar Pradesh border near Mathura. Since then it has shifted some of these buses and brought in many more. In the video, Priyanka said 300 buses were parked at the Rajasthan borders near Mathura and Agra, and 900 on the Noida and Ghaziabad borders.
The state government, which gave in-principle permission on Monday afternoon, later said 100 vehicles on the Congress's list of 1,000-plus were not buses but ambulances, three-wheelers and trucks, and that the fitness certificates or insurance of 279 buses had lapsed.
It did not explain why the remaining buses were not allowed to enter. Instead, the transport department registered a forgery case against Priyanka's personal secretary Sandeep Singh, who had communicated with the state over the buses, and state Congress president Ajay Kumar Lallu.
Lallu was arrested in Agra on Tuesday evening on the charge of violating the lockdown while he was on dharna to press the government to allow the Congress buses in.
'All I want to say is that the buses are standing there. Use them if you want or we will send them back,' Priyanka said in the video.
'But we will continue helping the migrants the way we have been doing.'
She said Congress workers had helped about 67 lakh migrants, including 60 lakh travelling across Uttar Pradesh, in various ways since the lockdown began.
'Our volunteer group is working in every district; we are running helpline numbers; there is a highway task force running 22 kitchens 24x7,' she said.
Priyanka also suggested that the state government put up BJP banners and posters on the buses if it wanted, but it should let them ply.
'Our intention is positive and we want to serve (the migrants). We gave positive suggestions to the Uttar Pradesh government and praised them when they did something good,' she said.
Priyanka described the migrants' misery in her video message.
'I saw a boy in a video yesterday who had arrived in Saharanpur from Jammu and Kashmir on foot and was going to Bihar. You have also seen many pregnant sisters walking for six or eight hours in the scorching sun,' she said.
'Some people are carrying children in their laps; some are travelling on broken bicycles. I saw a video in which a grandmother and grandfather were carrying their grandchildren in something like a hammock.
'We need to understand our responsibilities. These are the people whose blood and sweat keep this country moving. They are my responsibility and that of yours, the government and every political party.'
On Wednesday, sources in the regional transport office in Lucknow said the Congress's list of 1,049 vehicles included only 879 buses, contradicting the government's day-old claim of 100 non-buses.
Aditi Singh, Congress MLA from Rae Bareli who recently began supporting the state government's policies and attacking her own party, slammed the Congress's 'cheap politics during an epidemic'.
Asking why the buses were not used in Congress-ruled Rajasthan, Punjab and Maharashtra, she tweeted: 'They sent a list of 1,000 buses of which more than half were fake. There were 297 worn-out buses, 98 auto-rickshaws and ambulances and 68 without any papers.'
Priyanka said in the video: 'If there were discrepancies in the list of buses, they should have communicated with us. We could have given another list.'
The Congress forwarded to journalists on WhatsApp a video clip showing a driver of one of its buses, Shyam Parashar, questioning the government claim.
Parashar, who claims he is waiting with his bus at Uncha Nagla near Agra, is heard saying: 'Political parties don't ask for fitness certificates when they hire buses for election campaigns and rallies. Now they are harassing the migrants in the name of following rules....
'They are saying these are tempos. Look at these buses here and show me the three-wheelers.'
While Priyanka avoided attacking the state government, party spokespersons condemned its attitude - and that of the Centre - as 'anti-national' and 'inhuman'.
'We have already spent Rs 4.8 crore over the buses in three days. You lodged an FIR against us, arrested our state chief. Leave aside the violation of rajdharm by the UP government, the Centre behaved as if these workers don't exist. That is anti-national,' party spokesperson Supriya Shrinate said.
Another spokesperson, Abhishek Singhvi, termed the state government's stand 'tragic and inhuman'.
Congress legislature party leader Aradhana Mishra said in Lucknow a formal arrangement to take the workers home would have helped ensure their quarantine. Now they are arriving home directly without the government knowing it, she said.
Additional reporting by our Delhi bureau