39 hours on train and hungry, child dies
Railways blame route congestion for inordinate delays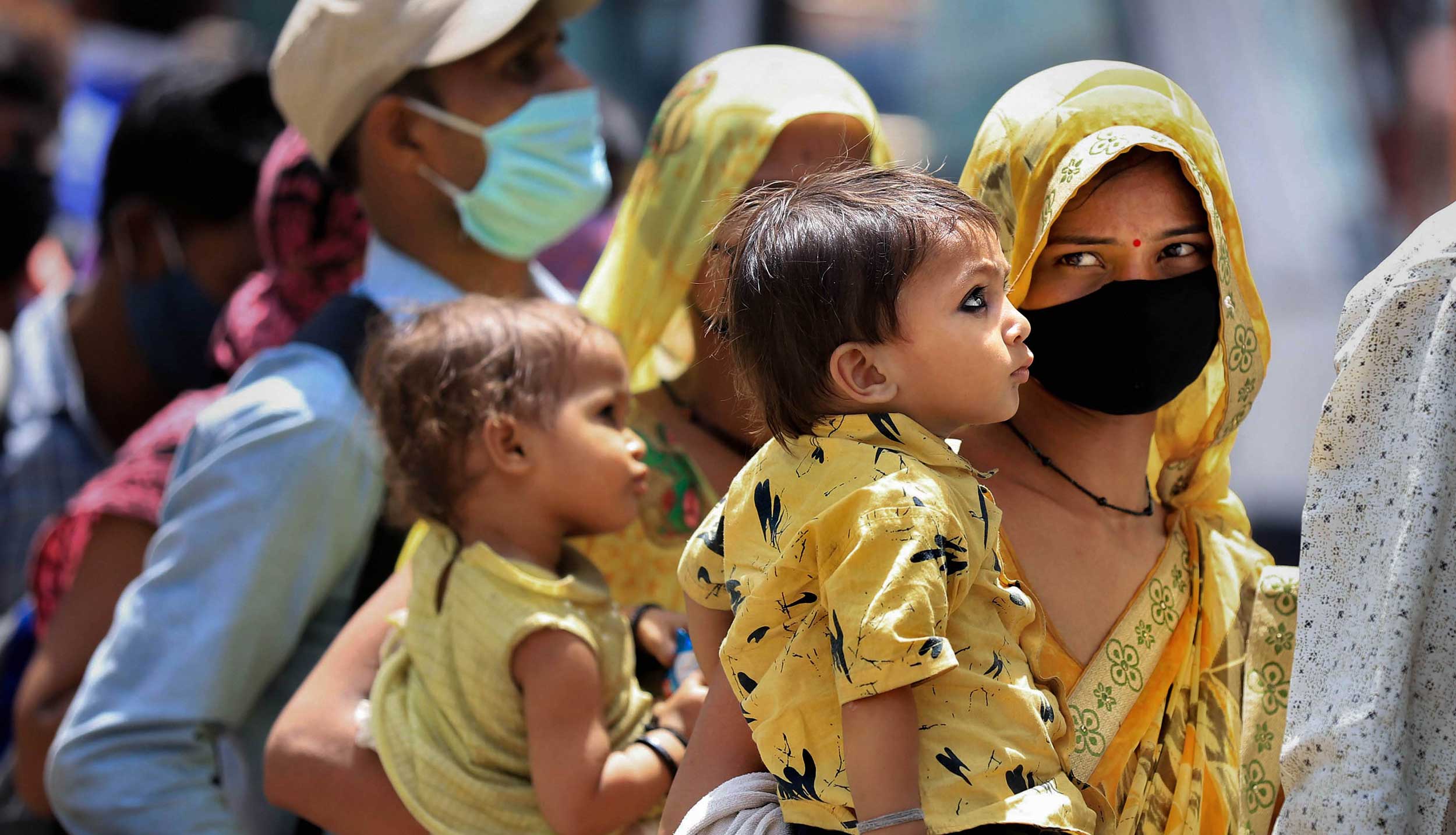 Migrants wait to board buses arriving in a special train in Allahabad on Tuesday.
PTI
---
Patna
|
Published 26.05.20, 10:23 PM
|
---
Four-year-old Mohammad Irshad died on Monday morning, having cried out of hunger all of Sunday on a Shramik Special train that took 39 hours to reach Patna from Delhi instead of the usual 15.
"My son was crying due to hunger and was asking for food. But there was nothing we could provide. We had some money but no shop was open at railway stations along the route," Irshad's father Pintu Alam told The Telegraph.
The railways have blamed route congestion for the inordinately long delays on some Shramik trains, without explaining why they are not regulating the departure of trains to avoid such congestion.
A one-month-old baby died of heat and dehydration on another Shramik Special, travelling to Gorakhpur, on Monday. A 46-year-old migrant worker had died on Saturday on yet another Shramik Special, travelling to Jaunpur, allegedly after going without food and water for 60 hours.
A news release issued by East Central Railway on Tuesday said: "…due to heavy congestion on rail routes, the routes of some trains have been changed, due to which their travel distance has increased…." This echoes what the Railway Board chairman, Vinod Kumar Yadav, said on Saturday after a train from Vasai in Maharashtra to Gorakhpur in Uttar Pradesh arrived in Rourkela.
When contacted, East Central Railway chief public relations officer Rajesh Kumar on Tuesday said: "The trains are not delayed. They are being run on the request of state governments."
Alam, 25, was working as a tailor in New Delhi's Rohini area, earning enough to support his wife and two sons, the younger of whom is two years old. The family had some savings and had decided to wait out the lockdown, but when it was extended a third time and the savings had almost dried up, they were forced to take a train home.
"Finally, 16 of us — eight adults and eight children — registered to travel to Bihar. We were asked by the Delhi government to come near Anand Vihar terminal on Friday (May 22) for a medical check-up. We went there. The arrangements were good," Alam said.
Alam said: "We were given food and a place to sleep. Paper work was done and the medical examination was completed on Saturday morning. We were given the go-ahead to board the train." The train left at 2pm on Saturday.
"Poori-sabzi was served in packets around 9pm at Lucknow. But our group with 16 members was given just five packets, and each packet had just two pooris," Alam said. The group of 16 shared the 10 pooris. They had brought along two Amul milk tetra-packs, which the children had.
The train should have reached Patna on Sunday morning, covering a distance of 1,000km, but it stopped every now and then. No food was served after that.
"All the passengers were hungry and frustrated by Sunday afternoon and demonstrated at a small station where the train had stopped, but no relief came," Alam said.
The train crawled through the day on Sunday, the heat becoming unbearable whenever it stopped as the temperature hovered around 40 degrees, Alam said. "Finally the train reached Patna on Monday around 5am…. My son was crying for food, but no food was given at Patna junction," Alam said.
At Patna, the passengers were asked to catch buses waiting outside and go to Danapur to catch another train to Muzaffarpur. But buses were few, and people were jostling.
"A small pick-up truck was available for hire and we took it to Danapur. No food arrangements were made at Danapur, too. We boarded a train that was to go to Muzaffarpur. It took one-and-a-half hours and we reached around 10am. All the while the kids were crying for food," Alam said.
At Muzaffarpur station, the group had no idea when a bus would leave for West Champaran, and kept running in and out to find out. "We suddenly noticed that Irshad was not moving. We checked, and found that he was no more. We cried and screamed. I guess he died of hunger and heat."
Then, an additional district magistrate arrived and arranged an ambulance that took them to their village Tularam Ghat, Alam said.
Irshad was buried in his village on Tuesday, a day after Id, the festival the family had hoped to celebrate at home.
"They have snatched our eldest son from us, that too on Id day. I will not be able to celebrate this festival ever in my life, nor will I ever forgive chief minister Nitish Kumar for this mismanagement," Alam added.
"They have snatched our eldest son from us, that too on Id day. I will not be able to celebrate this festival ever in my life, nor will I ever forgive chief minister Nitish Kumar for this mismanagement," Alam added.
Muzaffarpur district magistrate Chandrashekhar Singh said: "It is an unfortunate incident, but the child was already dead when the family arrived at Muzaffarpur station. The doctor present there also checked him, but he was dead. They arrived at 10am and we got information at 10.30am that the child was dead. They have given a written statement to the government rail police, which has documented the incident."
Singh said food was provided to passengers coming from other states as the district administration was informed in advance of the number of trains and passengers. "However, the situation has changed over the last few days and neither the number of inbound trains nor the number of passengers is being conveyed prior to their arrival. Many trains are coming without any information. Trains for which we are provided information are arriving late, and if there is a list of 1,200 or 1,500 passengers coming in a train, around 2,000 or 2,500 are arriving," Singh said.
On May 19, the Centre had changed the standard operating procedure and said the railway ministry and the home ministry would decide on the destination and halts of the migrant trains. Earlier, the trains were being run from point to point on the states' requests.
Singh said that a woman travelling from Ahmedabad to Katihar had also died near Hajipur.